The Taste is Back and Better Than Ever
There's no doubt that Chicago is a city for foodies. Some of the best restaurants in America hail from the Windy City, and we should be proud! The annual Taste of Chicago is our opportunity to celebrate the amazing food that surrounds us on every block, and it's happening in a matter of weeks. But first, here are a few things to remember:
It's gonna be hot. We all know how Chicago gets in the middle of summer, so expect some heat and be sure to dress accordingly.
It's gonna be sweaty. The Taste is notorious for being SUPER crowded. So stay calm, stay patient, and stick with your group.
It's gonna be a blast. There's a reason so many people go to the Taste! It's one of the city's best summer festivals. You don't want to miss out.
So make room and don't spoil your appetite – this year's event has a mouthwatering roster of food, music, and more.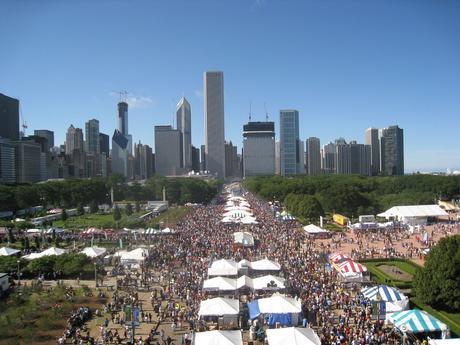 Photo Credit: NHPR
Food
Join the ultimate celebration of food by sampling bites from some of the most delicious restaurants that Chicago has to offer. Familiar vendors will be back, but there are some new faces as well. Pop-up restaurants will only be present for one to two days at a time, so keep an eye out! For a Michelin-level experience, tickets for a three-course meal cooked by a celebrity chef are also available for purchase.
Five-Day Restaurants
Abundance Bakery, Beat Kitchen, Billy Goat Tavern & Grill, BJ's Market & Bakery, Bobak Sausage Company, Caffe Gelato, Carbon Live Fire Mexican Grill, Chicago's Dog House, Churro Factory, Connie's Pizza, Dia De Los Tamales, Dinky Donuts, Inc., The Eli's Cheesecake Co., Farmer's Fridge, Franco's Ristorante, Frannie's Cafe Inc., The Fudge Pot, Gold Coast Dogs, Ivanza, Kasia's Deli, La Bomba Restaurant, La Mexicana, Lou Malnati's Pizzeria, Miller's Pub, Oak Street Beach Cafe, O'Brien's Restaurant & Bar, Porkchop, Punky's Pizza & Pasta, Ricobene's on 26th Street, Robinson's No. 1 Ribs, Star of Siam, Texas de Brazil, Tuscany, Vee-Vee's African Restaurant
Pop-Up Restaurants
Armi, BRGRBELLY, Demera Ethiopian Restaurant, Doom Street Eats, Garifuna Flava: A Taste of Belize, Gus's World Famous Fried Chicken, Jin Ju Restaurant, MAD Social, nana, Pastoral Artisan Cheese, Bread & Wine, Pork & Mindy's, Puffs of Doom, Riva, Rojo Gusano, Stan's Donuts & Coffee, Taco in a Bag, Yum Dum
Food Trucks
Auntie Vee's, Beavers Coffee & Donuts, Bruges Brothers, Chicago Lunchbox, Da Lobsta, DönerMen, The Fat Shallot, Firecakes Donuts, Gino's Steaks Truck, Giordano's, The Happy Lobster Truck, Harold's Chicken, Jack's Fork in the Road, La Cocinita, La Jefa, La Patrona, The Lifeway Kefir Shop, Ms. Tittle's Cupcakes
Celebrity Chef du Jour
Wednesday, July 6: Graham Elliot, Chef of Graham Elliot Bistro, Addison, Masterchef Junior Season 4 Winner
Thursday, July 7: Kevin Hickey, Chef of The Duck Inn
Friday, July 8: Patrick Sheerin, Chef of Trenchermen
Saturday, July 9: Chris Macchia, Chef of Nonnina
Sunday, July 10: Abraham Conlon, Chef of Fat Rice
Music
Good eats and good tunes go together like peanut butter and jelly. Make sure to scout out a spot at a stage and enjoy these exciting acts to complete your Taste of Chicago experience.
Petrillo Music Shell Lineup
Wednesday, July 6: The Roots, Donnie Trumpet
Thursday, July 7: KONGOS, Elle King, Transviolet
Friday, July 8: The Decemberists, Shakey Graves
Saturday, July 9: Billy Idol, Sons of the Silent Age
Sunday, July 10: The Isley Brothers feat. Ronald and Ernie Isley, Sheila E.
Bud Light Stage Lineup
Wednesday, July 6: Elk Walking, Daniel Wade, Lawrence Peters Outfit, Derek Fawcett, Righteous Hillbillies, Heartsfield
Thursday, July 7: Chicago Latin Groove – Ladies Singing Salsa, Zverse, ¡ESSO! Afrojam Funkbeat, Rapperchicks, Gilligan Moss, Ezra Furman
Friday, July 8: The Giving Moon, American Grizzly, King Mixer, The Ivorys, The Kickback, Fort Frances
Saturday, July 9: Clear Confusion, Isaiah Grass, Glass Lux, Impulsive Hearts, Celine Neon, Eight Bit Tiger
Sunday, July 10: Krystal Metcalfe, Chicago Made – Steppin' at the Taste, Daryn Alexus, Nola Ade
Celebrations & Activities
Eli's Cheesecake Birthday Celebration
Saturday, July 9 marks the 36th birthday of Chicago's favorite dessert, Eli's Cheesecake. Make sure to stop by Buckingham Fountain to celebrate and grab a tasty slice!
Food for Thought Culinary Podcasts
Look out for tents hosting podcasts of thoughtful conversation amongst the brightest experts in the culinary industry. Podcasts will be held in the early afternoon from around 11:30am – 4pm each day.
Official Taste of Chicago Map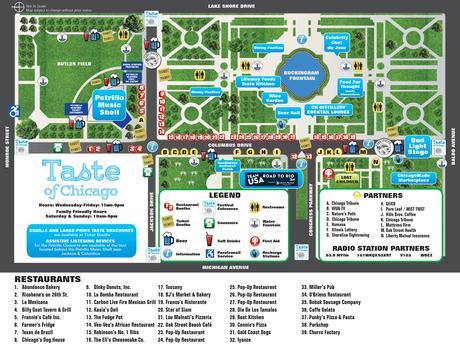 Taste of Chicago – Official Map