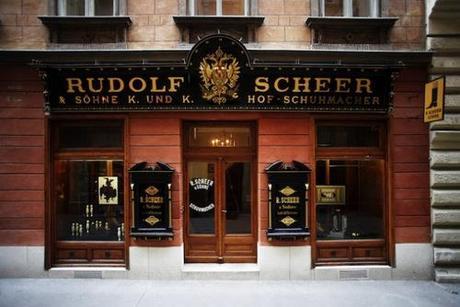 The Wall Street Journal had a nice little article about Rudolf Scheer & Sohne last week. It reminded me of one of the benefits of being in Moscow. Whereas living in the US can be a bit geographically isolating, Moscow is a relatively short plane ride to East Asia or Western Europe. I was actually going to stop by Vienna last year on my way to Berlin, but when my plans in Germany were cancelled, so were the ones in Austria.
It's quite regrettable because Vienna is said to be a sort of holdover from 19th century Europe, where every city had bespoke tailors, milliners, cordwainers, and glovemakers. Many of those Old World operations have moved on to ready-to-wear or simply disappeared in the 20th century, but Vienna seems to have kept much of these traditions alive, especially in shoemaking. In that trade alone, there's Balint, Materna, Maftei, and Elfie Riedl, just to name a few. Some of these firms are said to be able to turn around a trial shoe within twenty-four hours, which makes stopover visits especially appealing.
The most famous of these makers, however, is probably Rudolf Scheer & Sohne (sohne being German for "sons"), a family owned business that has been handcrafting shoes since 1816. The house produces something around three hundred pairs of shoes a year, each pair taking about sixty hours to make, and refuses to increase production. Any more, they say, and the quality will suffer. They also refuse to travel, as they don't think they can maintain quality that way.
London Lounge member Bengal Stripe once visited the premises and said it had something of a monastic feel. When you enter, there is an exhibition case featuring the shoes and lasts of the Kaiser, Austrian Emperor, and selected kings and princes. There is nobody at the entrance here to greet you, just a sign that says, "Please, go upstairs." When you go up, you see numerous shoes standing around, in various stages of completion, waiting for their respective customers. Everything is dimly lit and people speak in hushed voices. Here, you meet Markus Scheer, the newest director who took over from his grandfather a few years ago. He's been training for twenty years, cutting lasts and making shoes, and in the ~200 years of the company's history, only members of the original family have been at the helm. Scheer told Bengal that they didn't have any samples or collections of pictures to choose styles from. In fact, he denied that they had any style at all, and said that there was only one last: the correct one for the customer.
It's unclear to me if perhaps Bengal and Scheer didn't hit it off, or if the Internet rumors are true: that Rudolf Scheer & Sohne doesn't have any need for new customers and they aren't shy about letting you feel that (though, once you are a customer, they apparently take care of you for life, as recraftings and shoe polishings are always free). Who knows. I do hope to able to visit some day, however, and be given the cold shoulder first hand. 
(Photos via Daniel Gebhart de Koekkoek, The Wall Street Journal, and Rudolf Scheer & Sohne)