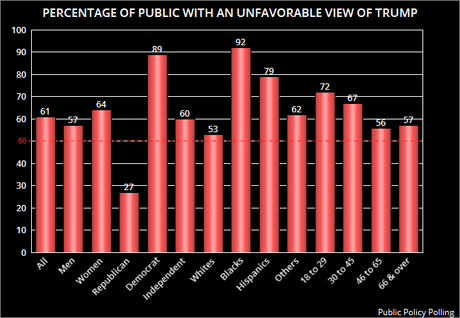 The chart above reflects the views of Americans in a new Public Policy Polling survey -- done between May 6th and 9th of a random national sample of 1,222 registered voters, with a margin of error of 3.2 points.
It shows that a majority of voters (about 61%) have an unfavorable view of presumptive GOP presidential nominee Donald Trump. And if you break it down demographically, only one group doesn't have a majority with an unfavorable opinion -- Republicans (and 27% of them have an unfavorable opinion). All other political, gender, racial, and age groups have a majority viewing him unfavorably.
Trump is the most disliked candidate nominated by a political party in modern times -- and he has a very tall mountain to climb to get to the White House. I don't think he can do it.