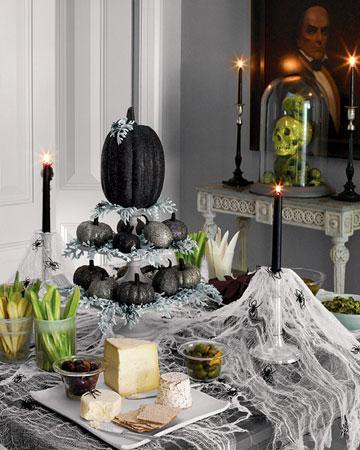 Besides reading fashion glossies and blogs, one content I can't get enough of is interior decorating and design. And Apartment Therapy, The Glamourai and Cupcakes and Cashmere are a few of my favorite go-to's for inspiration.  Since Halloween is right around the corner, I thought it'd be fun to introduce a few decorating ideas while including a few of our very own 1928 jewelry pieces!
Whether you want to create a perfect ambiance for that Halloween party you'll be hosting, or you just love decorating for holidays, it takes a certain amount of artistic talent to make it look great but thankfully there are plenty of sites to help make that happen! A classy Halloween is what I'll be posting about today and I found a few ideas I know you'll love.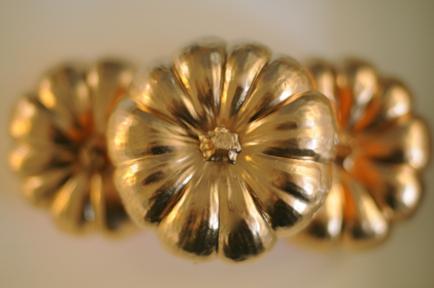 Emily from CupcakesandCashmere decides to take mini pumpkins and coat them with a layer of glossy gold paint, which I thought was genius. Set them on the party table, on top of the fireplace or windowsill along with black candles.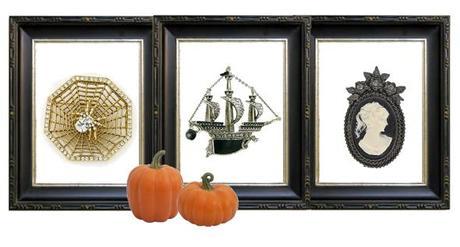 Jewelry is not only for outfits! Since 1928 carries a lot of vintage collectibles, this is the perfect time to get out your sparkly Halloween-esque brooches. Place each piece in a shadowbox frame and hang them on the walls or set them on the table side by side for the ultimate classy Halloween look for your home. (Spider Web Brooch, Ship Brooch, Cameo Brooch).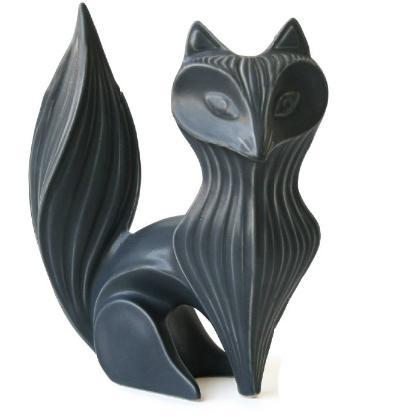 Jonathan Adler's "happy chic" motto and whimsical designs never fail to impress. He's most known for his stoneware and porcelain collections and have designed for many hotels and dream homes. This fox stoneware pottery is a chic piece to use whether it's Halloween or not!