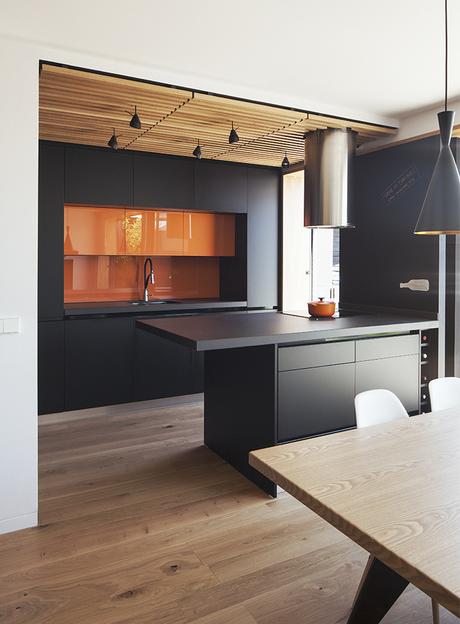 Joaquin Altamirano and Silvia Martín worked with Daniel Bergman Vázquez of Estudio Untercio to create an open-plan oasis in an apartment building in central Madrid. Estudio Untercio designed the medium-density fiberboard cupboards, which are coated with lacquer paint matching the ceramic-porcelain countertops. The tubular hood above the island is by Teka.
Project  Zafra Architect  Estudio Untercio
In Spain, it is not uncommon for first-time nesters to settle close to their family home and aging parents, either in the same village or neighborhood, or in the apartment building where they grew up. This was the case with Joaquin Altamirano, who was raised in a seven-story red-brick apartment building in Madrid's central Ventas district.
Though his parents had recently moved to a village in the Extremadura region of southwestern Spain, his emotional attachment to the edifice and its immediate surroundings ran deep. "When an apartment came up in the same building, we jumped on it," he says. "We could have moved to the suburbs to a house with a pool, too," adds his partner, Silvia Martín. "But instead we chose to continue living in the city center and enjoy all that entails."
The couple's new 753-square-foot penthouse apartment suffered from a typical midcentury layout, with spaces for cooking, sleeping, and bathing strictly segregated into cell-like rooms linked by a dark hallway. Armed with a strict budget of about $160,000 and a considerable wish list that called for integrating the terrace with an open-plan living space, they contacted Daniel Bergman Vázquez, whom Martín had met in her teens. Vázquez is a partner at Estudio Untercio, a young architecture firm whose portfolio includes several buildings of affordable apartments.
"In many ways a lot of the ideas we developed over the years for social housing, where space is scarce, have been applied here," Vázquez says. "We have also been thinking about the type of relationships different spatial layouts promote between family members. Silvia and Joaquin are in some way representative of a social trend in Spain—couples with no children or with one or two perhaps on the way."
Vázquez says it took the studio about three weeks to come up with the basic design and then six months to pull off the renovation. The most radical decision was making the main bathroom and dressing room the apartment's "core"; its central placement and two entrances would dictate a new circular flow. Despite the eradication of the old hallways, it was still destined to be the only room in the house that didn't receive natural light. The architects compensated for this by installing a custom vanity unit above the sink. It is outfitted with a mirrored window, offering a view through the slatted enclosure to the terrace while preserving the user's privacy. 
Vázquez moved the bedrooms from the front of the apartment to the rear, facing the building's interior patio. "The bedrooms were really considered for how the parent-child relationship develops," he says. "At first, you want them to sleep with you, then a little bit farther away but still within close reach. Later on, you perhaps want them as far away as possible!" The main bedroom was designed as a sizable and flexible space with sliding doors that can be pulled closed to divide it into separate sleeping areas. (There is also a more conventional third bedroom with a separate entrance). A small, semi-enclosed en-suite bathroom is lined with petroleum-blue tiles, creating a deep-sea effect. A partially transparent shower screen adds a note of sensuality. 
Martín and Altamirano insisted that their home have a holiday feel, one that gives off a Mediterranean ambience despite its location in a landlocked city. The terrace, previously a shabby space accessible only by a single door, flows into the living and kitchen area via sliding glass doors that run the length of the apartment. The architects added a pair of wall cabinets—one houses a grill for alfresco entertaining, the other contains much-needed storage and an outdoor shower. An artificial-turf border and a few scattered plants round out the space, helping to make it the fun, low-maintenance recreational area the couple were looking for. 
While these major interventions were key to the transformation, the renovation is the product of dozens of smaller solutions that work together, each executed with military precision. Heating vents are tucked into floor-level niches, for instance, and a cupboard inside the main entrance holds modems and electrical mains, keeping unsightly cables out of view.
The owners are both information-technology engineers, and their preference for uncluttered, clean lines and systematic precision is evident in the décor, finishes, and aura of their home. There is no wall art or bookshelves (they both prefer e-books), and there are very few textiles. The only stimuli come from the panoramic window and open-to-the-heavens terrace. "In summer, when the sun hits, we can use our outdoor shower in the sort of privacy that very few people have," Martín says. She and Altamirano plan to eventually have children, and the spatial and functional adaptability of their new home will allow the family to enjoy such moments for years to come.
Log in or register to post comments