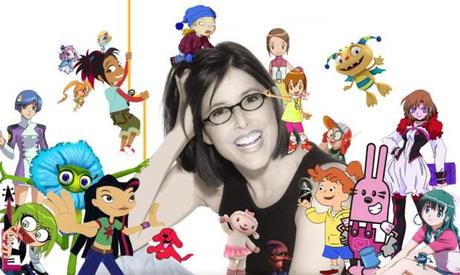 A few months ago, I had been marathoning Digimon Adventure 1 and Adventure 2 thanks to various circumstances (Foxy Lady Ayame, and New Video Group), and while I was either smiling or flabbergasted at some of the script changes compared to the Japanese version, there didn't seem to be much doubt in my mind that the voice actors behind all the characters had a ton of fun actually playing their roles. I probably noticed it consciously as a kid when those series aired on Fox Kids many moons ago, but it was more than apparent when I watched it again those few months back.
Now, while most of the voice actors were respectable, there were a few that stood out. One was Lara Jill Miller, who voiced Kari in both seasons of Digimon. Due to her busy schedule, I was only able to ask her some questions by email, but needless to say, I'm glad she found some time to answer them!
Organization ASG: I'm curious to know if you still keep up with any anime in the past few years (any you've watched), and if so, any you can share.
Lara Jill Miller: I'm sorry to say that I don't watch very much. In fact, I haven't even gotten to see the latest show I've recorded, Winx Club. I've enjoyed recording that show very much, but I haven't gotten the chance to see it on air.
You used to have a solid amount of anime roles, but it's been a long time since your last one (Misao in Lucky Star). Can you share a reason or two for what has happened since then?
When I first arrived in Los Angeles, my first animation job ever just happened to be an anime show, Digimon. I did a few other anime shows after that (like Daigunder, Naruto), but then I booked my first original animation gig, Clifford's Puppy Days and my career took off! I worked on hit shows like Wow Wow Wubbzy, The Life and Times of Juniper Lee, Curious George and SciGirls and so I've been happily, very busy for the past decade or so with original animation.  And now I'm working on Doc McStuffins and Henry Hugglemonster.
Do you foresee a scenario where you would voice a character in an anime series if you were approached with the opportunity, or will original animation work continue to be a big focus for you?
Sure, I'd do another anime show if I fit the part and my scheduled allowed for it. I love working. And I love what I do.
What do you feel are the notable differences between having to do voice acting for anime as opposed to voice acting American cartoons?
Well, in anime, we lip sync. We just dub the roles that have already been recorded. In the others, which are original animation, we 'create' the roles. There's more freedom in the latter. I enjoy doing both however.
For someone who wants to try and break into the business, what steps should they realistically take?
I'd say first and foremost, you have to be an actor. Voice acting is just that, acting. It's not just having a funny voice. You have to make a character live and breathe…and run and jump and eat and yawn and yell and cry, along with a gamut of emotions…all in a voice that fits the character. Also, in many shows now, singing is important. Knowing how to read music and sing in harmony are all very important skills to have to have a lasting career.
Hone your acting skills, do plays and musicals. Take lessons, study. And then get a great agent and do your thing!
Finally, what was your favorite anime role you've worked on?
I'd have to say Kari from Digimon, because it was my first animation job. I liked working on the feature film too, playing her as a little girl while also narrating as her as an older character. I learned a lot back then and met a lot of really nice people (directors and engineers) that I still stay in touch with today. It's a really nice community and I'm really happy and honored to still be working and doing what I love.