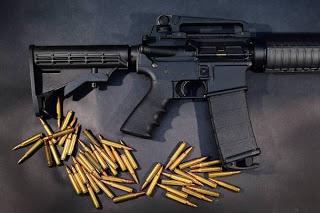 Larry Alan Burns is the federal district judge in San Diego, who sentenced Jared Loughner.
via Tom Diaz' Facebook Page
So what's the alternative? Bring back the assault weapons ban, and bring it back with some teeth this time. Ban the manufacture, importation, sale, transfer and possession of both assault weapons and high-capacity magazines. Don't let people who already have them keep them. Don't let ones that have already been manufactured stay on the market. I don't care whether it's called gun control or a gun ban. I'm for it.

I say all of this as a gun owner. I say it as a conservative who was appointed to the federal bench by a Republican president. I say it as someone who prefers Fox News to MSNBC, and National Review Online to the Daily Kos. I say it as someone who thinks the Supreme Court got it right in District of Columbia vs. Heller, when it held that the 2nd Amendment gives us the right to possess guns for self-defense. (That's why I have mine.) I say it as someone who, generally speaking, is not a big fan of the regulatory state.
Sounds pretty simple to me, especially the"with some teeth in it this time."
What's your opinion?  Please leave a comment.