Daily Constitutional Editor Adam writes…

Every year at this busy time I dig into the archives of The Daily Constitutional and repost a few favourites - it allows me to enjoy the school holidays with my daughter and still lead my London Walks tours.
This year I'm reposting my Cartoon & Comic Book Tour of London - a series of posts tracing the inky footsteps left behind in our capital by everyone from William Hogarth to Scooby Doo. It's been one of the most popular series of all on The Daily Constitutional and I'm looking forward to updating it after the holidays with posts on Captain America, the X-Men, George Cruikshank and Mary Darly. In the meantime, here's the story so far…


NOTE Aug 2017… This post was first published in 2015. In recent weeks the Cartoon Museum has had some rotten luck when it had to close due to circumstances beyond its own control - a situation that a small, under-funded museum can ill afford.




The current show is Daily Funnies and is open every day…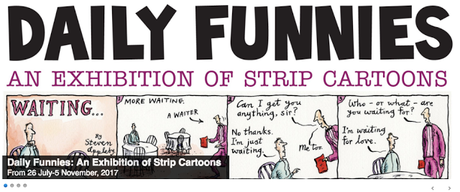 Panel 11: The Cartoon Museum
There it is, tucked away in plain view, struggling to be noticed in the presence of that upstaging old ham The British Museum.
Just to clarify: the good people at the Cartoon Museum are not describing the BM as an "upstaging old ham". That's all my own work, folks.
Indeed when Anita O'Brien, the curator at the Cartoon Museum got in touch with The Daily Constitutional recently, one of the first things she did was direct us to the British Museum as a great resource for London-themed cartoons. 
Anita was writing in response to my request for a London-themed cartoon recommendation and she sent us not one, but two, in the shape of this pair of marvelous Heath Robinsons…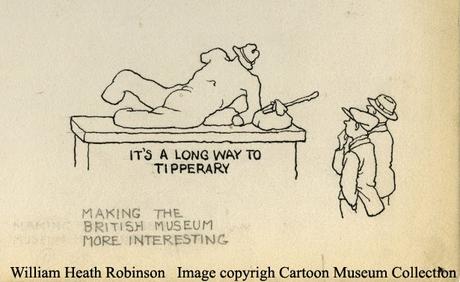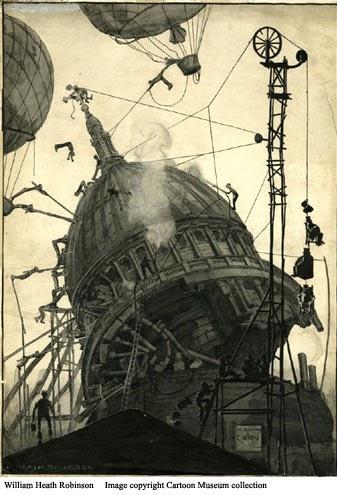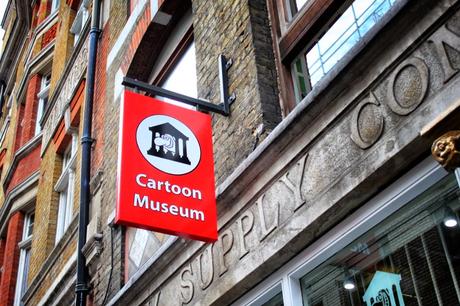 The Cartoon Museum receives very little funding, yet manages to sustain a vivid, rolling programme of exhibitions covering everything from The Beano to William Hogarth.
The collection – rotated regularly – also features originals from Charles M Schultz and Doonesbury creator G.B Trudeau. I'm told that Trudeau dropped off the originals in person one day, traveling incognito - he enjoyed a mooch around the collection first - as a paying customer! Artists from George du Maurier to Gillray are also represented in the permanent collection alongside such diverse contemporary figures as Posy Simmonds (Tamara Drewe, Gemma Bovary) and Alan Moore (V For Vendetta, From Hell).
There are workshops for kids and courses for adults, too. Keep an eye out for the peerless Steve Marchant and his Cartooning For Beginners Course. 
There's a great bookshop, events and talks from the likes of Martin Rowson and no corporate coffee concession stinking the place up. 
And I hear that there may even be a ghost on the premises, too.
Crikey!
www.cartoonmuseum.org
The Cartoon Museum
35 Little Russell Street
London
WC1A 2HH
Tomorrow… Foyles & Charing Coss Road
A London Walk costs £10 – £8 concession. To join a London Walk, simply meet your guide at the designated tube station at the appointed time. Details of all London Walks can be found at
www.walks.com
.