When a surprise comes in the form of flowers, it's always a welcome one, and this week we have been watching a surprise floral show from a plant which has been in our garden almost as long as we have — that's 24 years — and has not flowered before.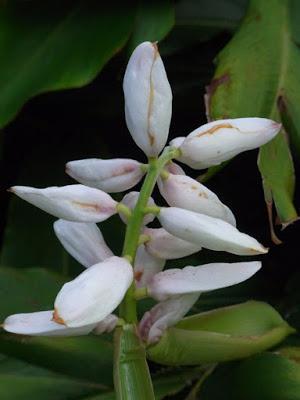 Here it is, photographed this morning, our dwarf cardamom is in bloom. As far as my Googling tells me, this is known as either Alpinia nutans, but I have also seen it listed as Alpinia calcarata. Either way it's an ornamental ginger with foliage strongly scented of cardamom. 
In fact, that's why I bought it in the first place. It came in a little pot and the label said "cardamom". Naively, I believed it was real cardamom for many years. The fact that it didn't set pods didn't bother me. I just thought I was too far south of the tropics for it to set pods. But no, the real answer, which I learned a few years ago, is that this plant is sometimes also called "false cardamom" (as well as dwarf cardamom). And so it will never ever set seed pods, because it's the wrong plant.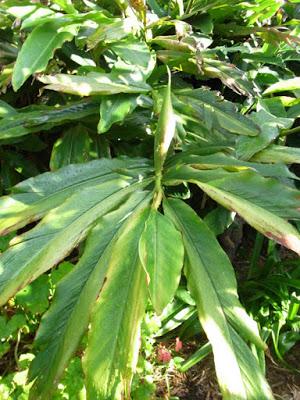 A week or two ago we got quite a surprise when we noticed that it was in flower towards the back of the clump, and that in a much handier position for photography, a new flower was rising vertically from one fan of tropical foliage.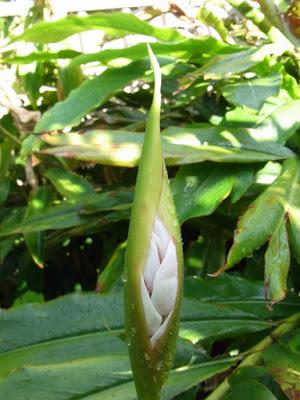 I love the way flowers form buds and slowly open, and our dwarf cardamom took about a week to go from this peek through the curtains to being fully open.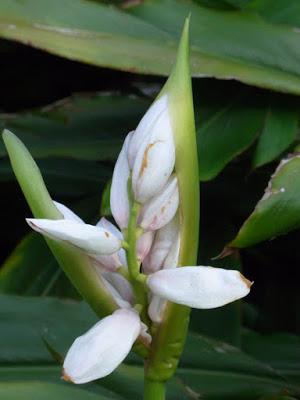 Yesterday morning it was almost there ...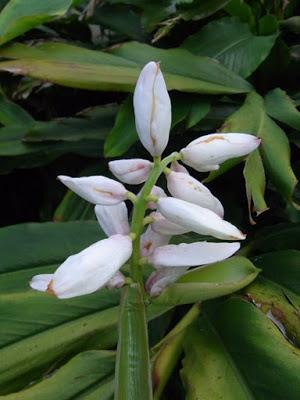 And this morning, after some light overnight rain, it's a bit of a mess — not a textbook bloom by any means — but it's open and putting on a show.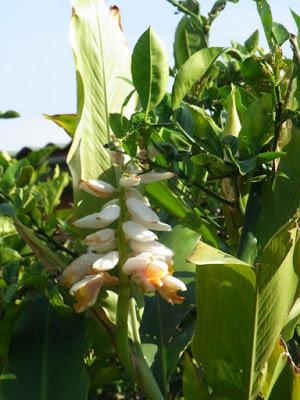 Further back in the clump, up against the fence, there are a few other blooms, such as this easily visible one and the barely visible pointed spire of another new bloom just to the right.
It's a delightful mystery as to why this plant has decided to burst into multiple blooms now, after so many years of merely seeming to be a foliage plant. I can't think of anything I've done to make it flower, as I never fertilise the clump of foliage, nor do I ever water it. The only maintenance I perform is to cut it back, as it loves to spread, and its leaves often become brown, shredded at the edges and generally very scrappy looking. The new, young foliage is far more tropically lush and lovely to look at. But as for what made it decide to flower now, after so many years, I haven't a clue.
You can use the cardamom-flavoured leaves of this  dwarf cardamom plant in cooking. An Indian-Australian friend of ours has occasionally taken several leaves from it. She makes up milk-based sweets, which are then wrapped in the cardamom-flavoured leaves and steamed, to produce lovely dessert treats spiced gently with that cardamom scent.