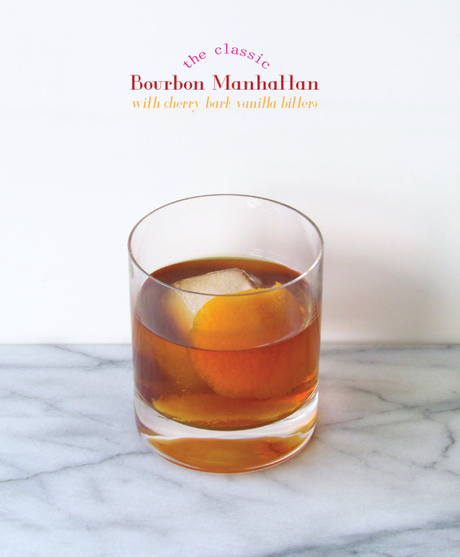 Cheers to Friday! I'm excited to share our take on a killer cocktail we had at Heyday in Minneapolis recently. It turns out, this bad boy is more of a bourbon manhattan (rather than an old fashioned as I originally thought) as it incorporates sweet vermouth. Po-tay-toe, po-tah-toe–bottom line is it's delicious!
And we throw in a bit of our freshly brewed cherry bark vanilla bitters for a warm, autumnal (cinnamon, cherry, vanilla) flavor complexity, perfect for the fall and winter months. Learn how to make cherry bark vanilla bitters here!
Though I'm sure our recipe is different than the coveted Heyday recipe, it comes close in flavor and overall satisfaction! I hope you enjoy. Let's raise a glass to the weekend. TGIF!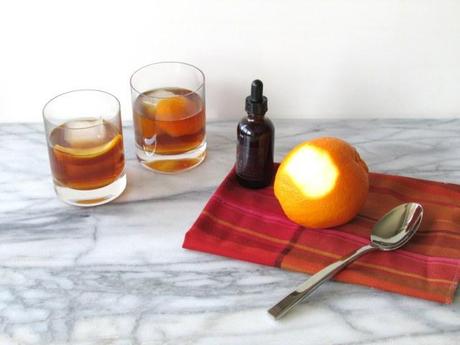 Measurements for One Cocktail:
2 oz (or two shot glassfuls) good bourbon. We use Bulleit.
1 oz (or one shot glassful) of sweet vermouth.
1/2 teaspoon of sugar
1 full dropper of cherry bark vanilla bitters (or to taste)
fresh orange peel/zest
ice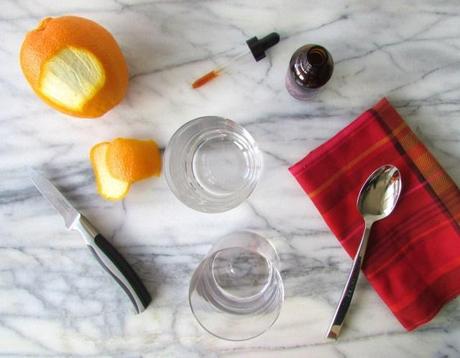 Place sugar, bitters and sweet vermouth in a tumbler. Stir to dissolve the sugar.
Add bourbon, and give it another stir.
Add ice. We like the large 2″ cubes from William Sonoma  (Larger cubes melt slower and won't water your drink down quite as fast!)
Turn orange zest inside out (so the orange colored side of the peel faces the drink). Use your thumb and index finger to squeeze a spritz of zest into the cocktail. Then run the orange side of the peel along the rim of the tumbler for an orange aroma as you sip. See below for a visual. Add the orange peel to the cocktail.
Cheers, Dahh-ling!