As I mentioned in last week's  'In A Vase On Monday' I was delighted to receive 2 copies of the new book 'Fresh from the Field Wedding Flowers' in the post recently, all the way from America. One book was for myself to review and another to give away to a lucky reader. This lovely and informative new book is written for aspiring flower farmers, cut flower gardeners, floral designers and DIY brides looking to create fresh natural bouquets and arrangements from flowers they have grown themselves or sourced locally. All my photos today are of pages in the book – sadly I cannot take credit for any of the lovely arrangements!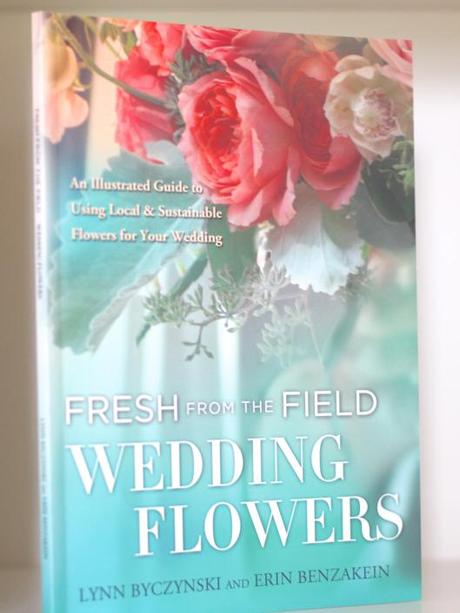 Fresh from the Field Wedding Flowers is a collaboration between two American flower growers – Erin Benzakein and Lynn Byczynski. Both these ladies are fabulous flower growers and make beautiful bouquets from the lovely flowers they grow.
This book is a practical guide rather than a coffee table book . It is relatively small in size and pinted in paperback, so ideal as a reference book. It is jam packed full of real information useful to anyone using home grown or locally grown flowers for an event. There is nothing I like better in a guide than a good list and this book is full of them. I loved the fact that the book actually specifies how many stems you will need to fill for example, a mason jar and provides detailed step by step guides to a number of different floral arrangements.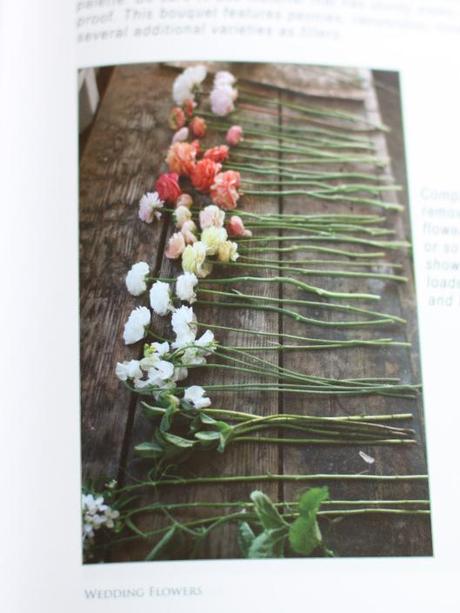 Erin is a flower grower, floral designer and blogger. Her blog at Floret Flowers is a regular read for me and is packed full of tips and tricks for cut flower growers large and small.
Lynn has been farming organic flowers for many years and has written a number of books on the subject. Her Book The Flower Farmer is a particular favorite of mine.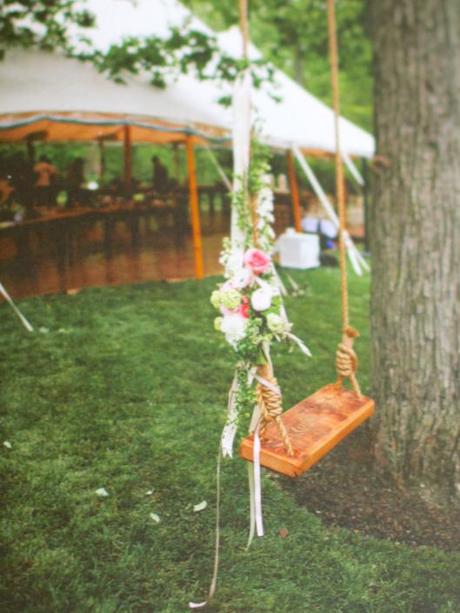 In todays eco conscious world cut flowers that have been grown using chemicals to prevent pests and prolong life, often flown many miles and packaged in large amounts of non recyclable material are increasingly undesirable. Many people are turning to growing their own flowers or buying flowers from local growers. Not only do these make environmental sense – they are also very special to the event being seasonal and more individualistic than the mass produced blooms in the shops. This book offers advice on buying flowers locally and on using the services of a local grower to design your event arrangements, as well as lots of tips for those planning on arranging the flowers themselves.
There is a detailed list of the arrangements that might be used at a wedding as well as advice on choosing cheaper flowers to keep the budget small without sacrificing style. There is lots of useful advice for a DIY wedding – including such tips as how many flowers are needed to make a bridal bouquet or a button hole.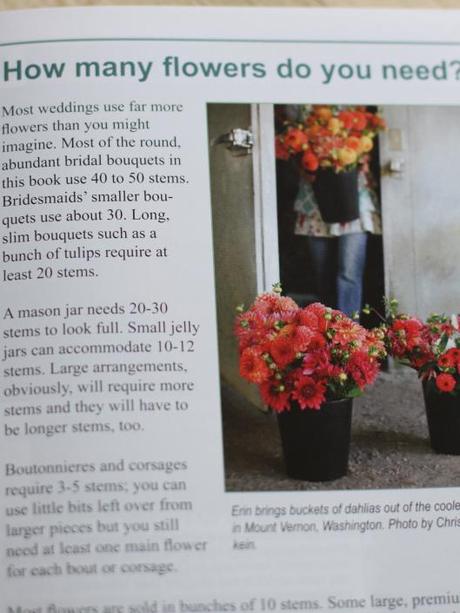 Fresh From The Field Wedding Flowers includes detailed advice on making the arrangements, as well as a photo gallery of lots of styles listing the flower ingredients. I particularly loved the DVD that came with the book, showing Erin making 4 different arrangements.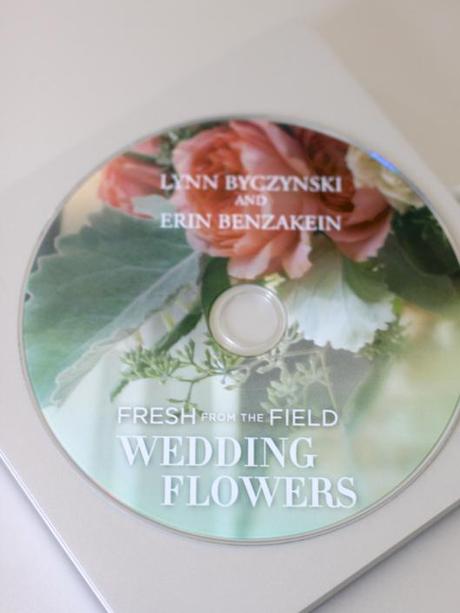 There is also a detailed list of bloom times. Whilst this relates to the areas in which they grow any of us can insert the appropriate first month for our area and the succession will follow. In May the book lists: Alliums, Anemones, Bleeding Hearts, Blooming Branches, Columbine, Delphinium, Dianthus, Icelandic Poppies, Lilacs, Ranunculus, Scillia, Grape Hyacinths, Snowball Viburnum, Spirea, Sweet Peas and Wild Roses. As a flower grower I am finding these lists very useful to work through to identify gaps in my Cut Flower garden.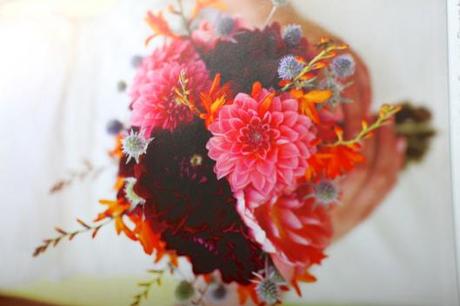 I really value all the useful information contained within this book. I am helping to decorate the church for a friend's daughters wedding in September and this book will be a great source of information and has already got my creative juices flowing with all its beautiful photos. Although aimed at the wedding market, much of the book would apply to anyone organising or helping with a summer party or event where spectacular flowers are needed.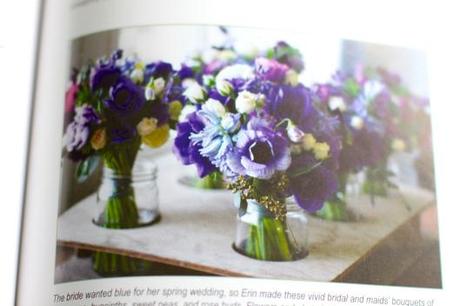 Fresh From The Field Wedding Flowers can be ordered from Growing For Market. It is not available in print form in the UK yet, but it is available as an e-book from Amazon at a very reasonable price.  The e-book includes access to the online videos that are included with the print book in DVD form.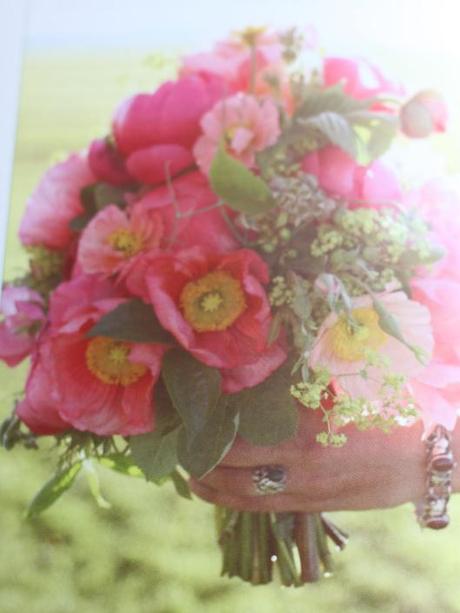 Before making a purchase, however, how about having a go at my little competion. Lynn & Erin kindly sent me 2 copies of the book so that I could offer one to a lucky reader. To make things fair and equal later this week I will be posting 3 simple questions taken from discussions on my blog. The first reader to e mail the correct answers to me will receive the book. I will announce the winner next Monday as part of my 'In A Vase On Monday' post.
You can find out more about Fresh From The Field Wedding Flowers on their FaceBook Page and Pinterest Board. As a passionate gardener looking to expand both my floral skills and range of cutting garden flowers I am delighted to have received this book – thank you to both Lynn and Erin for writing the book and for sending me a copy.
I will be back on Thursday with my little competition and hopefully some photos of the garden if the weather improves a bit!