When it comes to kiwi wedding envy you simply can't ignore a diy beach wedding in the Coromandel (especially when it's boho inspired and the bride is rocking a hot diggity wedding dress!). Today's love story makes me proud to call New Zealand home, and talented creatives The Official Photographers captured it all perfectly. Enjoy!
5 Ideas To Steal 1. The diy windows add a little something special to the ceremony backdrop 2. If you are going barefoot consider glamming up with some barefoot sandals, jewellery for your feet! 3. The kids table in the middle of the reception allows adults to keep an eye on them, and check out the cool styling! 4. The bridal table backdrop and signage is super cool (made by friends) so be sure to rope in talented friends and family to help out in lieu of wedding pressies!. 5. ALL OF THEIR DIY PROJECTS from the hanging hula hoop ivy wreaths to the herb centerpieces on the reception tables (grown by the Maid Of Honor), and leaf place cards, learn more about it below...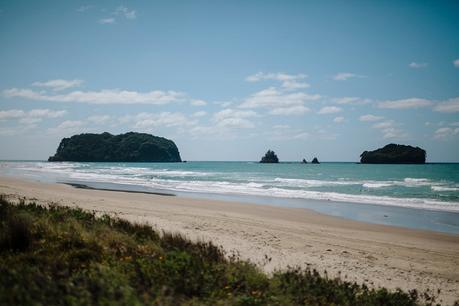 How did you meet?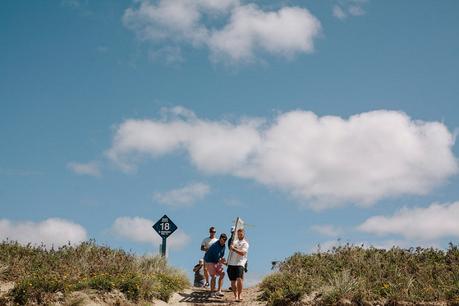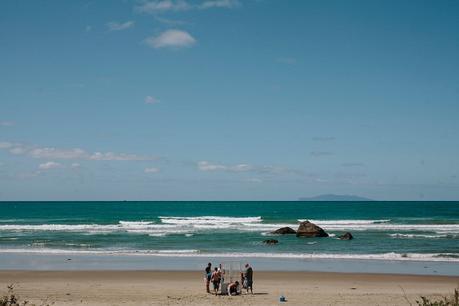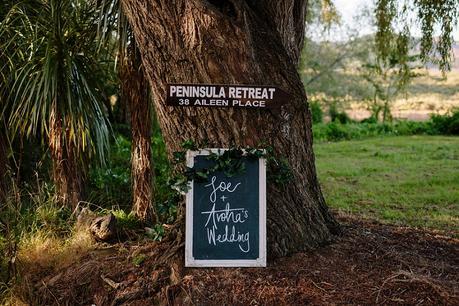 What music did you play for those special moments?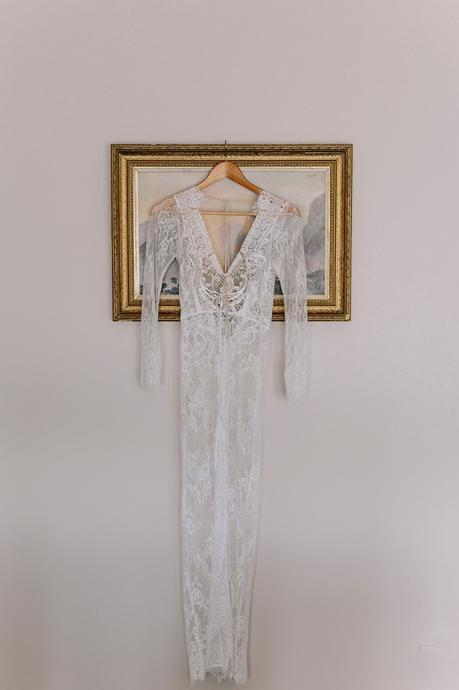 What were the save and splurge items for your wedding?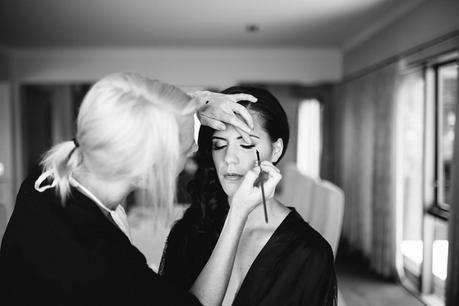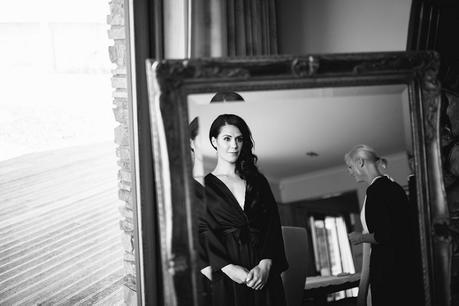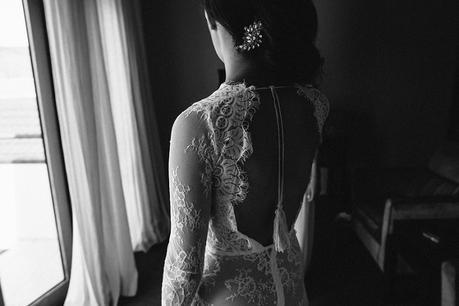 Did you DIY?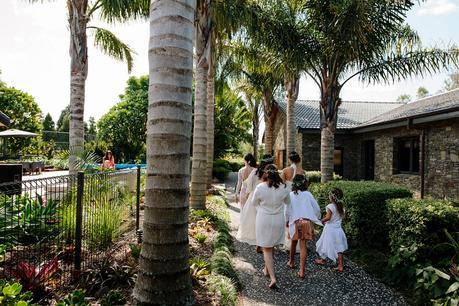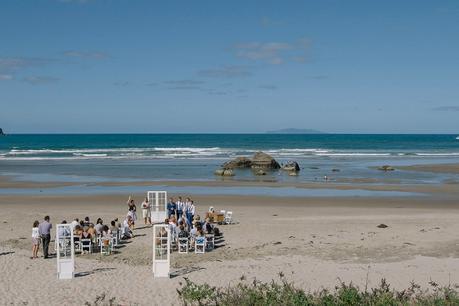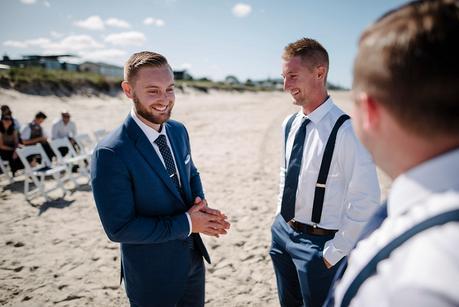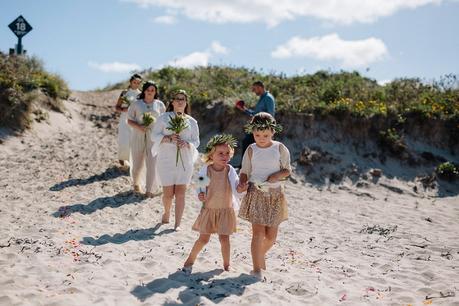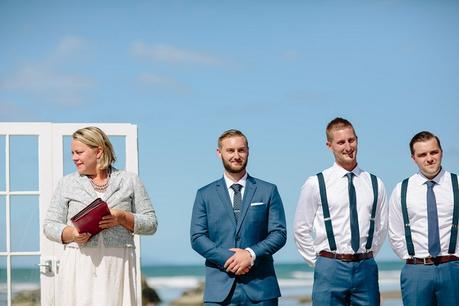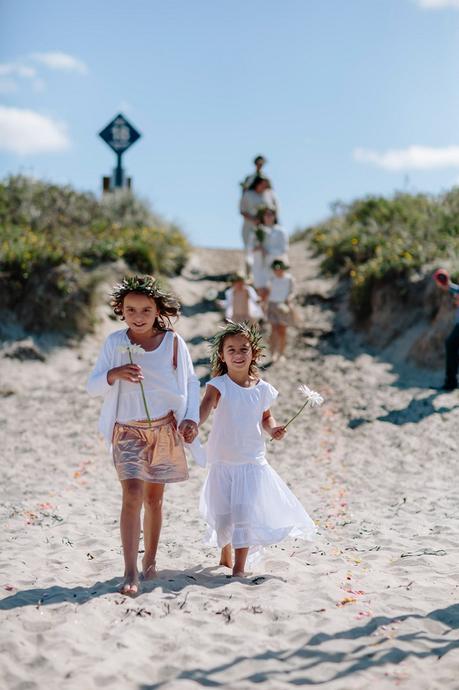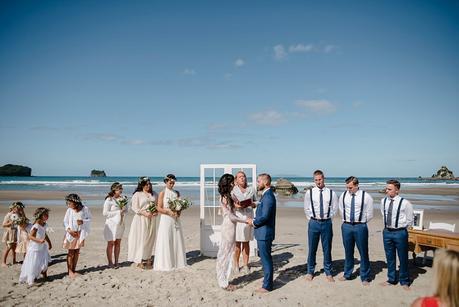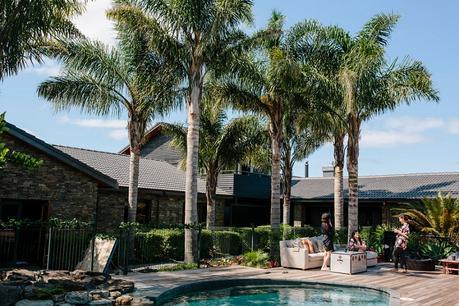 What was the most difficult part of planning your wedding? And the most fun?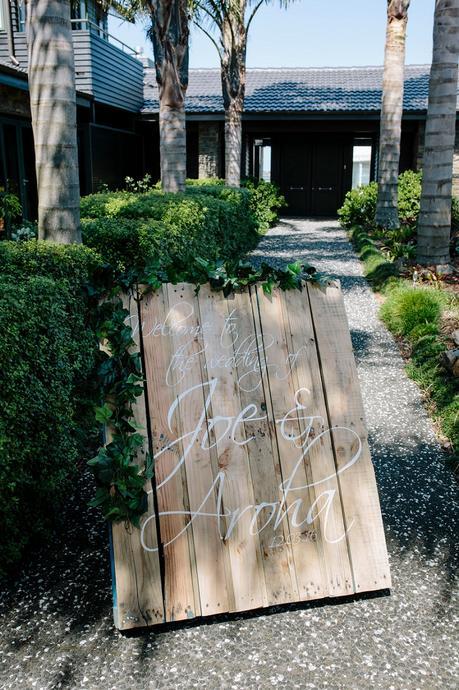 Do you have any money-saving tips for engaged couples?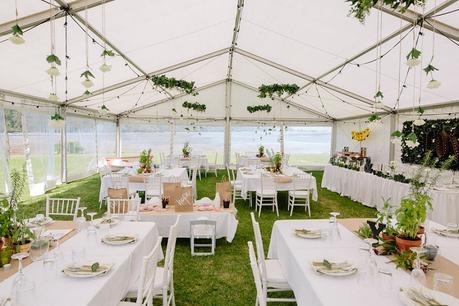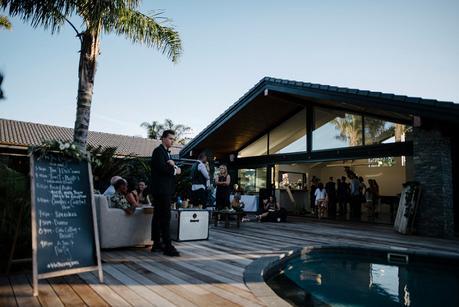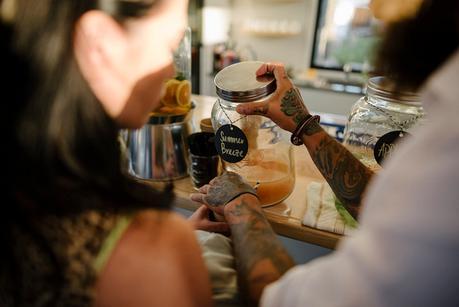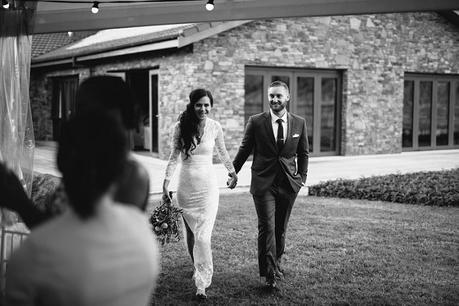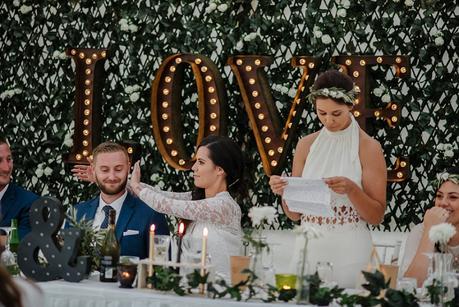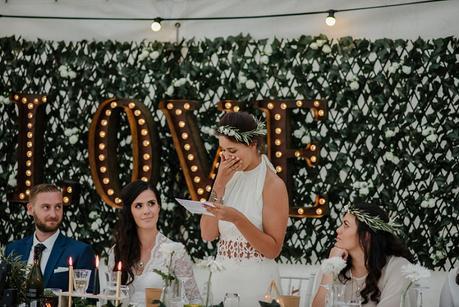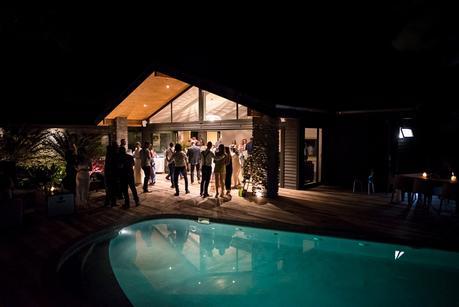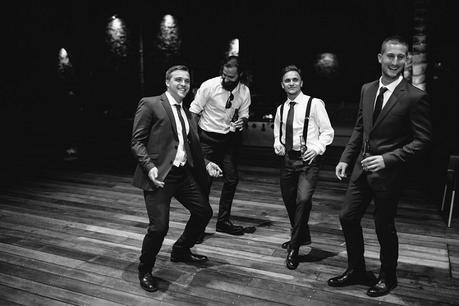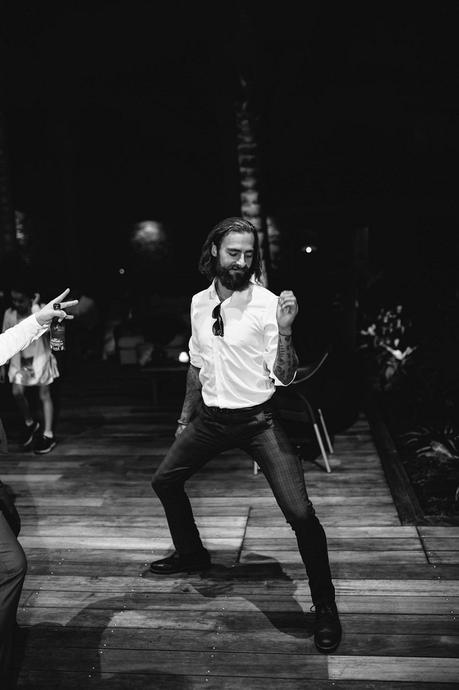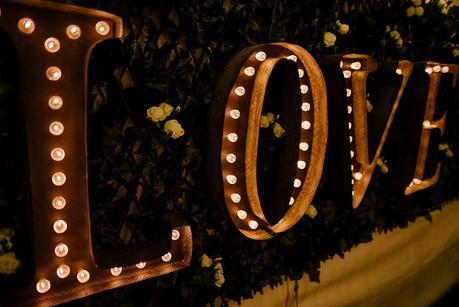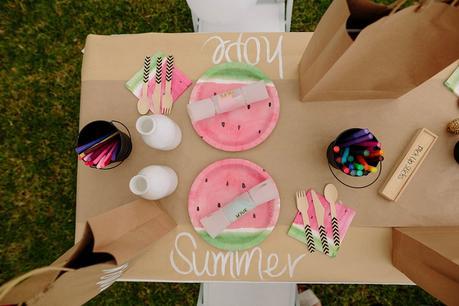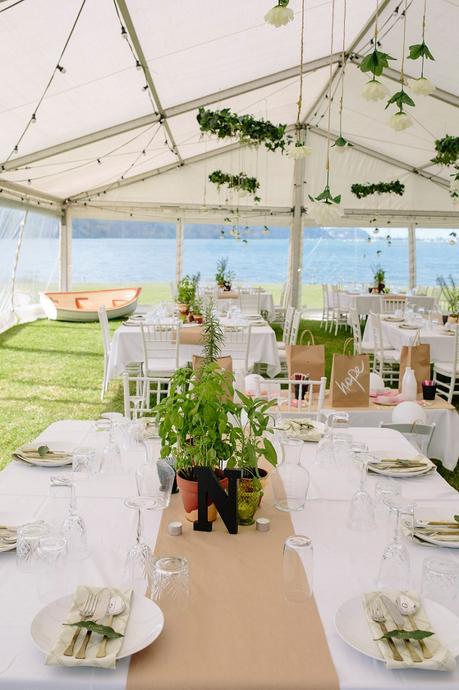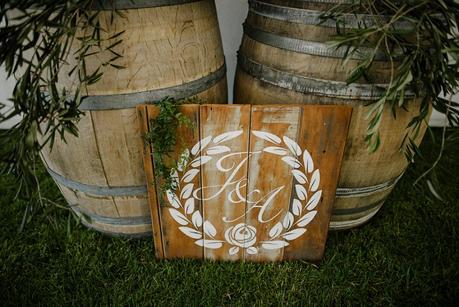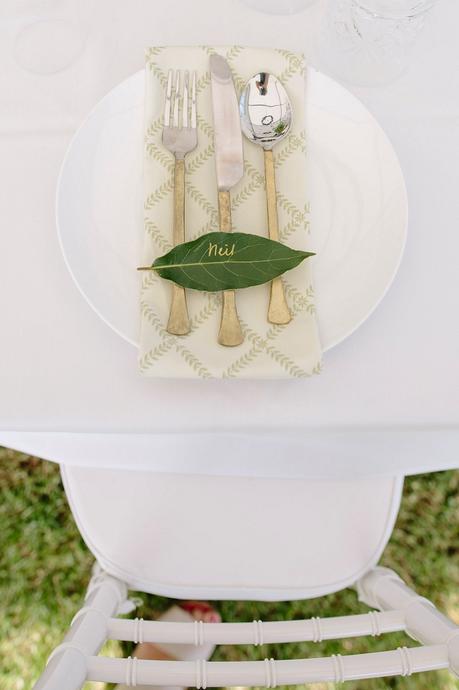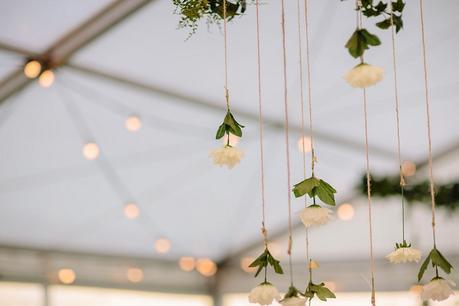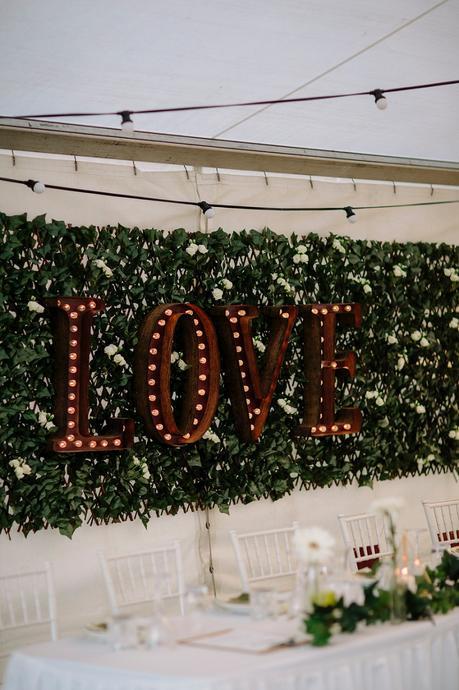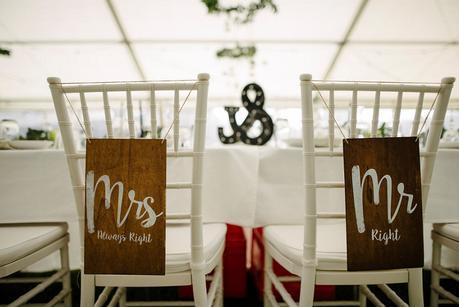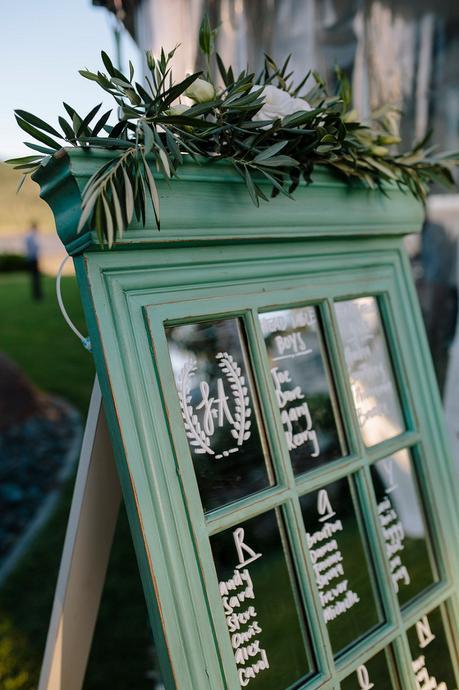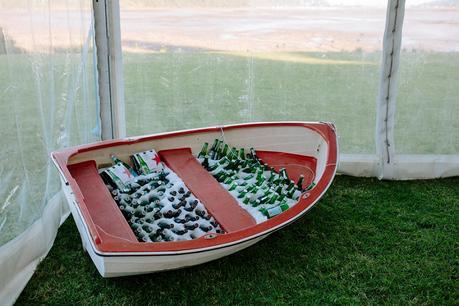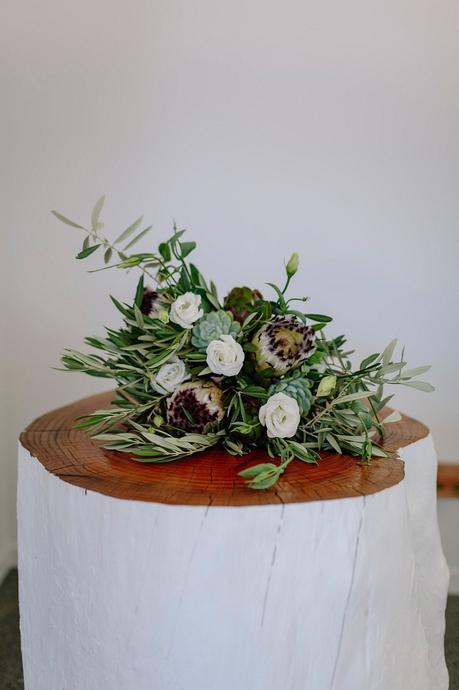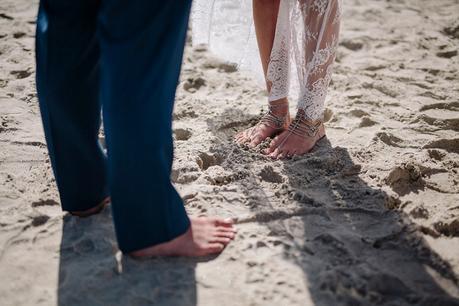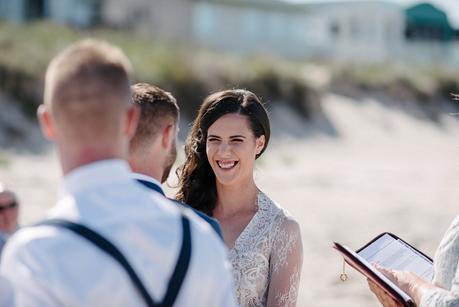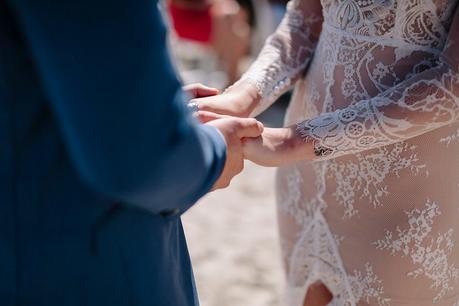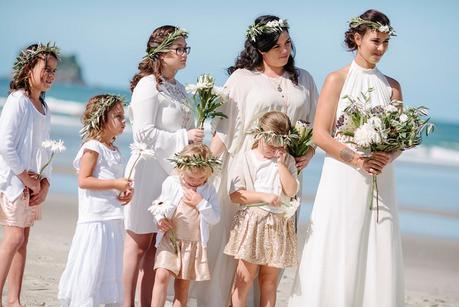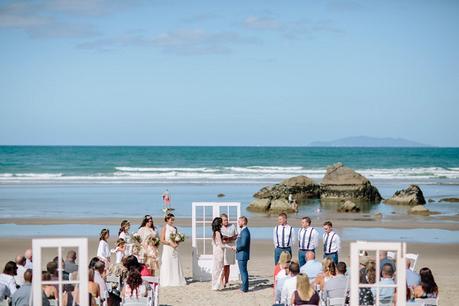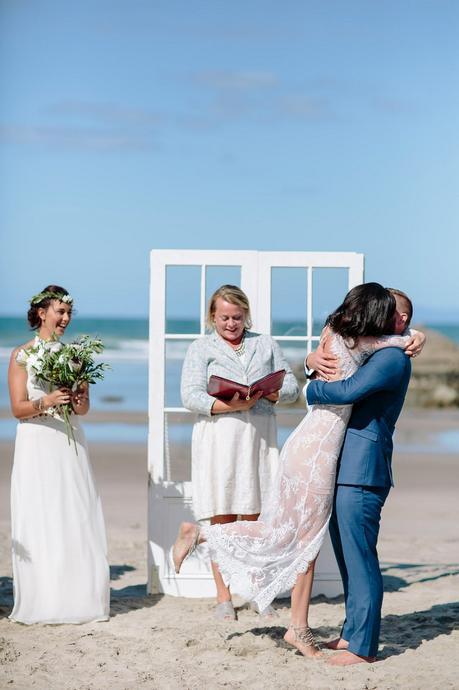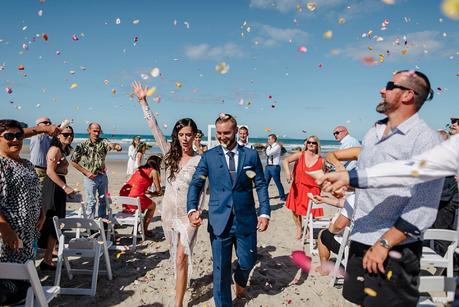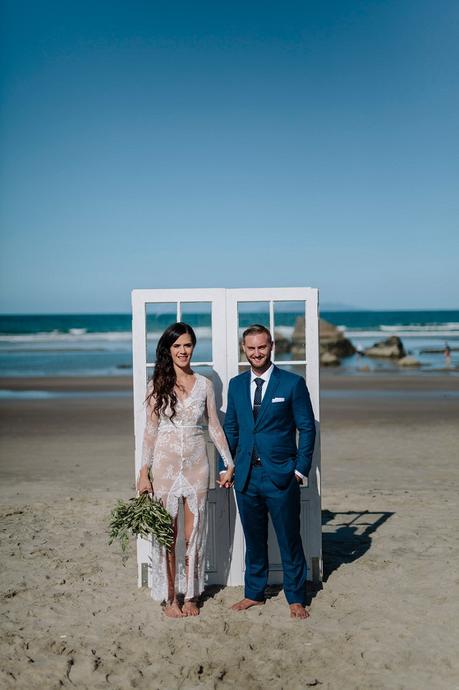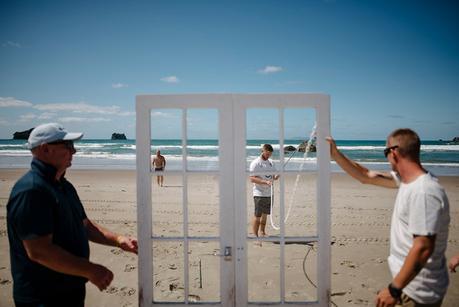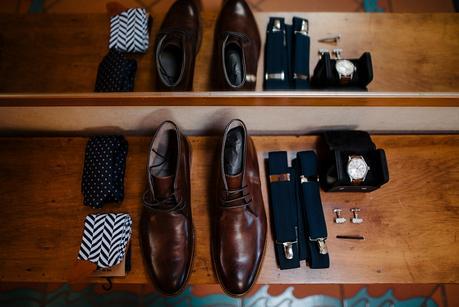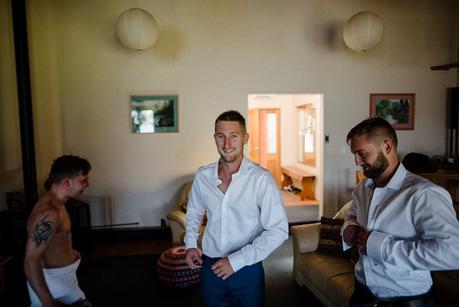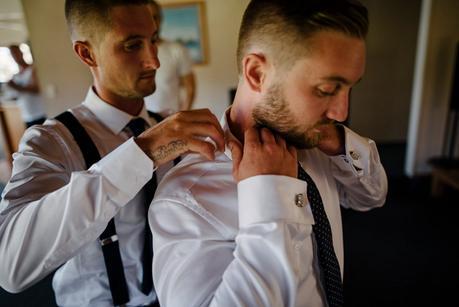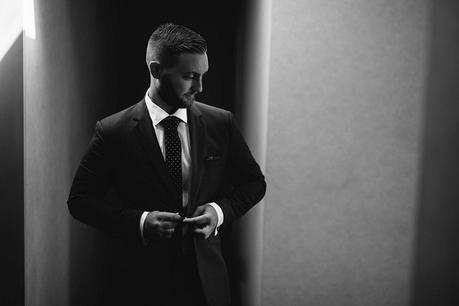 We first met through our siblings who were friends, we dated for a bit but just felt like wrong timing so we went our separate ways for a couple of years and things just fell into place again.....its been love, laughs and fun ever since.
In three words describe your wedding style... Relaxed, Boho inspired, intimate
Walking down the aisle All of me by John Legend
Signing the register History by One Direction
Walking back up the aisle Signed, Sealed, Delivered by Stevie Wonder
First Dance (but we made it the last dance) Thinking out loud by Ed Sheeran
SAVE Big save was Bridesmaids dresses from ASOS, and us girls went without shoes. Saved on band/dj thanks to my cousin Shannon Howe. Biggest SAVE was our stationery, We used a website as our invitation which was only $250 for a whole year, I wrote most of the signage, place names and the seating plan.
SPLURGE was our venue and caterer. We wanted them to be the WOW factors and leave a lasting impression and taste for our guests.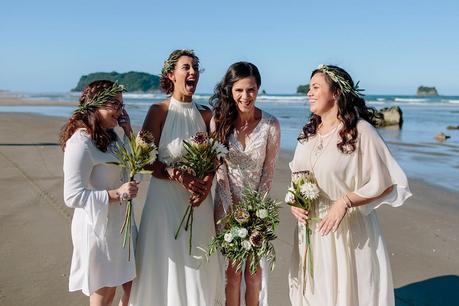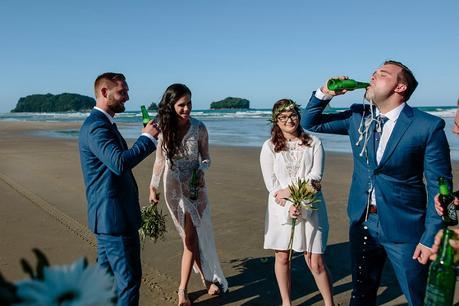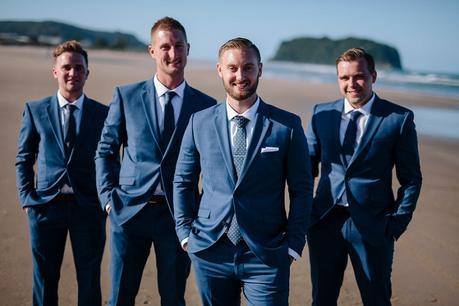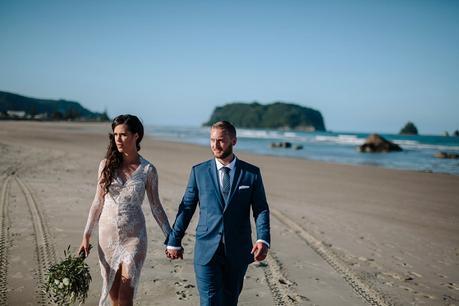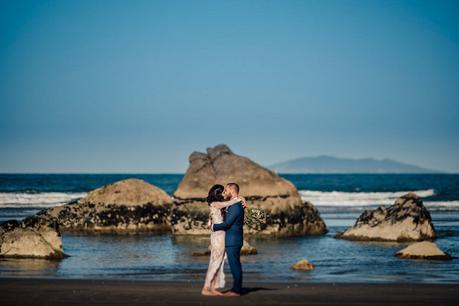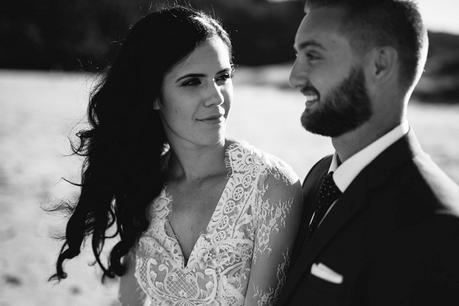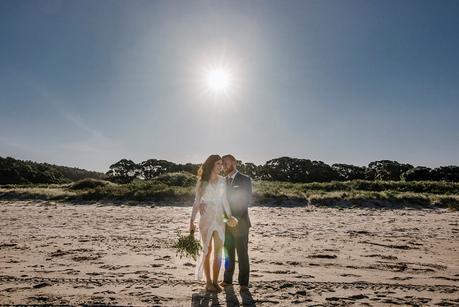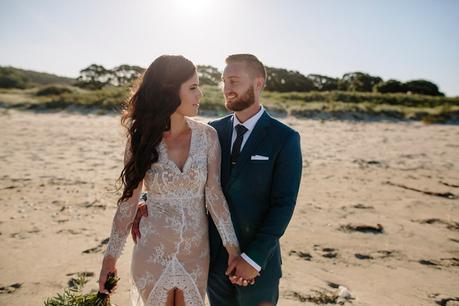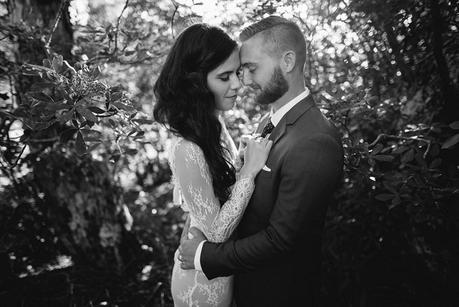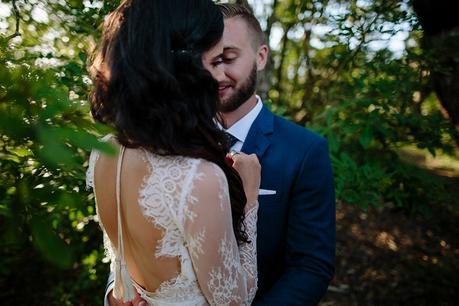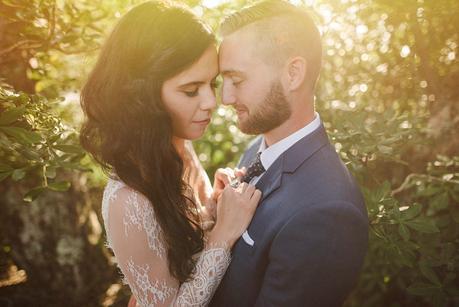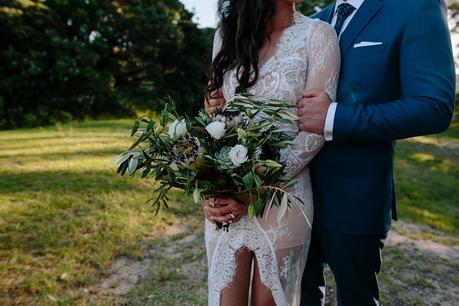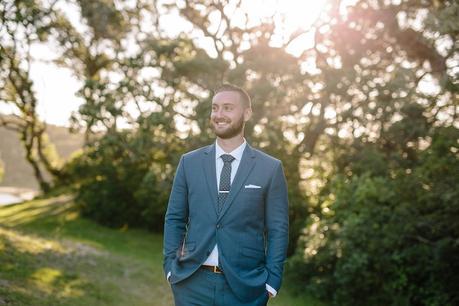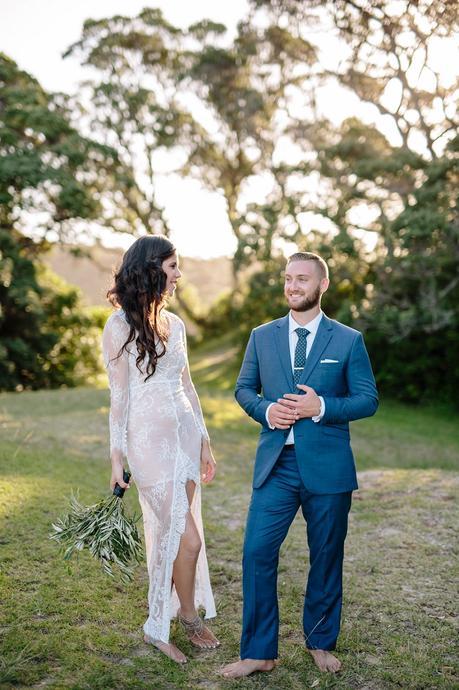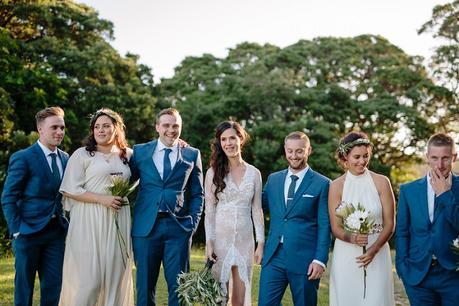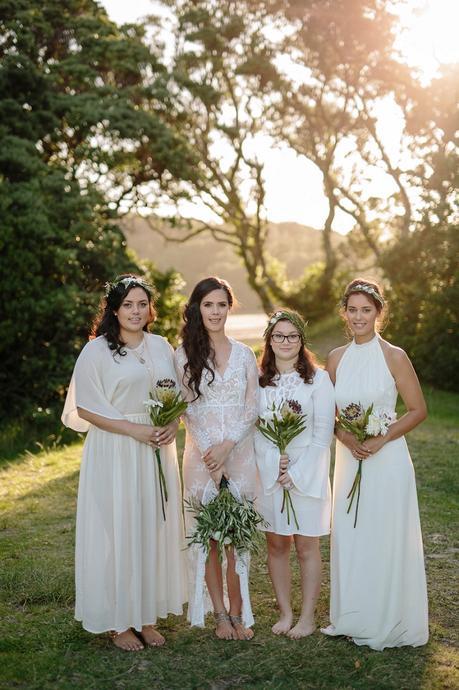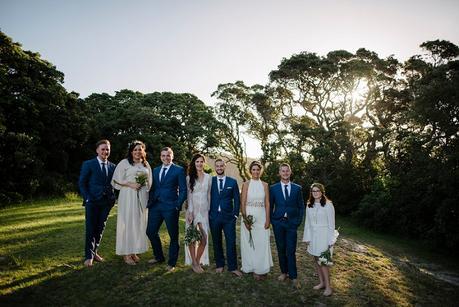 Yes we did. Mostly all the decorations and little details we DIY'd by either myself or our family and friends helped us a lot with making props etc.
LOVE LIGHTS Our amazing friends Trev & Michelle made for us.
HANGING WREATHS I made from hulla hoops, wrapped faux ivy and hung faux flowers from twine... trying to balance these was the hardest thing and something I didn't plan for on set-up.
HERB CENTERPIECES I can't keep plants alive to save myself so my maid of honour Courtney sourced and grew these for me, a total of 25. I decorated the terracotta pots with gold leaf paper which is extremely brittle so if your going to use gold leaf paper be prepared you need to be delicate and buy extra sheets to practice with.
SIGNAGE All signage was hand written by myself and the pallet signs were painted for us by our friends daughter - Georgia
CEREMONY DOOR/ARCHWAY The ceremony door/archway w as made up on the day of the wedding. The boys all got together first thing and put it together using chain and pegs to hold it up straight. We bought the windows off trade me for $100 and just added door handles to make them look like doors.
PLACE CARDS I wrote these out on leaves which cost us nothing 🙂 Major savings when you can spend so much $$$ on stationery.
Most difficult part was planning our wedding without two special people who are no longer with us. The most fun we had was when all our family and friends got together with us to help set-up for the wedding, and the nights we spent making and building decorations.
Before you even start booking and planning what you both want, take the time to really think about what you want to spend your money on. Pick things that are the most important to you, spend the most on them and write a list of negotiables, things that really don't matter to you that much or things you'd be happy to go without. There is no right or wrong way to have a wedding at the end of the day its only about you and your husband, the day is about you two and if I could give you some advice about how to make the most of your day is to not worry about the little things, things are going to go wrong and when they do just embrace them, it really isn't worth the stress.
CREDITS
Photographer The Official Photographers
Flowers Arrow Florist & Gifts
Venue Peninsula Retreat, Whangamata
Catering Global Cuisine
Hire Company Carlton Party Hire, Hamilton Prop Hire The Pretty Prop Shop , Insphire, The Wedding Bunch
Stationery & Signage DIY
Hair & Makeup Krystal Hayward, The Makeup Girl
Celebrant Nicki Sunderland, Take A Vow
Brides Dress, Accessories & Shoes Brooke Tyson
Bridesmaids Dresses ASOS
Grooms Suit & Accessories Barkers
Rings Diamonds on Richmond