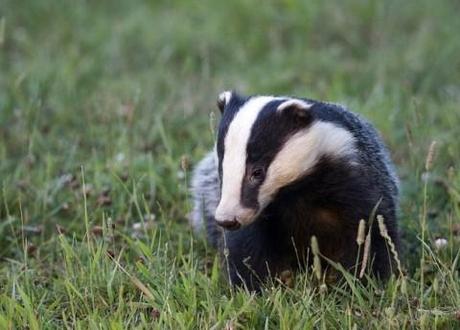 The beast in question. Photocredit: Janey M http://www.flickr.com/photos/janey_m/4806463832/sizes/z/in/photostream/
Badger culling will be allowed in England under a pilot scheme, to check the spread of bovine tuberculosis, a disease which saw 25,000 cattle slaughtered last year amd has cost taxpayers £500m over the last 10 years in England alone, and if not checked, will cost a billion pounds over the next decade. Farmers will be able to form syndicates – at their own expense – to cull the animals. It's an emotive issue, and battle lines are forming between farmers and animal rights activists.
Michael McCarthy on The Independent said, "Opposition politicians, animal welfare organisations and wildlife groups queued up to criticise the plans, announced by the Environment Secretary, Caroline Spelman, as inhumane, unscientific and unnecessary, while farmers, landowners and vets welcomed them as essential in the fight against the disease. The split foreshadows an almost certain legal challenge to the proposals, likely to come into effect next year, and the possibility of violent disorder if attempts are made by animal rights activists and others to prevent a cull." Whilst "The Humane Society International said it was 'appalled' by the decision," Peter Kendall, president of the National Farmers' Union, said: 'This has never been about eradicating badgers; this is about eradicating disease. Today is a massive step forward.'"
"Long-suffering Westcountry farmers have hailed the Government's landmark decision to sanction a cull of badgers," heralded This is Cornwall. "Ravaged herds," were "most frequently found in the South West, where the badger culls are most likely to take place." A large section of the public is opposed to culling; but at present there is no useable vaccine for the disease. "Scientists insist culling has to be carried out over a large area and for a long enough period. If so, it could lead to a 16 per fall in TB in cattle over nine years."
"Meanwhile the media," said Bovine TB Blogspot, "while not obsessing about its own problems of 'news gathering', is plastered with pictures of healthy shiny badgers, gobbling peanuts,' not at all like one suffering the final stages of tuberculosis.
However, said Johann Tasker on Farmers Weekly, the Liberal Democrat agriculture spokesman, Andrew George, has warned that the government's proposed cull risks making the disease worse.  "George said: 'This is an untried and untested method.'" It needs to be science-led: the pilots will have to be "'thoroughly and rigorously evaluated before rolling the project out. A decade ago it was failure to adopt effective cattle movement control measures when restocking after the foot and mouth outbreak that worsened the problem.' Destabilising the settled badger population by shooting threatened to make the problem even worse, Mr George added. 'The government correctly promises a 'package of measures', but I don't believe that this particular measure will help. Badger control may be necessary in some areas, but I don't think this is the way of going about it.'"
"We are devastated," said the RSPCA. "David Bowles, RSPCA director of communications, said: 'Today is a black day for badgers – a day we have been dreading. We think that the following are more effective ways of dealing with the problem in the long term and eradicating bovine TB in cattle for good: vaccination of badgers, increased levels of testing improved biosecurity and stricter controls on the movement of cattle." This cull will contribute little  to eradicating TB nationally. "Instead it will wipe out huge numbers of this much-loved species, including many animals which are healthy.'"
More on nature

Dog bites shark and lives