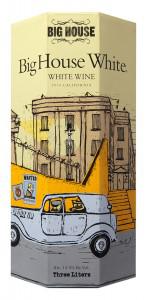 I recently received an unexpected package with two 3L wine casks of Big House wine. One of them, the 2010 Big House Red, I reviewed previously. The other one, however, was the 2010 Big House White, however, is a new vintage that I haven't tried.
An interesting thing about the Big House blends is that each vintage uses a different blend of grapes, so each vintage is a totally new wine. I'm sure this is a fun experience for their winemaker, Georgetta Dane, as it allows her to be creative with each year's blends.
I'm finding that some very good wines are available in the box (or cask) format. In the case of Big House, these are the same wines that they sell in the 750 ml bottles, but they are significantly cheaper in the 3L cask. The suggested retail price of this wine is $22 for the 3L cask, which is $5.50 per 750 ml. In the bottle, the suggested retail price 9.99 for 750 ml. The packaging costs and shipping costs are significantly lower for the wine cask, which results in the lower price.
Of course, buying 3L of inexpensive wine isn't worth it if the wine isn't good, so let's talk about the wine itself.
This wine is a blend of 11 different grapes, which is considerably more than the 4 grapes used for the 2009 vintage.
The nose is wonderful. There's some floral aromas, some tropical fruit, and even a bit of smokiness. This doesn't seem like it comes from oak (and the tasting notes from Big House do not mention any use of oak), but likely comes from one or more of the grapes used.
On the palate, I'm getting more floral notes (I'm really not good at identifying specific floral aromas, so I'll just leave it at "floral") along with bananas. There's some other fruits in there, too, but, like the 2009, the wine is complex enough that I find it difficult to identify specific flavors.
The acidity provides great balance. It's a crisp, clean, dry white wine. It's really good. I'm actually surprised at how much I like the floral flavors in the wine, as I typically go for the fruit.
This wine has fruit, floral, acidity, compexity, and great balance. It's wonderful, and it's very affordable. At $5.50 per 750 ml in the 3L cask, this is an excellent value with a great QPR. You should run, not walk, to the nearest wine retailer and buy this. If they don't carry Big House Wine, insist that they do.
This wine definitely gets my "Excellent" rating.
 Wine Details
Producer: Big House Wines
Vintage: 2010
Appellation: California
Varieties: Malvasia Bianca 22.7%, Grüner Veltliner 15.9%, Sauvignon Blanc 15.7%, Gewürztraminer 9.2%, Riesling 7.9%, Chenin Blanc 7.3%, Muscat Canelli 6.1%, Viognier 5.2%, Verdelho 4.5%, Albariño 4.4%, Pinot Gris 1.1%
Alcohol: 13.5% ABV
Acidity: 0.56 g / 100 ml
pH: 3.46
Residual Sugar: 3 g/L
Harvest Brix: 21.0 – 24.0
Harvest Date: September – October 2010
My Rating: Excellent