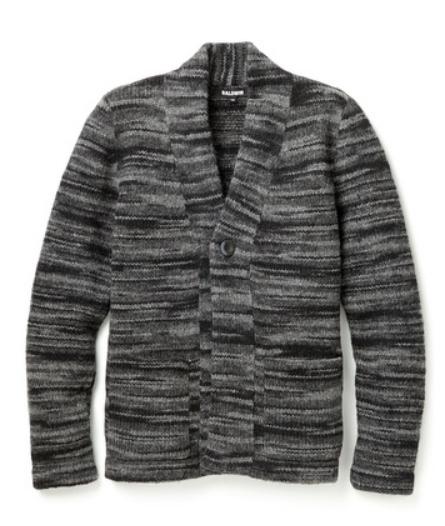 A powerful piece by Baldwin Denim
The cold season is the perfect time to wear a great sweater that will make you not only look great, but also feel great!
Sweaters are not a very complicated part of fashion: they are accessible, easy to wear and very comfortable. Once you followed the number one rule of style, which is fit, there are a few things that can help you make wiser choices when picking out a sweater from a store or from your wardrobe and that can help you elongate your sweater's life by a lot!
Fit
A little earlier we mentioned fit and we feel obligated to remind you that fit is essential when it comes to any kind of clothes, since wearing garments that are not your size will never make you look good. If you are a small guy and wear a big sweater, you will look even smaller due to the optical illusion that you are drowning in it. If you are a big guy and wear a sweater that is too big, you won't camouflage your weight, but you will appear to be even bigger. Wearing a sweater that is too small on the other hand will make you look as if the piece is strangling you and, again, you will look bigger than you are, as it will appear as if you are going to pop out from your clothes. Therefore, always wear sweaters that fit your body and size. To make sure that a sweater is in your size, there are a few things you need to look out for:
Comfort: If you don't feel comfortable in a garment, it might be too big or too small.
Bulk: A good sweater is supposed to touch your body, but not strangle it. Also, if you have too much bulk in the arms or other areas, you can either search for another pair or you can simply have it tailored. A tailor can really make wonders when it comes to modifying your clothes.
Shoulders: A simple way to tell whether a sweater, a jacket, or a shirt fits is to check the shoulders. The sewing line of the shoulders should always match your outer shoulder line.
Styles
Now that you've got fit covered, you need to learn more about the different styles of sweaters and how they can benefit you aesthetically.
Sweaters are mostly simple pieces that do not have much "design" in them. The things that vary most are the neckline and the color or print.
Here is some useful information on how the neckline and color of a sweater can make you look better:
Necklines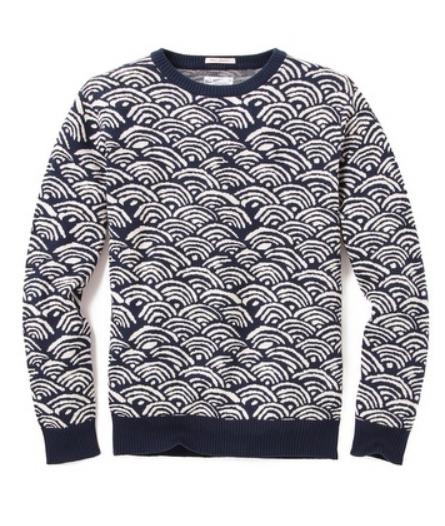 A crew neck sweater by Gant Rugger
Round necklines usually have the tendency to make you appear rounder. Men who have square jaws, oval faces or pointy noses and eyes can always rely on crew necks (which is what round necklines are also called) to balance their features and make them look better. Thin men who want to appear bigger can also wear crew necks for such an effect.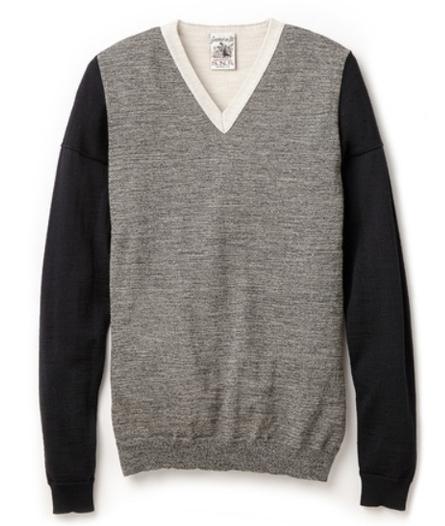 A deep v-neck sweater S.N.S. Herning
V-necks have the tendency to elongate you face. If you have a very full, round face, you should definitely opt for a v-neck sweater, as it will balance your features. Also, men who have short torsos or shorts necks can also benefit from v-necks. If you want to appear thinner and taller, go for a very deep v-neck or even for a cardigan that buttons quite low on your chest.
Turtlenecks are also very common, but you really need to work hard to pull one off. Turtlenecks work best on men who have strong necks and a medium sized body. Other types of men might look as if they have been attacked by their sweater. If you are wearing a turtle neck, you need to experiment with the roll on top and to remember to never tuck it in. Turtlenecks are very versatile and can look stylish if they are in a color that flatters you and mixed with another good garment.
Colors and patterns
Wearing colors can be easy, and learning how to match colors and how to choose the best colors for your skin tone can prove to be very beneficial for you.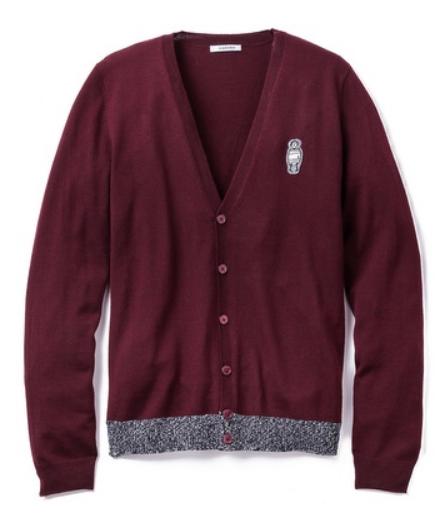 A slim fit cardigan by Carven
As a basic rule, remember that dark colors tend to slim you down and bright colors can make you look bigger, but only if the fit of the garment is right! Fit is always more important than color: an oversized black sweater will make you look a lot bigger than a white sweater that fits well!
When it comes to patterns and prints, remember that they need to be proportionate to your body: large men can wear big textures, prints and patterns, while thin men should opt for small textures, patterns or prints. It is true that horizontal lines can make you look bigger and that vertical lines can make you appear thinner, but, once again, only if the garment fits perfectly!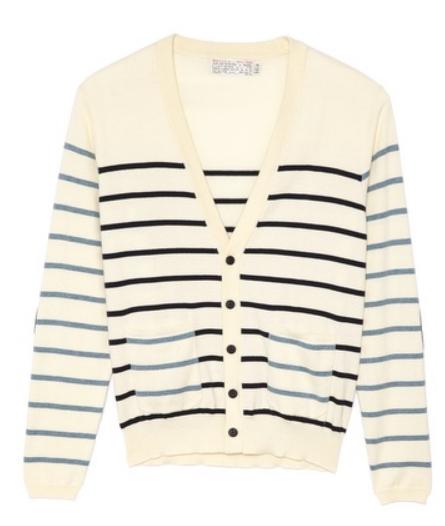 Never rely on colors or patterns to define your shape!
Fabrics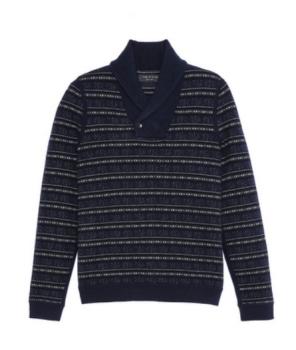 Sweaters are made from a variety of fabrics, but the most common ones are cotton and wool. Some sweaters are also made from linen, cashmere, silk or blends. Some of these are more expensive than others (cashmere costs way more than cotton), but in our opinion they are all great, as they are all natural. Natural fabrics are always the best choice, as they breathe well and can adapt to your body very easily and to the environment in which you live.
One thing you need to be careful though when you are looking for a new sweater is to consider where you will be wearing it. This should determine the lightness of the fabric. A sweater that is too thin might make you freeze and one that is too heavy will make you sweat. If you need it for several environments and moments, go for a medium one.
Never go for synthetic sweaters, as they will only cause you issues: a nylon sweater can cause rashes, it won't adapt to your temperature and might keep you cold even if it's very dense and we've even seen people become electrostatic from wearing synthetic sweaters. The last thing you need is giving someone who hugs you a small electric shock.
Layering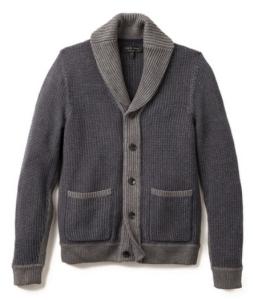 A Rag & Bone shawl-collar cardigan
Sweaters can be worn with anything you want underneath. You can either opt for an undershirt that will protect you from sweat and cold, with a shirt and pop your collar for more visual interest or with nothing; but in this case, you must make sure that the fabric of the sweater doesn't itch, otherwise, you will look like you fell in a pot of scratching powder.
We don't recommend wearing anything over your sweater, as the most voluminous piece always goes on top. Of course, jackets and scarves are allowed, but vests or shirts will probably look at least weird.
Maintenance
Washing
To give your sweater the best treatment it can get, always follow the washing instruction you will find on the label. Some sweaters say "dry clean only" and you should respect this rule! If the label doesn't specify how to wash it, always make sure you wash it by hand, otherwise you risk damaging it and it might shrink as well!
To wash your sweater, follow these instructions:
Fill a clean bath tub or skin with cold water and soak the garment in it.
Always use delicate detergent or dish soap so that you don' t damage the sweater. Soak the piece for 30 minutes or so.
After that, rinse the sweater gently with cold water and squeeze it, but never ring it! Twisting the piece will destroy the fibers and your sweater will be forever damaged. Squeeze out the soap and water gently and reshape the garment to its natural form. Place it on a dry towel and pad it dry with another. Make sure it's flat and let it there to dry.
Most sweaters, unless you stain them, don't need to be washed too often. If you clean them a few times each season, that will be enough.
Storing
After you have cleaned your sweater, make sure you fold it nicely and put it on a shelf. Knitwear should generally not be stored on a hanger, as it might get those small dimples that are not very pleasing to the eye. If you don't have a shelf, you can store your sweater on the back of a chair or on a hanger, but then you need make sure that the hanger is soft and that you take it off a lot of time before you wear it so that it has the time to come back to its initial shape. Note that storing a sweater on a hanger will not only cause dimples, but it will also damage the fibers and the shape of the garment and your sweater will never be the same again.
Sweaters are very versatile pieces: they can be worn during the day, at night, at work or at home, when skiing or at a nice dinner, when working and, why not, even when sleeping!
If you own a reliable sweater, you can almost be sure that the cold season won't be too cold for you!
Fraquoh and Franchomme
Further reading: How to wear sporty men's sweaters: 10 tips 
P.S. What are you looking for in a sweater? How do you like to wear your sweaters? What styles do you prefer? Share your thoughts in the comments below! For more articles on style, fashion tips and cultural insights, you can subscribe to Attire Club via e-mail or follow us on Facebook or Twitter!
Share on Tumblr
0
''