This, my friends, is how to get rosy butt cheeks and sparkling libat eyes (cross-eyed): Go on a roadtrip with a dozen or so transfers. In my case, a 600-something-kilometer roadtrip along the eastern provinces of Mindanao on different modes of public transportation. This is my butt-rosying (and butt-numbing) formula:
Day 1
Cebu to Surigao City (Surigao del Norte), taxi and plane
Surigao City to Cantilan (Surigao del Sur), 117 km, van
Cantilan to Tandag City, 52 km, van
Tandag City to Cagwait, 43 km, jeep
Day 2
Cagwait to San Agustin, 30 km, bus
San Agustin to Barobo, 37 km, bus
Barobo to Hinatuan, 34 km, van
Day 3
Hinatuan to Mangagoy, 37 km, van
Day 4
Mangagoy (Surigao del Sur) to Cateel (Davao Oriental), 75 km, bus
Cateel to Davao City (Davao del Sur),  191 km, bus
Day 5
Davao City to Samal Island, 15 km, jeep, ferry, and tricycle
Day 6
Samal Island to Davao City, 15 km, tricycle, ferry, and jeep
Davao City to Cebu, taxi and plane
and habalhabal, tricycle, pedicab, and pumpboat rides in between.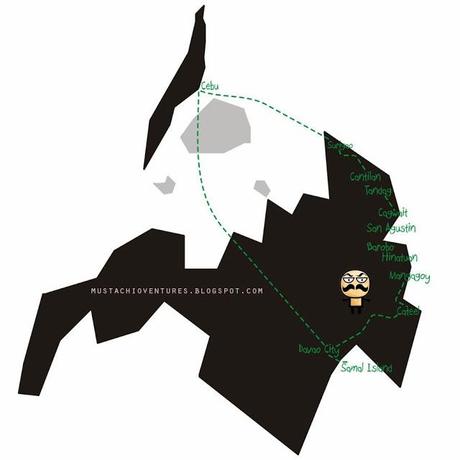 And, to get the sparkling cross-eyed look, this roadtrip by the numbers:
6 days
5 provinces
630+ kilometers
22 hours on the road
7 stops
11 transfers
4 vans
6 jeepneys
4 buses
8 motorcycles
3 tricycles
2 taxis
1 pumpboat
2 ferries
2 pedicabs
2 airplanes
2 "resorts"
1 inn
2 pension houses
2 beaches
5 islands
1 river
2 waterfalls
1 cave
1 museum
12 bug bites
and
2 friends
Details on these beauty t(r)ips as soon as I get the cogs on my brain working. Putting a trip (this trip!) that happened five months ago on paper is hard work. I need to oil these rusty cogs real good.