This is what happens when the mafia crosses the wrong guy. The Punisher Max makes our top 100.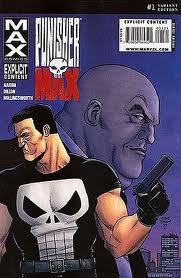 Frank Castle is an awesome character. Better known as The Punisher, the graphic novel hero takes a dirty fight right to the mob's doorstep without flinching for a second. His motivation is the death of his wife and children, which is something we've often seen in fiction, but what makes The Punisher great is how he gets the job done.
Murder, torture, coercion, and violence. Things I deplore in real life but in fiction, used in the right hands, are gripping. Created by Gerry Conway, John Romita Sr and Ross Andru in 1974, The Punisher has been terrorizing the Mafia in mainstream graphic novel fiction for decades. Part of the reason for this is his high-sympathy motivation coupled with his dark anti-hero image. We all know the best kinds of heroes are anti-heroes.
Despite years of popularity, there comes a time when every graphic novel series must change, and for Frank Castle this came with The Punisher Max, a series penned by Preacher writer Garth Ennis. The Punisher Max takes the dark subject matter of the The Punisher and pushes it over the top, bringing gritty storylines that just weren't possible in the mainstream Marvel Universe playground.
Story-wise, this is all solid Punisher stuff, and though it has been done before this is still a great read. What makes this one of the best graphic novels is the change it has given the character, and it is this fresh feel that will introduce the legendary character to a new generation of graphic novel fans. The Punisher Max coerces its way onto our list of the top 100 best graphic novels.