Our tour to the Amazon was fabulous not only because we were able to sleep in the rainforest and visit an indigenous community, but also because we were able to spend our final night in Ecuador's famous town, Baños. (They pronounce it Bon-yos.)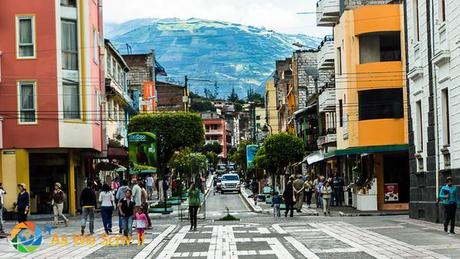 If you're visiting Quito, it's worth the 176 km trip to get there.  The town sits on the side of Tungurahua volcano, which coincidentally, violently erupted only yesterday (July 14, 2013). You might think that would make its residents want to relocate, but no … they say the town is protected. Apparently the Virgin Mary occasionally appears at the waterfall in the center of town (appropriately called Cascada de La Virgen) and there have been quite a few miracles in town that they attribute to her. Some people visit the town because of its church and miracles, but there's much more to Baños than just that.
Best things to do in Baños
1. Visit the basilica
The town showed its gratitude to the Virgin Mary by building a neo-Gothic style basilica out of volcanic rock and naming it Our Lady of the Holy Water (Nuestra Señora del Agua Santa).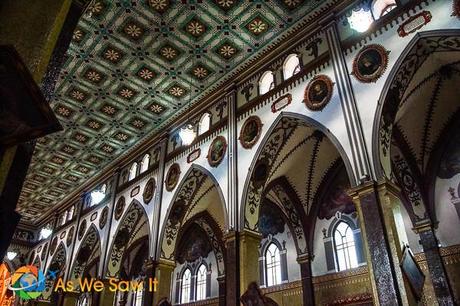 Instead of the usual Bible scenes that decorate the walls of most churches, the artwork on the walls of this sanctuary depict miracles that occurred in town, including saving the church from the volcano's fury.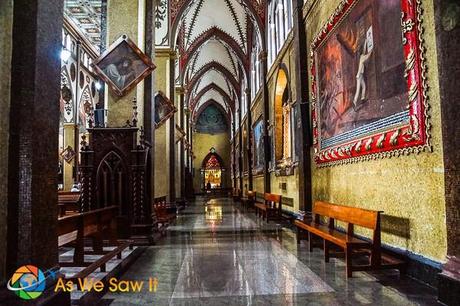 Some of the paintings of the miracles, along the walls in Baños' basilica
You can also visit a whole separate area with a shrine to the Virgin. While I'm sure it works for the locals, it definitely doesn't work for me. With its pasty skin, the doll they used was pretty creepy-looking.  Forgive me, but it looked like a corpse overdue for burial.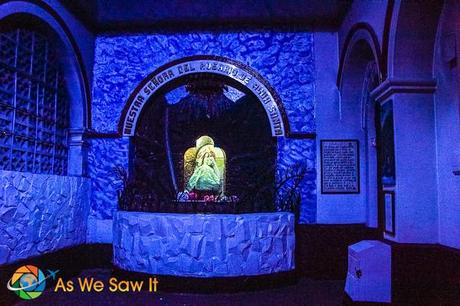 2. See the Rio Pastaza Gorge
This isn't just any gorge, this is the gorge that a priest didn't fall into! The story goes that one very early, foggy morning, a visiting priest was riding into town, but he was so drowsy that he just let his horse lead the way. When he arrived at church, the townspeople were surprised to see him. "How did you get here? The bridge over the gorge is out!" This is one of the miracles featured in the basilica's paintings. You can see the remains of the bridge, but even more impressive is the beautiful gorge itself.
3. Explore the town
Walk through downtown Baños, explore the side streets, wander into shops. Go a little further afield and explore the residential areas.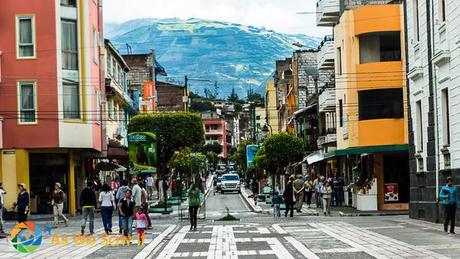 It's fun to just soak up the atmosphere and see how another culture lives.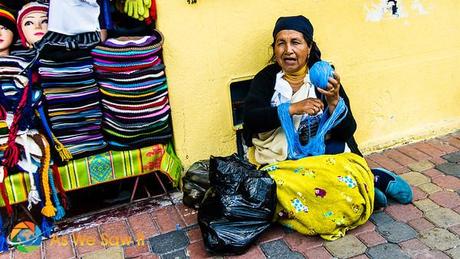 We especially like to walk through the town squares. Sometimes we'll just "set a spell" and watch the people pass by.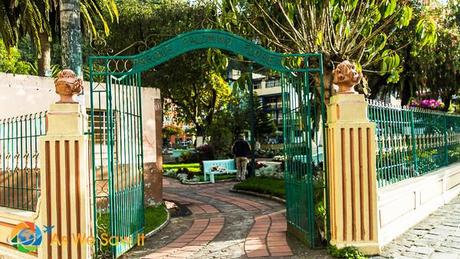 4. Try the melcocha
You can't walk through Baños without seeing someone standing in the doorway of his shop, pulling and wrapping a pliable length of color. They are making melcocha, a sweet taffy made from sugar cane.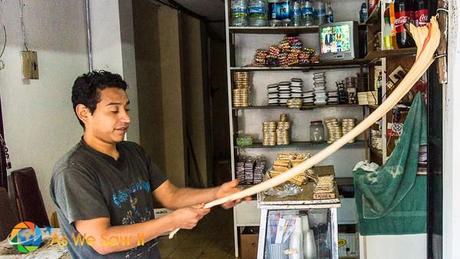 Each melcocha artisan has installed a wooden peg on the inside of his door frame.  They will wrap the confection around the peg and stretch and beat the taffy again and again, until it's just the right texture. Once it's done to perfection, they'll cut it in lengths and wrap it, ready for sale. If you're lucky, they'll even offer you a taste fresh off the peg. Be careful if you have dental work, though; it's strong stuff.
5. Shop
The center of town has a mercado (market) with local produce, meats, and more. If you're adventurous and hungry, sit at a stall where they're cooking, and for only a few dollars they'll serve you a tasty and filling lunch.  Way to go … eat like the locals!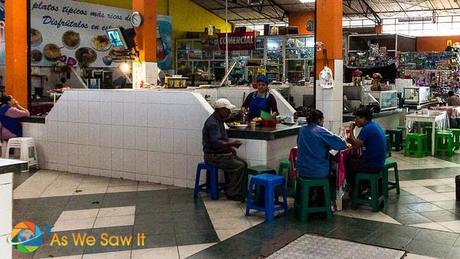 We found a pedestrian mall with stalls selling crafts and silver jewelry. Many of them were crammed so full of stuff it was almost overwhelming.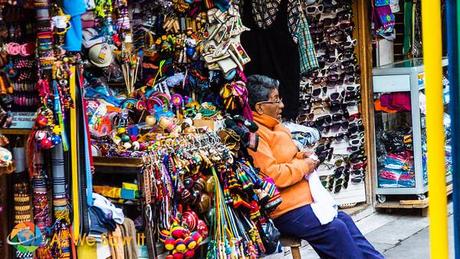 This stall is crammed so full of stuff, the vendor is outside!
6. Enjoy the hot springs
That Baños is a popular vacation spot for both Ecuadorians and foreign tourists was pretty obvious to us from the number of hotels and backpackers we saw. The big attraction is its baths — and there are plenty of them, some complete with a gym and spa. All of the baths are fed by the hot springs coming from the volcano and all are within walking distance of the center of town.
After all the hiking we'd done we were ready for a hot soak, so after dinner we headed over to the public baths. "They're easy to find," our guide said, "Just walk toward the waterfall." Sure enough, we found the baths at its base. We paid our $3.50 admission, I bought the required head cap at a shop selling snacks and trinkets (40 cents!), and then we donned our bathing suits, showered, and joined everyone else in the nearest pool. The water may look dirty, but no worries; it's just due to the high mineral content.
Different pools have different temperatures, depending on the amount of cold water mixed in. There are even ice cold pools for people who enjoy shocking their bodies. (We avoided those. Not crazy yet.)
By the way, we were among the last to leave and we saw the staff draining and scrubbing every pool.
7. Explore the area
Baños is a mecca for outdoor enthusiasts. Walk through Baños and you'll find plenty of agencies eager to take you on an amazing outdoor adventure. You can climb a volcano, visit the remote Llanganates National Park, tour the Amazon rainforest, take a mountain bike or ATV out on a trail, hike to one of the 60 natural waterfalls nearby, ride a horse, go ziplining, raft, and a whole lot more. You can even visit a zoo.
8. Visit a spa
After all that activity, set aside some time to visit a spa. Massages can be had for $25-$35 per hour.  Other services are available, like facials, though I couldn't find time to do any firsthand research.  Rats.
9. Enjoy the nightlife
Baños has plenty of bars and both international and local restaurants. We found a bar offering 2-for-1 mojitos during happy hour, then wandered into a wonderful Italian place called Pappardello Ristorante for an early dinner. Dan got a chicken lasagne that was obviously created just for him.  Can you tell it was made to order?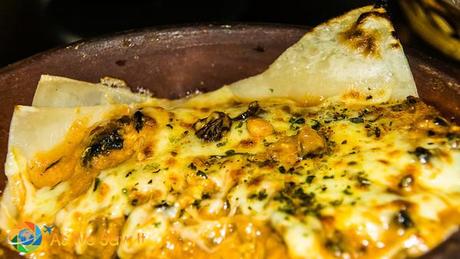 After dinner we headed straight back to the hotel to get our bathing suits.  This was our first visit to public baths and we were pleased to find another couple from our tour when we arrived there. Roger and Jo are in their 80s and have more energy than anyone we know. They recommended that we visit some other baths that they like, right outside of Cuenca. Sounds like another field trip is in order….
Please visit our Baños photo gallery for even more photos and if you don't mind, give a thumbs up on your favorites.  We crave feedback. Have you ever visited hot springs?