While there might be a lot of social media advice out there, businesses are still struggling to make the most it.
These 9 Simple Social Media Marketing Mistakes are a great opportunity for businesses of any size to focus on what matters and overcome challenges hindering success.
What's been your biggest challenge with social media?
1. Focusing on follower quantity. The number of followers isn't important; your business will see a much greater return if you target those users that care about your marketing.

2. Irregular posting of engaging content. 176 million people buy products online every year, and sporadic, lackluster content will not persuade them to buy your products.

3. Not converting followers into paying customers.Only 12 percent of social media users that see ads are likely to make a purchase, so highly shared posts are only useful if they convert into sales.

Related Post – How to Build Your Social Media Audience for Your Business
4. Focusing on too many channels.  New, fast-growing services like Snapchat and Ello may seem very active, but focusing on established channels with a tried and true audience might be a better use of your time and energy.

5. Having no brand personality. Oreo gained huge exposure with their timely, witty marketing during the Super Bowl in 2013, and still only 22 percent of companies see the value in creating a personality for their brand marketing.

6. Spamming. This one's a no brainer. Everyone hates spam.

7. Doing everything manually. When scheduling tools exist, attempting to manually manage a handful of campaigns or half a dozen pages is a waste of potential.

Related Post – Two Social Media Mistakes Small Businesses Make
8. Broadcasting the same message across multiple channels. Much like brand personalities, different platforms require different styles of content. It may also irritate the most loyal fans that follow your brand across multiple networks.

9. Not having a strategy at all. 90 percent of businesses have a social media strategy, so running any campaign without one and possibly without meaningful analysis and goals could be a huge waste of energy.
Below Checkout the INFOGRAPHIC "Social Media Marketing Mistakes" Made by Jason Squires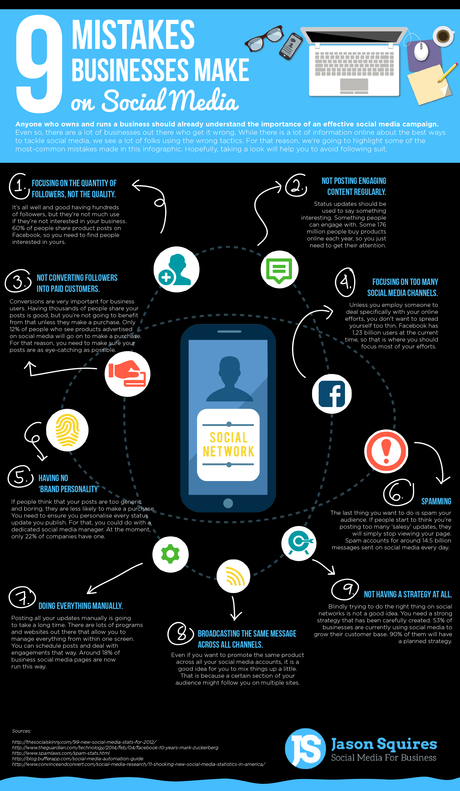 Social Media Marketing Tips, Top 25 Social Media Sites

Newsletter Signup
5

/

5

stars