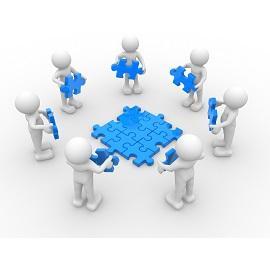 ERP systems assist businesses to organize their data, become more sustainable, and promote growth within an organization. But utilizing an outdated system risks business productivity, IT security, and overall customer satisfaction. How do you know when it's time to upgrade your organization's ERP system?
Today most business organizations that use Enterprise Resources Planning (ERP) solutions look for ways to increase their efficiency and performance. Although ERP in its essence means a better way to reach these mission-critical goals, the real situation proves that not all of the systems available on the market really simplify and accelerate business operations for a sustainable competitive advantage.
The following signs may indicate a need to upgrade your organization's ERP system:
1.  Business inefficiencies are beginning to accumulate
Technology moves at a rapid speed, and the loss of efficient processes is becoming increasingly clear. An outdated ERP system also redirects resources into maintenance mode instead of allowing your business to focus resources and energy on solving tangible problems.
2.  Business needs are exceeding current ERP capability
Your organization's ERP system exists to manage a growing business. But if incrementally increasing maintenance fees and limited-user license fees are adding up as the organization's personnel expands, you may be dealing with an ERP system that does not scale well. ERP should support and streamline your team's growth, not impede it or produce more work.
3.  Customer expectation is not being met
Customers, suppliers, and partners expect direct access to billing, shipping, and inventory data.  Sales staff need to know exactly what is available in order to fulfill orders and manage customers' expectations. A delayed or unfulfilled order can all too easily damage customer relations and a business' hard-won reputation.
4.  Your team is mobile and information needs to be, too
Leveraging the potential of this decentralized world, more and more of the workforce is doing work from mobile devices on the road, using tablets, laptops, and phones. A cloud ERP solution turns this mobility into a clear business advantage by providing a seamless transition experience from the office, to home, to mobile, and back. The cloud empowers scalability as you add employees—anywhere in the world.
5.  Lack of access to real-time information
If you need to dig for up-to-date information, it slows critical decision-making and impairs problem-solving capacity. With the Business Intelligence capabilities available in today's data-driven business environment, it's going to be essential to add the value of interpretation and curation to that information. It's important that you know what parts of your business are working and what parts are not – and in a timely manner.
6.  Integration Issues
Having a system that doesn't integrate seamlessly with third-party software will make it impossible for your organization to manage your business efficiently. You may end up with disjointed software, which will eventually lead to redundancies, omissions, errors, rework, disputes, and frustration, thus making your team less efficient, and unproductive.
7.  Termination of current support
If your vendor has already announced the end of support for the ERP system you're using, it's time to upgrade. Although many organizations continue to use outdated system versions, an obsolete software solution can do more damage than good. That's because termination of support means that you'll no longer receive updates, and security patches. Therefore, your business may begin to encounter prolonged periods of downtime, which will result in loss of productivity, decreased customer satisfaction, and lower revenue; have to cover higher IT costs because free and paid support, including extended support, will be also terminated; and become an easy target for hackers, who can easily exploit security vulnerabilities.
8.  Inability to handle all areas
Most ERP systems focus on specific business areas. Some solutions are great at managing manufacturing operations but completely inefficient when it comes to handling supply chains. Some can help you manage complicated tasks along with customers and vendors but not HR. Others can handle almost everything but get stuck in accounting. Since what happens in one area of your company will certainly impact the other areas, you need an advanced, complex ERP system that can manage everything in order to improve business efficiency and profitability.
9.  Your ERP system is not user friendly
An ERP system should streamline business processes and make accessing and managing data easier for your team. But, if your staff is working with an outdated legacy system, it's probable they find the technology time-consuming and difficult to use.
Before you upgrade, take time to speak with those users who will be working with the solution regularly. Their input will be valuable when selecting new or enhanced capabilities for your ERP system.
Considerations with an ERP System Upgrade
An effective and modern ERP system is a powerful tool that can help your business function in the competitive market. It is crucial when looking for an upgrade to uncover the best product for your organization, since this is a resource intended to increase productivity, not produce confusion and frustration among users. When looking for an upgrade consider the following factors:
Evaluate business requirements
Prior to beginning the upgrade process define exactly what your organization's needs are. What functions are necessities? What capabilities are essential in the new system?
Establish an evaluation team
An evaluation team can generate a set of requirements that best align with the company's upgrade needs. The requirement list should include basics like cost, size and storage capability.
Beware of all Costs
Investigate all the costs associated to the upgrade so you are prepared in the future. For example, it is important to know if there will be ongoing and internal support costs related to the upgrade.

---
The Litcom Approach
Litcom has extensive experience managing both implementation and post-implementation ERP projects. We have worked with a wide variety of ERP products as well as the functional areas within them. We have a comprehensive methodology that ensures we achieve the desired results. To find out how Litcom can effectively help your organization optimize its ERP investment, please contact us at [email protected]
How to Optimize your ERP System (and avoid implementation mistakes)

An ERP system selection and implementation must maximize your return on investment (ROI) by focusing on the challenges that are most relevant to your business. For more information, download our free guide. Download Guide
Stay Connected
265 Rimrock Rd., Suite 202
Toronto, Ontario M3J 3C6
phone: 905 763 8900
fax: 905 763 8233
email: [email protected]
Recent Posts
9 signs that it's time to upgrade your organization's ERP system
Data Visualization Tools: Bringing Clarity to Analytics
IT Staff Augmentation as a strategic weapon
Reference Links
Services
Grow with us
Contact Us
IT Assessments
IT Assessment
Assessing the Value of IT in your Organization
How can your organization benefit from an IT assessment?
Conducting an IT Assessment