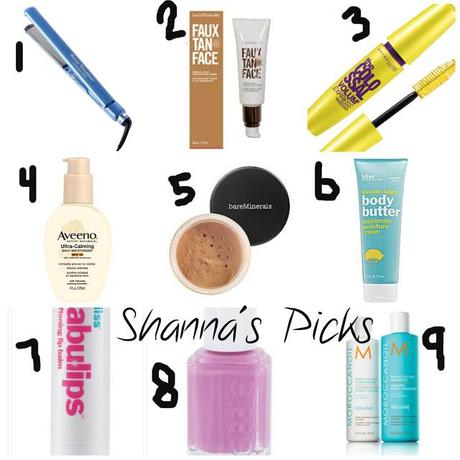 1. The Baby Bliss Pro Nano Titanium Straightener (here) : I can go on for days on how and why this is the best straightener in the entire world. But to save your time and mine, I'd just try it for yourself. It makes hair look smooth, shiny, and straightens all hair types in a quick and easy manner. Also, split ends with be a thing of the past.
2. Since I think it's safe to say we are all done with tanning beds (and the majority of the real sun for that matter), I have quite possibly experimented with every self tanner in the books. While I still have a few in the running for the best body self tanner, I have found my match made in heaven face tanner. It is a natural color, and oil free so you never have to worry about break outs! Faux Tan Face by Bare Minerals: here
3. I do not need Bobbi Brown or Mac when it comes to mascara. I go to Walgreens, or maybe CVS. Maybelline all the way. For longer, thicker lashes use two different mascaras one on top of the other.
4. Aveeno face lotion (oil free with spf 15) is my go to face moisturizer every morning and every night before I go to sleep.
5. For that "no makeup" makeup look Bare Minerals is pretty much the only way to go. If you truly pick the right color closest to your skin tone, no one will ever be able to tell you are wearing makeup. It simply evens out skin tone and reduces any shine you may have. It is also an all natural makeup that doesn't clog pores, or go deep into the pores (which causes makeup to settle into your pores and eventually lead to wrinkles). Click here to find your color.
6. My. Favorite. Body. Lotion. EVER. (here)
7. Chapstick that must have a secret ingredient that cannot be legal. (Here)
8.  Pastel Polish is all that's being worn this spring. Here's my favorite color so far (even though I'm always open to new suggestions): here
9. This has been my go-to shampoo/conditioner combo since college. I guess a lot has changed since then, but this one thing has remained the same.