This post may include affiliate links, including Amazon Associate links. I may earn money if you click on one at no extra cost to you.
Check out the best hikes in Yellowstone National Park that range from easy to challenging. The trails are surrounded by jaw-dropping views, thermal features and plenty of wildlife, including bears and elk.
With so many to choose from, finding the best hikes in Yellowstone National Park can seem a little daunting. So we've narrowed it down to the best-rated trails for every level of hiker.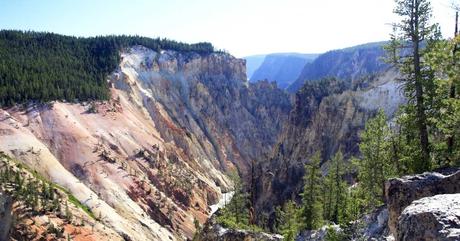 Why Hike in Yellowstone National Park
Yellowstone is America's first national park and spans three states; Wyoming, Montana and Idaho. The park is home to 10,000 geothermal features, including Old Faithful, which is the most famous. Old Faithful was the first geyser to be named and definitely lives up to its name. It erupts every 20 minutes to 2 hours, making it the most reliable in the park.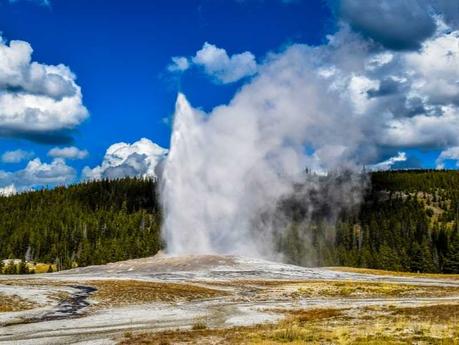 In Yellowstone, there are also many lakes, waterfalls, sprawling forests and beautiful meadows to be explored. Its many natural features make it a treasure trove of scenic hiking trails that every avid nature lover needs to explore.
The park is also known for its fantastic wildlife that includes big mammals such as grizzly bears, wolves, coyotes, bison, elk and moose. Before planning your hike, make sure to check for any closures that may occur due to weather, wildlife or fires.
Recommended Reading: Hiking for Beginners Course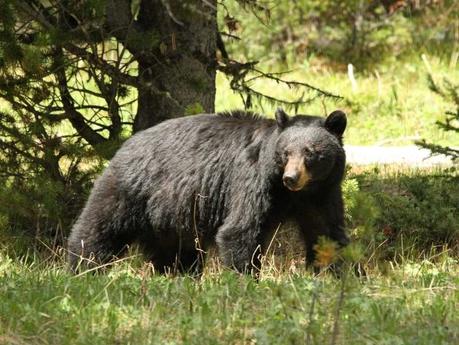 Recommended Reading: The 8 Top Clingmans Dome Hikes To Reach the Highest Point in Tennessee
When to Try out the Best Hikes in Yellowstone National Park
During winter Yellowstone gets a load of snow which usually doesn't melt until late spring. The severe winter weather often causes road and facility closures which can severely affect your visit.
The best time to visit is between summer and fall when the weather is more temperate and there are miles of hiking trails to explore. During the summer months, the park also remains open during the day and night, seven days a week. This means that you're free to enter and exit at any time.
If you're an outdoor lover and enjoy backpacking, make sure to check out the many backcountry campsites available in the park. There are quite a few that offer you expansive views and can be accessed by some of our favorite hikes.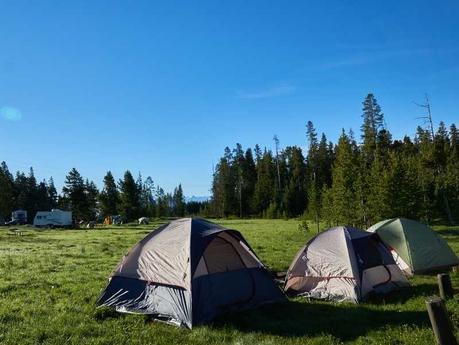 The Best Easy Hikes in Yellowstone National Park
Storm Point Loop
Distance: 2.5 miles / 4 kilometers
Elevation: 100 feet / 30 meters
The Storm Point Loop is one of the best day hikes in Yellowstone National Park. It's a fun and easy trail that is well-marked and offers beautiful views of a lake. At the lookout point, you can enjoy panoramic views and stop for a picnic if the weather is good. The trail is also well-known for wildlife and does see a lot of bear activity so make sure to check for closures before heading out.
Recommended Reading: Hiking for Beginners Course
Grand Prismatic Hot Spring
Distance: 1.6 miles / 2.6 kilometers
Elevation: 200 feet / 61 meters
This is one of the easiest hikes in Yellowstone. It's child and wheelchair-friendly and offers you a bird's-eye view of the Grand Prismatic Hot Spring. You'll make your way up the busy trail with a short climb to the top. The trail is best done when the weather is clear but make sure to get there early as it can get pretty busy and parking can be hard to find.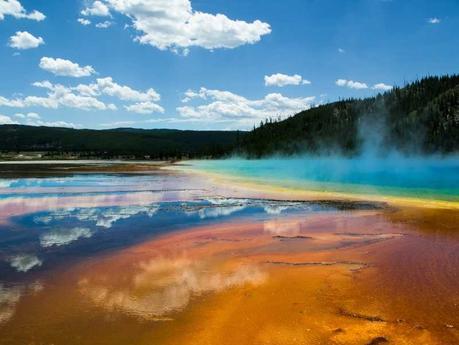 Recommended Reading: How Changing Your Thoughts Will Make You Happier + Technique To try While Hiking
Fairy Falls
Distance: 4.8 miles / 7.7kilometers
Elevation: 164 feet / 50 meters
Probably one of the most popular hikes in Yellowstone, the Fairy Falls trail is a little longer than most easy hikes. The route is mainly flat and offers fantastic views of the 200-foot waterfall. It's well-marked and maintained which adds to the ease and makes it perfect for the whole family. Don't forget to make a stop at the Grand Prismatic Overlook to add to your fantastic experience.
Recommended Reading: Day Hiking Packing List: The Essentials To Bring On Every Hike
The Best Moderate Hikes in Yellowstone National Park
North Rim Trail
Distance: 4 miles / 6.4 kilometers
Elevation: 456 feet / 139 meters
This portion of the North Rim Trail takes you past Yellowstone Falls, Crystal Falls and Inspiration Point but shouldn't take you longer than 2-3 hours to hike. The route offers you plenty to see besides stunning waterfalls. During the warmer months, there are wildflower fields and you may even spot some wildlife. Along the route, there are a few detours that you can make, but be aware that in some spots the elevation can be a little challenging. As it's one of the best hikes in Yellowstone National Park it does get busy during peak season so make sure to come early.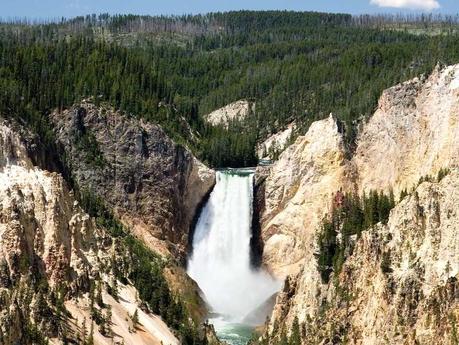 Recommended Reading: 9 RV Adventures Recommended by Experienced RVers
Distance: 4.1 miles / 6.6 kilometers
Elevation: 577 feet / 176 meters
This stunning trail is the perfect moderate hike. You can choose to do the whole route in a day or stay over at one of the campsites at Ribbon Lake. On the way, there are great features to see including ponds, lakes and thermal features. As you pass by rolling meadows you may even get lucky and see some epic wildlife and birds.
Recommended Reading: The 17 Best Hikes in the Smoky Mountains
Lamar River Trail
Distance: 33 miles / 52.9 kilometers
Elevation: 3605 feet / 1,099 meters
The Lamar River Trail offers you so many great hiking options. If you're an avid backpacker, this moderate route is a great choice with plenty of opportunities for backcountry camping. Or you could choose to make this an easy day hike. Make your way to Cache Creek or walk a little further to explore Lamar River. This is renowned bear country so make sure you keep your bear spray handy. There's also plenty of grazing pronghorn and bison on this trail which makes this one of the best hikes in Yellowstone National Park.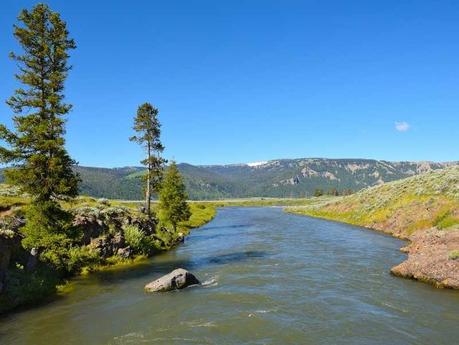 Recommended Reading: 18 Best Hiking Leggings to Keep you Comfortable on Your Hike
The Best Challenging Hikes in Yellowstone National Park
Distance: 4.5 miles / 7.2 kilometers
Elevation: 2070 feet / 631 meters
The Avalanche Peak Trail is a popular route great for hiking, snowshoeing and wildlife viewing. This route features a lake and panoramic views at the top of the climb. It's a gruelling hike, even for experienced hikers so make sure to be prepared and have plenty of water with you. You can do this trail from May to September but make sure to check for wildlife closures.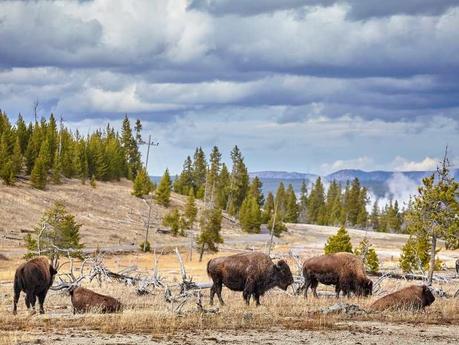 Recommended Reading: 12 Best Easy Hikes in Rocky Mountain National Park
Specimen Ridge Trail
Distance: 16.9 miles / 27.2 kilometers
Elevation: 3,860 feet / 1,177 meters
Specimen Ridge Trail is definitely one of the harder hikes, but it's also one of the best hikes in Yellowstone National Park. The trail is full of adventures, including a river crossing, some scree scrambles and stunning views of Mount Washburn. It's also a hub for wildlife including black bears, elk, moose and bison among others. The trail is marked but it's pretty easy to take a wrong turn so make sure to take a GPS or map with you. You should also stock up on plenty of water and bear spray.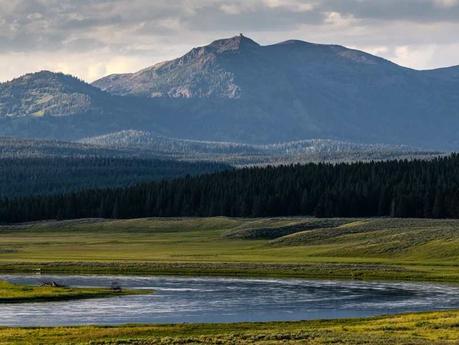 Recommended Reading: Average Hiking Speed: Why it's Important and How to Calculate it
Petrified Forest Trail
Distance: 3.6 miles / 5.8 kilometers
Elevation: 1,775 feet / 541 meters
This short hiking trail in Yellowstone is pretty steep in some sections but you'll be rewarded with wonderful views of the valley below. Some of the sections can be pretty muddy so you'll need to have good hiking boots as well as poles. Although the forest offers shelter, there are loads of open portions on the trail so make sure to get an early start, especially in summer.
Enjoy one of the best hikes in Yellowstone National Park and discover a uniquely wonderful and diverse landscape.