The landline telephone era has ended.
Between smartphone proliferation and accessible Internet, it's easy to see why that long cord has been severed for good.
More than ever before, smartphones have now been integrated into our daily lives.
Thanks to these pocket supercomputers, international calling is now an effortless affair.
We now have free international calling apps that enable their users to benefit fully from smartphone calling features with superfast 3G and 4G data support.
Since making international calls can be expensive, especially while traveling, these apps will let you make free phone calls by disabling your internet connectivity and relying solely on wifi networks within the hotel or city to help you stay in touch with your family and friends around the world.
Recommended : Document Scanner Apps
With a free calling app for Android to any number, relying on hotel computers or global prepaid calling cards to communicate with your loved ones will no longer be an option.
In this post, we've rounded up the best free calling apps for Android users in 2019 to help you choose from the myriad of options available online.
Keep reading!
9 Best Calling Apps for Android to Make Unlimited Free Phone Calls
Skype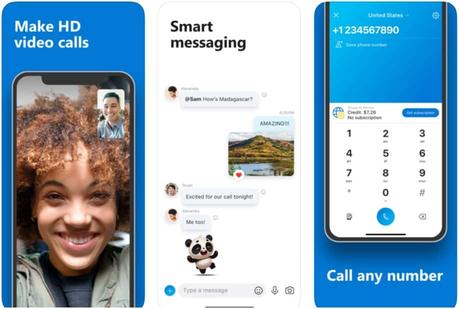 Skype has been touted as the best free calling app for Android to any number out there.
Its trademark characteristic is its compatibility with virtually any mobile computing device and PC.
Whether you're looking to stream live videos with your friends or share some thrilling stories, Skype is one of the best free calling apps for Android you can use.
All you need here is reliable internet connectivity, and you can speak or make video calls with your friends, family members, and colleagues for hours.
With the Skype free international calling app, you can make voice and video calls as well as send text messages free of charge to other Skype users.
Calls made to unregistered Skype phone numbers must be paid for.
Multiple Skype users can also chat on a single voice or video call.
WhatsApp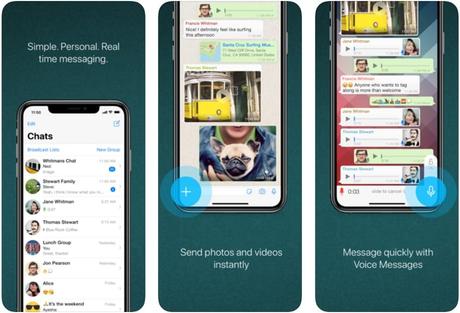 This platform started out as text-only but has now evolved to enable users make free phone calls and video chats.
With over one billion active users worldwide, WhatsApp is undoubtedly a contender for the best free calling app for Android to any number in 2019.
WhatsApp also supports all types of internet connections including 2G, 3G, 4G, 5G, EDGE, & wifi
With WhatsApp, you can enjoy an unlimited number of international call minutes every day.
Moreover, WhatsApp users can record both audio and video clips, make video calls, and host group chats.
Like most other phone apps, free calling can only be used if you're trying to connect with other WhatsApp users.
You can sync all of your smartphone contacts automatically with this app, so you won't have to search for them manually.
Google Duo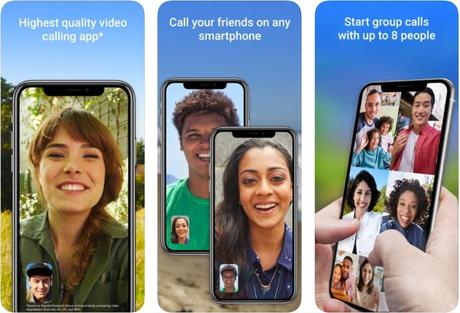 With the Google Duo video chatting software, you have one of the best free calling apps for Android available online.
This app is also quite user-friendly.
After installation, simply launch this app, add your phone contacts, and then you can begin making free voice and video calls to them.
The only drawback with this free calling app for Android to any number is that the person you're calling must also be a Google Duo app user.
Still, the Google Duo application continues to grow in popularity and is supported by both Android and iOS devices.
This app was made strictly for high-quality video calls, although a recent update also enables users to make only voice calls if needed.
WeChat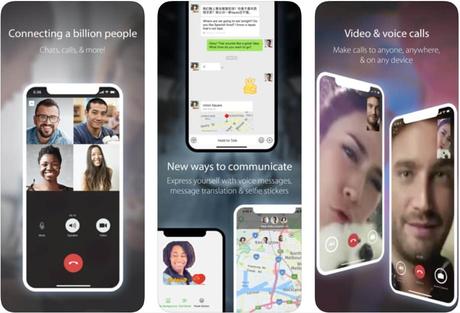 The WeChat app delivers on its promise of helping its users make free phone calls to people all over the world.
With over a billion active users, this is undoubtedly a top free calling app for Android to any number.
You can make group chats with approximately 500 members, capture short videos that disappear after 24 hours, and share custom stickers with your friends.
Most WeChat users love this app because it offers high quality, noise-free phone calls, and consumes minimal data while doing so.
Moreover, the WeChat software supports 20 major languages, so after you install it on your smartphone, you can set your preferred language.
Facebook Messenger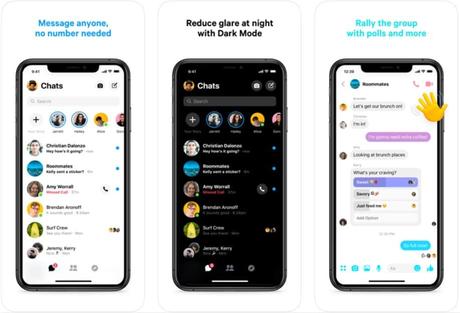 With one billion downloads from the Google Play Store, this is undoubtedly a popular free wifi calling app for the Android platform.
You can use the Facebook messaging portal to communicate with other people across the world for free.
Users of this remarkable app can also send voice notes, make video calls, as well as send and receive cash through PayPal or with their debit card details.
Also Read : Android Screen Recording Apps
The Facebook Messenger service works just like standard texting, except you won't be required to pay for sending messages.
This free calling app for Android to any number enables seamless communication with friends in foreign countries for extended periods.
With this app, all calls made over wifi networks are free, while standard data charges will apply for other calls. It has an inbuilt GPS & navigation app which will help you in tracking the caller location too.
Furthermore, the Facebook Messenger software enables you to play free games online with your friends and book reservations at the best recreational spots or restaurants.
It will also allow you to share details of your location among your Facebook friends.
Viber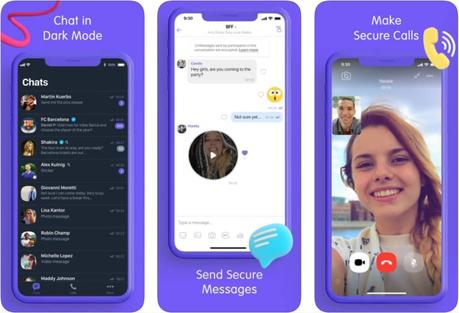 The Viber platform started out strictly as a VoIP service.
This free calling app for Android to any number has since expanded its services to include video chats, text chats, and voice chats.
Use the Viber app to communicate with other Viber users for free.
Just like Skype, you will have to pay a small fee so that you can communicate with unregistered Viber users.
Here, you will also find many other useful features. A few of them, such as hidden text messaging, is quite handy.
However, there are also goofy little stickers that are not too relevant.
All voice and video calls, text, and video chats made between Viber users are entirely free.
Viber users can also choose to make in-app purchases of stickers and other customizable options.
TextNow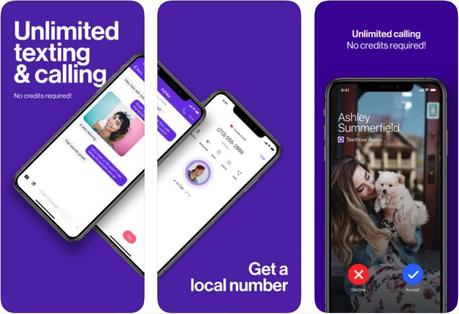 Introducing TextNow – the free calling app for Android to any number, which enables you to make endless hours of free international calls to your family members and friends living in Canada and the US.
However, to fully enjoy this service, the dialed numbers must be registered on the TextNow platform.
TextNow users can even communicate via text messages and photos with other users in Canada and the US.
It provides cheap international phone call services in over 230 countries.
Charges here are as low as 0.01USD per minute, so TextNow users can chat with their friends for long periods without worrying about huge bills.
Some other TextNow features include customizable caller ID, call forwarding, video calling, customizable backgrounds, Google Smart Lock, Quick Reply, and voicemail transcription.
Dingtone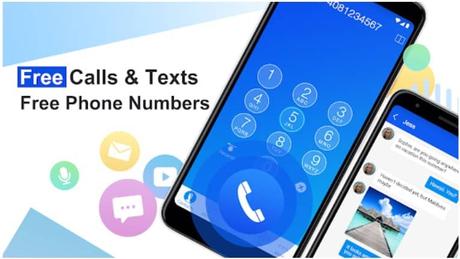 Introducing the trendiest free wifi calling app that serves up superior quality voice and video calls free of charge.
Dingtone can also initiate free conference calls with as much as eight other people.
You'll find group chats here that can contain over one hundred Dingtone users.
Furthermore, this application comes with call forwarding services to another number and free international texting.
The Dingtone app is free, but there are optional premium features that you can purchase through the paid version.
This application even has a walkie-talkie function for interacting with your friends that you can switch ON whenever you become bored with typing.
It also hosts weekly giveaways, where users can win gift vouchers, free credits, and gadgets. It will not consume your battery as it has an inbuilt battery saver app.
This app is also compatible with Android tablets.
Phone Free Call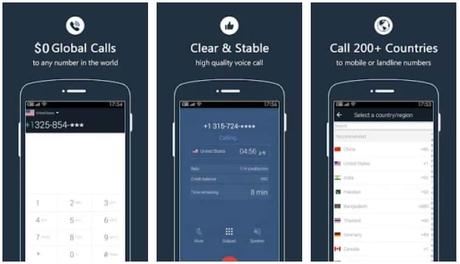 This is yet another excellent free international calling app that offers free international calls on wifi and cellular data without draining your data package.
This app can boast of more than one million downloads on the Google Play Store.
Recommended : Music Downloader Apps Android
Use this app to make cheap or free international calls to friends and family members living in over 200 countries worldwide.
You can also use the Phone Free Call app to make anonymous calls; however, you must purchase a separate plan for this.
One feature that sets the Phone Free Call app apart from others is the ability to make calls to other people who don't have the software installed on their smartphone.
The Wrap-UP
Above are our curated selections of best free calling apps for Android 2019 that you can use to make free phone calls to friends and family around the world.
Give each of them a try to determine which one you prefer.