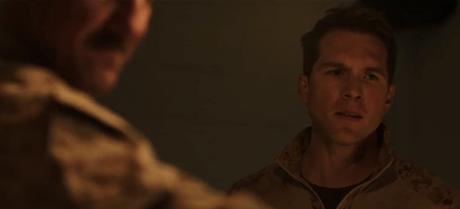 Director: Lili Matta
Writer: Lili Matta (Screenplay)
Starring: Dade Elza, Anastasia Antonia, Gregory Zarian, Jim O'Heir, Terri Ivens, Langston Fishburne, Michael Polak
Plot: An ex-marine with PTSD storms into a gallery, taking hostages and forcing them to confront their complex past and looming mortality, as time ticks by.
Runtime: 1 Hour 24 Minutes
There may be spoilers in the rest of the review
Story: 86 Melrose Avenue starts when ex-marine Travis (Elza) gets into trouble at home leading him to take a gallery of people hostage, each member of the gallery has been through their own traumatic experiences in life, without ending suffering through the PTSD that Travis is suffering through.
As Travis spends more time with the hostages, he ends up learning more about the suffering of others, that people will have been through their own pain and deep down they are looking to make it through their lives.
Thoughts on 86 Melrose Avenue
Thoughts – 86 Melrose Avenue does dive into the struggles former soldiers can suffer through with PTSD, showing that they will need help from people and in this case, we see how strangers could be the ones that offer the advice needed. This does have a deeper message that will try to put the focus on the difficulties in life people are going through, encouraging people to make the changes they need to, to improve their own lives. While all the messaging is strong, the delivery isn't the strongest, as we jump into the lives of the hostages for a single scene of trauma that never feels as connected to what is going on, with too many having the problems which do seem like they are too much of a coincidence to what is going on, with the performances not being as strong as they could be for the film to get the big message across.
Final Thoughts – 86 Melrose Avenue does want to put over a big message over, only to leave things behind getting here.