wow
From
Runners World
:
The first woman to ever win the Boston Marathon masters division was in concentration camp with Anne Frank.
Sylvia Weiner has rarely missed a day of running in the last 50 years. She's up early, and soon out the door to meet several friends for a 5- to 7-mile jaunt. "We go slow and talk about everything but politics," she says. "I never take a morning off unless it's literally impossible for me to run."
Impressive toughness for an 84-year-old who splits her time between Montreal and Miami. But it's just a small part of Weiner's amazing life story.
Forty years ago, in 1975, when the Boston Marathon first recognized men and women master's division winners, Weiner claimed the female title in 3:21:38. She was 44 at the time, standing 4 feet, 11 inches tall and weighing 98 pounds.
Three decades before Boston, the Polish-born Weiner survived several years in three German concentration camps. In one, she was imprisoned with the famous Dutch diarist Anne Frank. Weiner was there the day Frank died.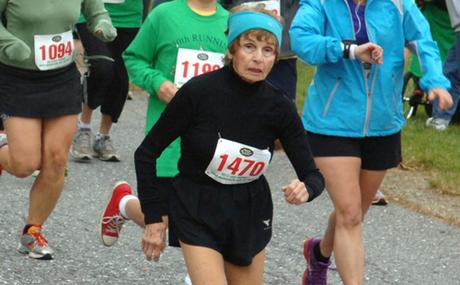 In 1942, Weiner, just 12, was separated from her parents and seven siblings. They were taken to the Treblinka camp, never to be seen again. Weiner was shuttled to Majdanek, Auschwitz, and Bergen-Belsen.
When she arrived at Auschwitz, "You could smell the burning flesh in the air," she remembers. For reasons she doesn't understand, she was spared, although she witnessed unspeakable horrors, and was forced to comb over dead bodies to select clothing deemed good enough for German re-use.
At Bergen-Belsen, she befriended a young Dutch girl named Anna. Weiner was recovering from her second bout with typhoid fever, but Anna was much sicker. "The conditions were horrendous," Weiner recalls. "We slept on the ground with no mattress or blanket, and lice were everywhere. We had almost no food—just this terrible watery soup."
One day Weiner returned to the barracks to hear that Anna had died. Weiner didn't think much of it at the time; after all, she was surrounded by death. A decade later in Montreal, however, she heard about Anne Frank's The Diary of a Young Girl, and saw Frank's photo. "Oh my gosh," she realized. "That's Anna."
In Montreal, Weiner married and had three children. She tried to carry on a normal life, but couldn't shake off the concentration camp memories. She'd have frequent nightmares and episodes of depression. Her doctors prescribed first sleeping pills, then tranquilizers. "I had days when I felt I was going down-down-down," she says.
She joined a Montreal YMCA because membership was required to enroll her daughter in the Y's nursery school. She took a general fitness course that morphed into a running class. "We did a quarter-mile the first day, and I thought I couldn't make it, but I did," she says. "No one else in the class came back the second day, but I returned, and kept going."
Before long, she was running three miles, then five, then seven. Weiner found that running lifted her spirits to the point where she could stop taking the sleeping pills and tranquilizers. She joined a small, all-male running group called the Wolf Pack after its leader, Wolf Bronet, a fellow Holocaust survivor. Her new friends told her she could finish a marathon if she logged 20-mile training runs.
That was all Weiner needed to hear. "I probably overtrained when I was younger," she says. "I was almost embarrassed by how much I ran. I had such a strong will to survive. I needed it back then. I was the only woman running in Montreal, and most people thought I was crazy."
Weiner ran her first Boston in 1974, finishing in 3:47. In 1975, she trained harder and felt more confident because of her experience on the course. "I ran with some faster men in 1975, and felt very good," she says. "The only problem was the girls at Wellesley. They were so excited to see an older woman that they picked me up in the air, and offered me a beer. I said, 'Let me go, I have to keep running.'"
Weiner continued running marathons for the next 20 years, eventually finishing about 75. She recorded her personal best, a 3:15, at the Skylon Marathon in Buffalo in 1976. At the Advil Mini Marathon 10K in Central Park, she won her age group one year, and finished second in the mother-daughter division with her daughter Debbie.
Canada's 1980 Boston Marathon champion, Jacqueline Gareau, formerly from Montreal, remembers Weiner from the early days. "We all knew Sylvia," Gareau told Runner's World Newswire. "I would see her running on Mont Royal all the time. She was very friendly, and had a very economical running style with a quick, shuffling turnover."
Weiner now races just once or twice a year. Last October, she won her division in the Leaf Peepers 5K in Waterbury, Vermont, in 48:36.
But it's her daily jaunt that Weiner counts as most important. "Running saved my life," she says. "God first, through the miracle of my concentration-camp survival. And then running. Without running, my life would have slipped into some bad times."
-------
-----------------------------------------------
Reach thousands of readers with your ad by advertising on Life in Israel
------------------------------------------------------