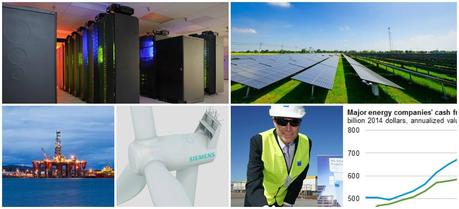 Here's a bit of energy news that didn't make it into our daily coverage during the past week. In this review, we collected some of less big, but nonetheless interesting news, of the week that went by, from the world of energy science and technology.
SEE ALSO: 7/25/2014 This Week in Energy: Beyond Headlines
Renewables
Siemens Energy Receives Order for Netherlands' Largest Near Shore Wind Farm
Siemens Energy has received an order for the Netherlands' largest near shore wind farm. Designed to generate 144 megawatts (MW) of wind power, the Westermeerwind project with 48 direct drive wind turbines is also the first wind power plant Siemens Wind Power's Offshore unit will erect for handover to the customer on a turnkey basis.
New Jersey Backs Microgrids and Distributed Generation With $200 Million
Following in the footsteps of its tri-state neighbors, New Jersey is establishing an infrastructure bank that is focused on energy resiliency.
SPCG, Kyocera Complete 35 Utility-Scale Solar Farms in Thailand, Totaling 257 MW
SPCG Public Company Limited and Kyocera Corporation announced the full operational launch of one of Southeast Asia's largest solar power projects. Since 2010, 35 "solar farms" totaling approximately 257 megawatts (MW) have been constructed under the project, and connected to the utility grid in Northeastern Thailand.
First Panels Installed at Australia's Biggest Solar Plant
The Australian Renewable Energy Agency celebrated a major milestone with the installation of the first solar panels at AGL's large-scale solar plant in Nyngan, NSW.
Energy Economics
EIA: Major Energy Companies Increase Debt, Sell Assets
Cash from operations for major energy companies has flattened in line with flat crude oil prices, which have had the lowest price volatility in years. Based on data compiled from quarterly reports, for the year ending March 31, 2014, cash from operations for 127 major oil and natural gas companies totaled $568 billion, and major uses of cash totaled $677 billion, a difference of almost $110 billion.
IEEE Viewpoint Article: Microgrids Help More Than They Hurt
In a recent issue of IEEE's Electrification Magazine, S&C's David Chiesa and Spencer Zirkelbach were asked to share their view on Microgrids. The article discusses what constitutes a microgrid, the value microgrids provide both customers and utilities, and some tools used in developing the business case for a microgrid.
Environment
IBM to Make Free Supercomputing Power Available to Sustainability Scientists
In support of the updated Climate Data Initiative announced by the White House, IBM will provide eligible scientists studying climate change-related issues with free access to dedicated virtual supercomputing and a platform to engage the public in their research.
Energy Policy
European Commission Proposes Higher Energy Savings Target for 2030
New opportunities for European businesses, affordable energy bills for consumers, increased energy security through a significant reduction of natural gas imports and a positive impact on the environment: these are some of the expected benefits of the energy efficiency target for 2030 put forward by the European Commission in a Communication.
Digest of United Kingdom Energy Statistics 2014 Published
Oil and Natural Gas
EIA: Natural Gas Injection Season Continues on Pace for Record Refill
Nearly midway through the summer storage injection season, working natural gas in storage is on pace to meet EIA's expectations for a record overall build. The current Short-Term Energy Outlook projects a record build of close to 2,600 billion cubic feet (Bcf) from the beginning of April through the end of October, which would put inventories at 3,431 Bcf at the end of October.
U.S. Department of Energy Announces Steps to Help Modernize Natural Gas Infrastructure
Building on the President's Climate Action Plan, the White House and the Department of Energy hosted the fifth in a series of meetings on reducing methane emissions from natural gas systems. Following the meeting, Secretary of Energy Ernest Moniz announced several new initiatives as DOE's part of the larger Administration Strategy to Reduce Methane Emissions.
EIA: Price of Oil Will Determine Whether Use Carbon Dioxide Enhanced Oil Recovery
In the 2014 Annual Energy Outlook (AEO2014), EIA projects that the price of oil will largely determine whether to use carbon dioxide (CO2) enhanced oil recovery (EOR) technologies to extract additional crude oil from existing producing fields.