Hi Huneybees,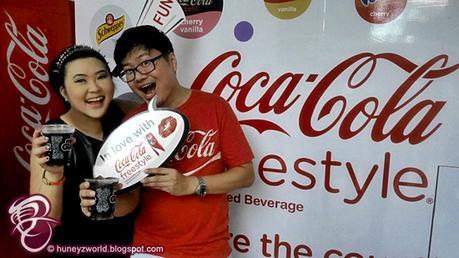 I'm pretty much adventurous when it comes to teasing my taste buds. In fact, one of my favorite thirst quencher "concoction" is going to 7-Eleven and do a half half with Ice Lemon Tea and Coca-Cola at the Big Gulp machine.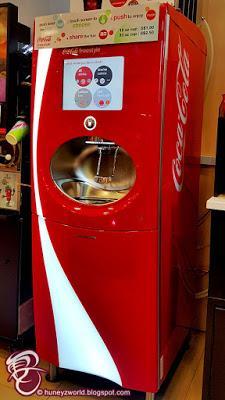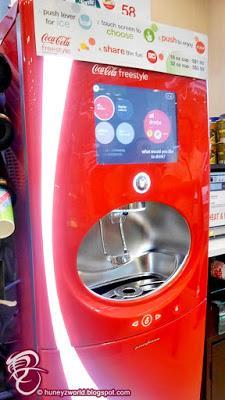 But I've found a new love last week when I was invited to the 

launch of the all new, first in Asia 

Coca-Cola Freestyle. Designed by Italian firm Pininfarina (who designs car bodies for Ferarri), this sleek revolutionary fountain dispensing machine is here to revolutionise the way we enjoy our soft drinks.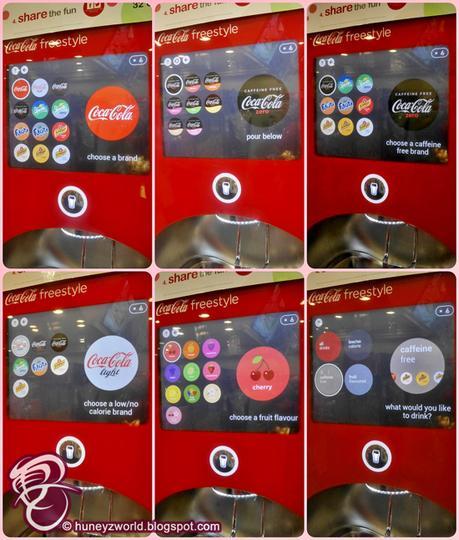 Within this simple red body with light up streamline strip on the side, houses almost
70 new great tasting beverages (among the 80+ drink options available)
. All you need is to select your options through the touchscreen to select not only the usual beverages like
Coca-Cola, Schweppes or Fanta
, you can also opt for low/no calorie drinks, caffeine free beverages or even fruit flavoured beverages. The options and how you created your very own beverage is limitless!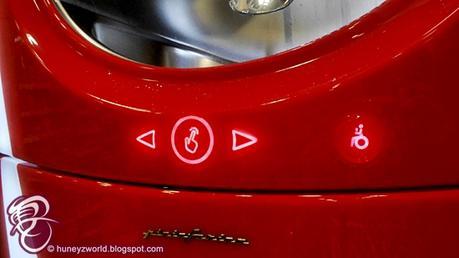 There's even a button for those who can't reach the screens at the top and options can be done the same with the arrows lighted up. It's definitely a first and so considerate of Coca-Cola to incorporate this in the machine design.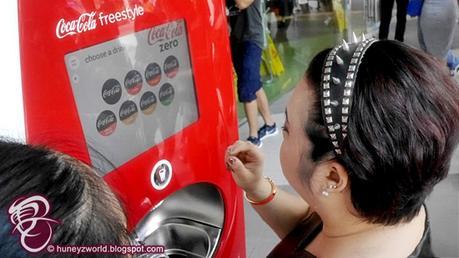 My favorite now is Coca-Cola Zero Lime, giving sweetness a little touch of sourness is VERY refreshing in our hot weather!
Thanks to the R&D team, each individual beverage combination that Coca-Cola Freestyle offers is developed based on specially designed recipes so that the machine is able to provide consistently delicious taste. You don't have to go cracking your heads on what percentage to have your drinks combined. Eg: the amount of orange in a Coca-Cola Orange differs from the amount of orange in a Sprite with Orange. In addition, levels of carbonation are also adjusted across different drink combinations.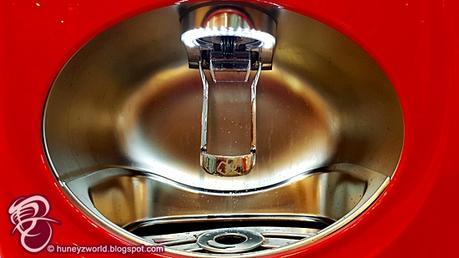 Well, since everyone is having their own unique combination, will there be "cross contamination" of the drinks? The answer is no and the magic lies in this space shuttle dispensing nozzle that I think George Lucas will agree that it suits the set of Star Wars!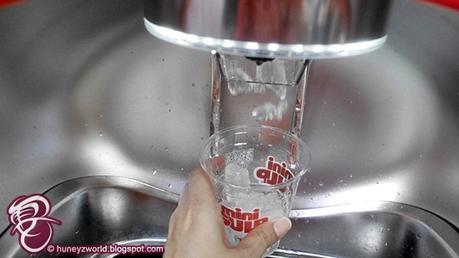 To ensure only high quality 'perfect serves' for any of the 80+ beverage selections is the company's PUREPOUR TECHNOLOGY
™
. Proprietary to Coca-Cola, this technology employs "micro-dosing", a technique commonly used in medical applications for its high degree of accuracy and precision. As opposed to using syrup, Coca-Cola Freestyle uses concentrated ingredients stored in cartridges inside the machine's cabinet to dispense and meter fluids via digital technology, so that the ingredients used for each drink remain separate, minimizing chance of any carryover of color, taste or ingredients.
What is even cooler, is the multi-patented air-mix nozzle that mixes the different ingredients of each drink 'in the air'. All of these components enable Coca-Cola Freestyle to go beyond providing a massive number of beverage choices but also to consistently deliver great tasting beverages taste with each serving.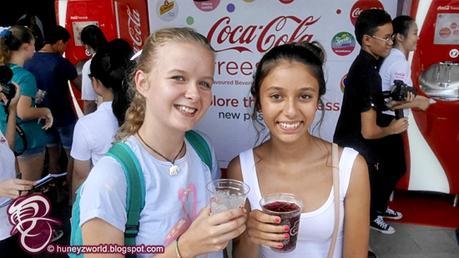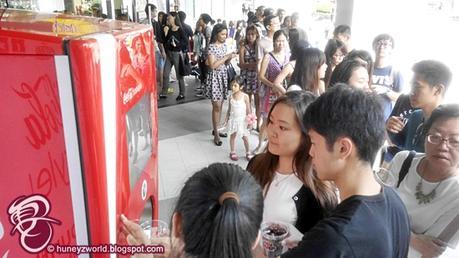 Judging from the happy faces and huge crowd turn up, I think this machine will be making a huge success in changing the way we ended our usually known beverages. You can find the 
Coca-Cola Freestyle
at the 
7-Eleven branches in
Orchard Cineleisure
and
Vista Point
. 
It's my favorite place to go get my drinks every time I'm in town now and it's always better to have more friends joining you so you guys can try out all the other options too!
For more information on Coca-Cola Freestyle and a list of participating outlets, you can visit - http://www.coca-cola.com.sg/freestyle.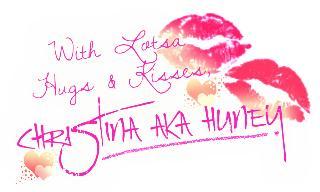 Don't forget to stay tuned to my blog / like my blog's Facebook page / follow me @huney_84 on Twitter & Instagram  for the latest updates!
http://www.huneyzworld.blogspot.com