If you choose your outfit by having your body shape in mind you could magically strip off a few pounds and look slim. Outfit must highlight the best features and camouflage the flaws. Pear shaped women have a small waist and broad hips, hence the outfits that you select must emphasize the narrow waist and take off the attention from the wide hips. Read on to know about 8 Tips on How to select Indian wear for Pear Shape Women?
 How to Select Indian Wear for Pear Shape Women?
1.Krutas & Kurtis:
Women with broad hips can opt for kurtha and Kurtis with high side slits and straight cut. Avoid kurtas with lower slits which hug you around the hips, it will make you look bulky and highlight lower part of the body. On the other hand, high side slits gives an illusion of slim hips. Pair your kurta with the same color legging or salwar to create more slimmer look.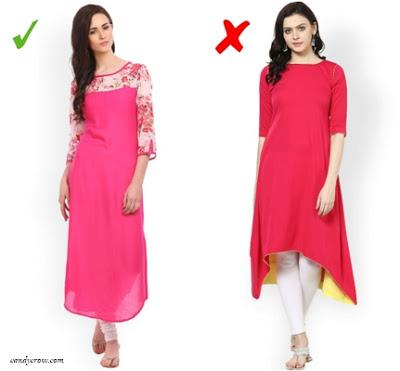 2. Necklines:
Go for wide necklines like boat neck, scoop neck and square neck while stitching your salwar or saree blouse; this will bring more attention to your slender upper part rather than the bottom and create a balanced look.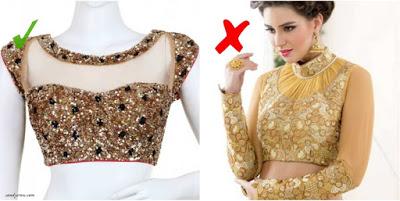 3. Anarkali:
While choosing an Anarkali salwar try empire waist and anarkali which gets flowy below the chest. When it comes to length, go for a floor length Anarkali. Stay away from figure hugging and knee length Anarkali.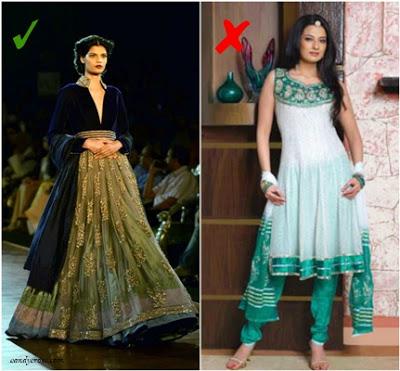 4. Saree:
Sarees made with georgette, synthetic and crepe material will hug you in the right places and give you an hourglass figure. While selecting silk saree, go for soft silks and wear you saree in floating rather than pleated pattern. It is better to avoid horizontal lines and chunky designs in saree and opt for vertical lines and intricate designs.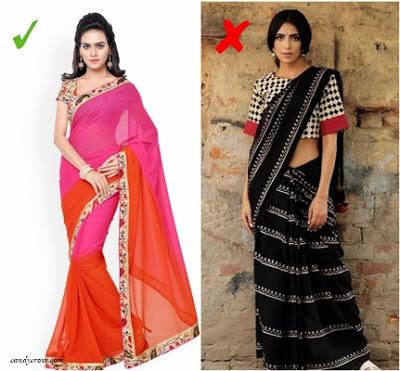 5. Sleeves:
The arms ca be an area of focus for pear shaped women- so ensure that you are highlighting or covering it appropriately. Most of the pear shaped women have leaner upper armswhich means you should absolutely flaunt them with some sexy sleeveless outfits. And don't forget to use a trimmer for those gorgeous shiny arms! however if your upper arms are on heavier side, try out some long transparent sleeves and avoid capped ones.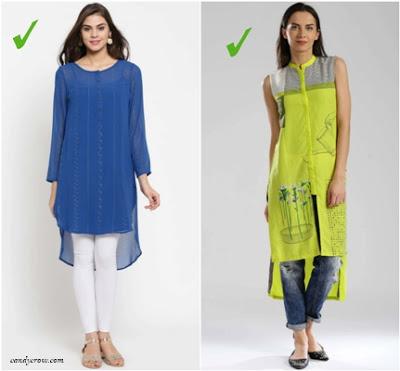 6. Lehenga Choli:
Lehenga choli with a long top, high slits, A-line skirt and cropped top will look stunning on pear shaped women. Also, make sure that you buy Lehenga made with light materials like georgette and synthetic rather than cotton or silk. Avoid lehenga with lot of flares, mermaid type choli and materials like tissue and silk. Always have a
makeup kit
 which suits your complexion to boost up your confidence.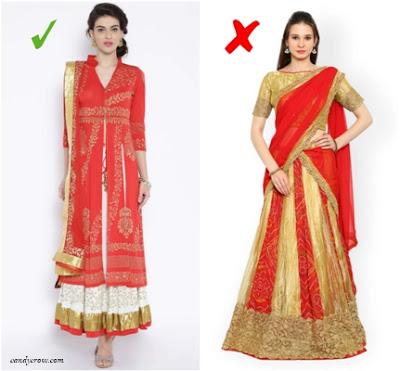 7. Palazzo:
Palazzo pants paired with kurta will look beautiful on a pear shaped body. Any clothing with a wide bell bottom will suit pear shape body it balances the broad hips and makes you look slim. Palazzo with skirt type flare looks more beautiful  than the straight cut.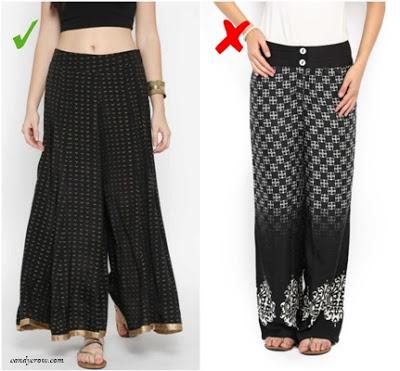 8. Skirts:
Long as well as short A-line skirts suits pear shaped women. It is one of the best outfits for women who is heavy on the bottom. Maxi skirts with less flare also work well with this body shape. Avoid pencil skirts and skirts which have more flares.