Whether it is having a cup of tea or enjoying family conversations with your family, a living room is the place where you create memories. And, it has to look special. Not just because it is a place where you enjoy those special moments but also because of the fact that it reflects your style statement.
In case if you feel, your living room lacks some grace or is not inviting enough, then here are eight easy makeover and home improvement ideas to pep up the look of your living room and turn it into a room where you will love to be in all the time.
Choose a Theme
The first and foremost thing is to decide a theme, you want to give to your living area. If it is traditional, you will be needing all sorts of things like sofa, carpet, lamps, paintings, etc. with a traditional touch. And, if it is modern, you can replace everything with contemporary pieces. Themes can also be according to colors like a monochrome theme, colorful theme or a total white theme. Although, this idea is a little time consuming, but it is a great way to completely change the look and feel of your living room.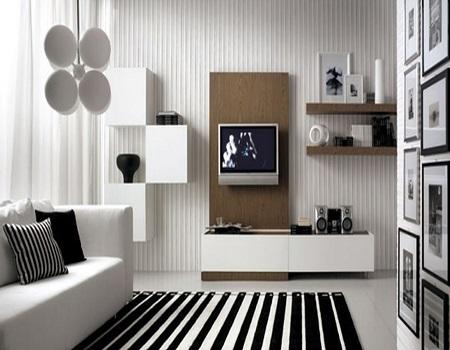 Via Cubtab.com
In case, you just want to make some tweaks in the existing decor, there are multiple ways to do that.
Minimalist Decor
These days, many people prefer to keep their living room simple yet elegant. And, this is where, minimalist theme works. Too much of furniture, decorative pieces, and furnishings make any room appear less airy and smaller in size. So, it is a good idea to decorate it with very minimal pieces.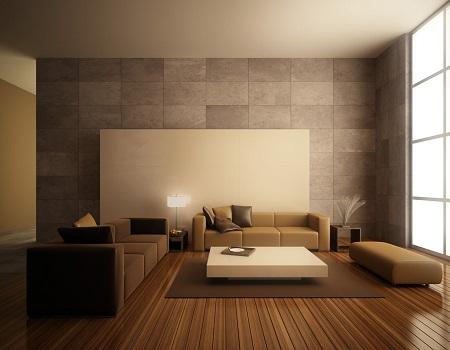 Via Modern Home Designs
Oversized Wall Clock
Choose an oversized vintage or contemporary style wall clock as per the theme of your living room. Identify the biggest wall in that space to hang the clock and let it say everything. Complete the look by placing a sofa with its back facing the wall clock.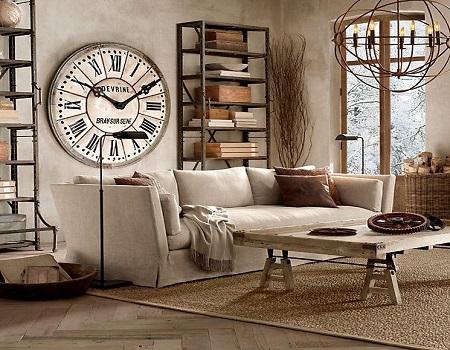 Via Pinterest
Lighting Ideas
Using lights is one of the easiest and trendy ideas to quickly give a makeover to your living room. And you have multiple options in this as well. Either, opt for a lamp which complements the theme of your living room, use LED lights in the ceiling area to highlight it during evenings, or pick a chandelier for a traditional look. In case there are wall shelves, you can highlight them by using downlighters.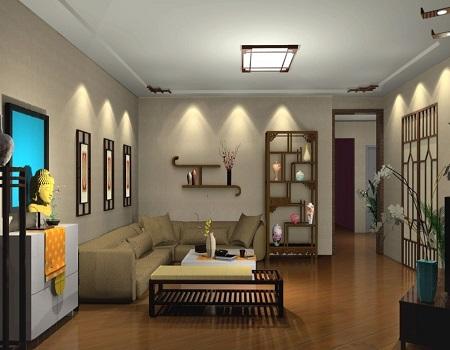 Via Neodesigngeeks.com
DIY Project
Show your creative side by turning old pieces or scrap into quirky decorative items. Like, you can paint an empty wine bottle and use it as a flower vase or you can also use spray paint to give lend a creative look to the wall of your living room. There are so many options in DIY to try. You just need to find the right ones to liven up your living area.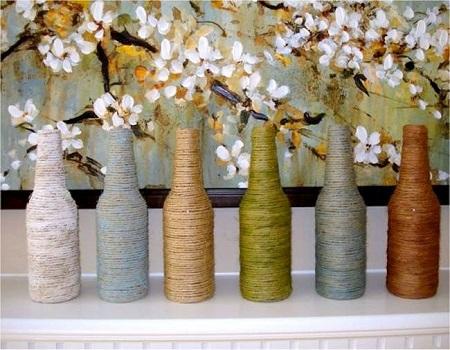 Via Bobvilla
Create A Gallery
If you want to focus on the living room wall, you can turn it into an attractive gallery that will change the whole look of the room. You can use lots of photo frames, wall clocks, or posters of uneven sizes and different colors and adjust them in a way that the silhouette created looks like a story.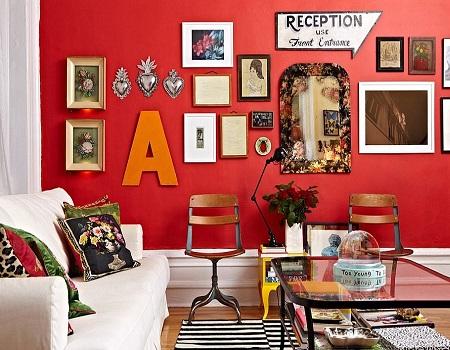 Via Decoist
Attractive Floor
Yes, another simple idea to give a new look to your living room is to decorate the floor by using a statement rug. Why? Because rugs anchor a room and also they are popular living room accessories for use and decoration. And if you go by the rules, you can never go wrong in buying one.
It should not be too small.
Layer up two rugs on one another. Use the bigger one as the base and place the smaller one over it for a rich carpeted look.
Go for a pattern that complements the existing theme. If you have flat colored furniture and walls, avoid buying rug of the same color. Choose a peppy print that adds life to flat colors.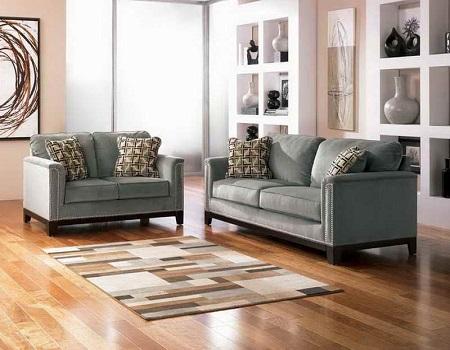 Via Bookmarkplaces.com
Focus On The Center Of Attraction
A gorgeous center table in your living room can add life to the whole ambience. In offline retail markets or at online stores, you will find unlimited designs in living room center tables. You can pick one made in complete glass, wood, or go for a designer table top. There are too many options in shapes and sizes but you need to choose the one that fit wells in the living area.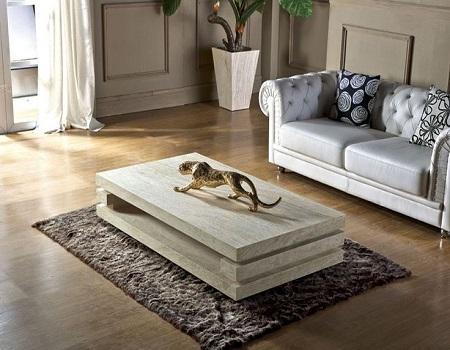 Via Pinterest
Conclusion
Living room is no less than a bedroom and it clearly reflects the way you think and the way you look at life. It has to be just perfect and totally eye-catching because it makes a lot of impact on your guests too. Ideas are unlimited if you are firm on giving makeover to your living room. But the first step is to first look for a theme, then buy the products that justify the theme and use them smartly.