72nd Constitution Day was celebrated today by Ministry of Women and Child Development & UN Women India honouring women in all walks of life. On this occasion, the event 'Sangram Se Samvidhan Tak' (संग्राम से संविधान तक) that featured Union Minister Smriti Zubin Irani, Ministry of Women and Child Development was held that included a number of prominent dignitaries celebrating  women as the main thrust in India's freedom and democracy. The event took place at the UN House in New Delhi. It was a part of the Azaadi ka Amrit Mahotsav (आज़ादी का अमृत महोत्सव) celebration. India's constitutional history was well commemorated by remembering valuable contributions of great women visionaries who had a strong commitment to uphold the fundamentals of equal and just republic that reflects in our country's foundational charter. The Constitution of India was adopted on 26th November 1949.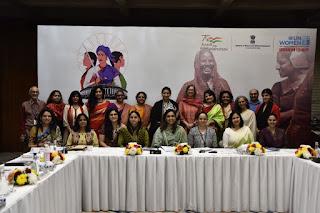 Thus, that day is also marked as a historical step in building our nation. Our constitution is one of the best in the world that comprises of most forward-looking and revolutionary charter. It's remarkable in the sense that it is designed with fundamental ideologies and well defined codes that primarily focus on equality for all diversities that flourish in India. The charter for the independent Republic of India believes in equality and justice for all and includes the reflections of the contributions of the women engineers of our Constitution. Women's right to vote is a crisp example of this. Role of women freedom fighters, lawyers, suffragettes, educationists, reformists, and politicians imbibed great inspiration in drafting it that focussed on setting a strong, equal, and common national identity for every citizen of India. That's how it was laid with a strong foundation. 
Secretary, Ministry of Women and Child Development, Indevar Pandey said, 
The history of the Indian struggle would be incomplete without mentioning the contributions of women. The sacrifices made by the women of India will always occupy the foremost place.
Our freedom movement brought women to the center of political life, at a time in history when that was very rare. I am so proud of this. Their contributions made India a more just and equal society,"
Susan Jane Feruguson, UN Women India Country Representative said, 
"

Let

'

s honor the sheer indomitable will of the women in their country, and everywhere 

ー

past, present and future, who

'

ve demonstrated the courage and commitment to bring about a just and equal society.

"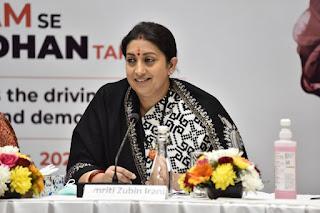 Union Minister, Ministry of Women and Child Development, Govt. of India, Smt Smriti Zubin Irani, in her keynote address said, 
"

We've had the opportunity to honor the excellence and determination of so many women of India, especially those women of history who took part in writing the Indian Constitution. This constitution was not given to us. We gave it to ourselves. Let us remind ourselves on Constitution Day the things the Indian Constitution stands for - justice to all, appeasement to none.

"