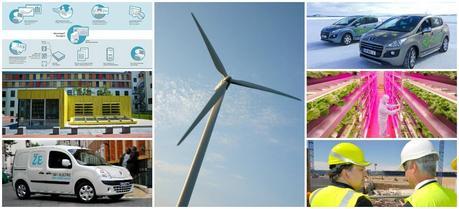 Here's a bit of energy news that didn't make it into our daily coverage during the past week. In this review, we collected some of less big, but nonetheless interesting news, of the week that went by, from the world of energy science and technology.
SEE ALSO: 7/11/2014 This Week in Energy: Beyond Headlines
Renewables
U-M Survey: Use of Wind Power Grows in Michigan, So Does Support for It
As Michigan nears its own deadline to generate 10 percent of the state's electricity from renewable sources by 2015 – and considers going further – a new report from the University of Michigan finds strong support among local government leaders for expanding the use of wind power.
GM, HP, Wal-Mart And Others Demand Simpler Buying Of Renewables
Seeking to increase availability of cost-competitive renewable energy to run their businesses, 12 leading companies have signed the Renewable Energy Buyers' Principles to better communicate their purchasing needs and expectations to the marketplace. The companies — Bloomberg, Facebook, General Motors, Hewlett-Packard, Intel, Johnson & Johnson, Mars, Novelis, Procter and Gamble, REI, Sprint, and Walmart — are hoping the principles will open up new opportunities for collaboration with utilities and energy suppliers to increase their ability to buy renewable energy.
RWE Generation CEO Matthias Hartung: "Successful Energy Transition Requires a New Culture of Dialogue"
"We need a new culture of dialog if the energy transition is to be successful!" This is what Matthias Hartung, Chief Executive Officer of RWE Generation, explained at a meeting with journalists in Paffendorf near Bergheim. Electricity supply depends on collaboration perhaps more than any other industry, but many parties involved seem to be working against each other, Hartung went on to say.
ADB $300 Million Aids Sri Lanka's Push to Cut Fuel Oil Use, Boost Renewables
The Asian Development Bank (ADB) has approved a $300 million dual-tranche loan to help Sri Lanka scale up its use of clean energy and cut its reliance on costly petroleum oil for electricity generation.
Japanese Farmer Builds High-Tech Indoor Veggie Factory
Humans have spent the last 10,000 years mastering agriculture. But a freak summer storm or bad drought can still mar many a well-planted harvest. Not anymore, says Japanese plant physiologist Shigeharu Shimamura, who has moved industrial-scale farming under the roof.
Research
New BasCat Laboratory Opens at TU Berlin
On the South Campus of Technical University (TU) Berlin, BASF together with the Cluster of Excellence "Unifying Concepts in Catalysis" (UniCat) today opened the new BasCat Laboratory building. On about 1,000 square meters of laboratory and office area, 17 scientists will in future be researching the principles of heterogeneous catalysis for raw material change. BASF and TU Berlin are devoting considerable resources to establishing the BasCat Laboratory: BASF is investing up to €6.4 million during the first five years. The total volume is around €13 million.
Fusion Energy
José Manuel Barroso: "Europe Is Proud to Have Believed in ITER"
José Manuel Barroso, President of the European Commission, strongly reaffirmed Europe's commitment to ITER as he visited the international project's worksite in Saint-Paul-lez-Durance.
Energy Eficiency
Software Platform Offers Comprehensive Energy Management for Buildings
The Siemens Building Technologies Division launches Advantage Navigator, a software platform which can track the long-term performance of a single building, entire physical campus, or virtual network of hundreds or even thousands of sites. The cloud-based software platform enables the user to monitor and analyze total building performance as measured through energy consumption, energy procurement and key sustainability performance indicators.
5,500 Buildings to Compete in EPA's Fifth-Annual Energy Star Battle
The U.S. Environmental Protection Agency (EPA) launched the 2014 Energy Star Battle of the Buildings: Team Challenge. More than 5,500 buildings nationwide are going head-to-head to reduce their energy use. In support of President Obama's Climate Action Plan, which calls for businesses to cut in half the amount of energy they waste over the next 20 years, the competition specifically targets wasted energy in commercial buildings, and will motivate businesses to improve energy efficiency, reduce harmful carbon pollution, and save money.
Electric Vehicles
European Research Project OpEneR to Increase Efficiency of EVs, Hybrids
At its final review in Vigo, Spain, on July 17 and 18, 2014, the European research project OpEneR presented collaboratively developed driving strategies and driver assistance systems that will significantly improve the efficiency and safety of both electric and hybrid vehicles in the future. This greater efficiency will help unlock the market for fully electric and hybrid vehicles: by increasing driving range without enlarging the battery. Engineers and researchers have worked to improve the electrical powertrain, the regenerative braking system, the navigation system, and the surround sensors, as well as on functions that connect these elements with each other. The two fully operational electric vehicles they have built have already demonstrated an impressive potential for making driving in real conditions more economical.
Renault Delivers 30 Kangoo Z.E. Electric Vehicles in Uruguay
These 30 electric Kangoo Z.E.s will be run by UTE, Uruguay's generator and distributor of electricity, for missions in the capital Montevideo and elsewhere in the country.