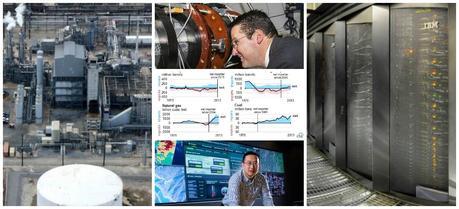 Here's a bit of energy news that didn't make it into our daily coverage during the past week. In this review, we collected some of less big, but nonetheless interesting news, of the week that went by, from the world of energy science and technology.
SEE ALSO: 6/27/2014 This Week in Energy: Beyond Headlines
Renewables
U.S. Energy Department Makes $4 Billion in Loan Guarantees Available for Renewable Energy Projects
In support of the President's Climate Action Plan, the Department of Energy issued a loan guarantee solicitation, making as much as $4 billion in loan guarantees available for innovative renewable energy and energy efficiency projects located in the U.S. that avoid, reduce, or sequester greenhouse gases. This solicitation represents the next step in the Department's commitment to support the deployment of innovative, clean energy technologies at commercial scale in the U.S.
Texas Hits New Peak Wind Output
At 8:48 p.m. on March 26, wind energy generation on the electric grid covering most of the state of Texas reached a new instantaneous peak output of 10,296 megawatts (MW). At that moment, wind supplied almost 29% of total electricity load, according to the Electric Reliability Council of Texas, the grid's operator.
Six New Electric Vehicle Charging Stations Installed at Albany Airport
Albany International Airport has six new electric vehicle (EV) charging stations for airport traveler use, stemming from a collaboration by the New York Power Authority (NYPA), the New York State Energy Research and Development Authority (NYSERDA), and the Albany County Airport Authority. The installations are part of a planned statewide network of up to 3,000 EV stations slated for various public and workplace locations across New York State.
Research
IBM Launches Project "Green Horizon" to Help China Deliver on Ambitious Energy Goals
IBM has announced that it is deploying the full force of its researchers in laboratories around the world in a 10-year initiative to support China in transforming its national energy systems and protecting the health of citizens.
Australian Plasma Fusion Research Facility Launched
The search for star power — fusion — has received a major boost with the launch of the Australian Plasma Fusion Research Facility (APFRF) at The Australian National University. The facility includes Australia's largest fusion experiment, the newly upgraded H1, which will now be able to heat fusion experiments to temperatures hotter than the core of the sun.
Fossil Fuels
Honeywell Helps Meet Petrochemicals Demand In China With Coal-To-Plastics Technology
UOP LLC, a Honeywell company, announced that its licensee, China's Wison (Nanjing) Clean Energy Co. Ltd., has produced more than 360 million pounds of  light olefins at a plant in Nanjing, China, using UOP's breakthrough methanol-to-olefin (MTO) process technology.
Eni Uses High Performance Computing System for Industrial Oil and Gas Activities
Eni has put into operation its second major HPC system. The new supercomputer has an innovative approach based on the usage of accelerators to implement a so called "hybrid cluster architecture'. It comprises 1500 IBM iDataPlex dx360 M4 nodes, built on more than 30,000 processing cores, each equipped with two NVIDIA Tesla GPU accelerators connected by a high-speed InfiniBand interconnection.
UK Became Net Importer of Petroleum Products in 2013
Fossil fuels (petroleum and other liquids, natural gas, and coal) account for most of the United Kingdom's (UK) energy consumption. Although renewable energy use is growing, particularly in the electric power sector, fossil fuels accounted for 86% of total primary energy consumption in 2012.
Electrical Grid
Canada's First Utility-Scale Energy Storage System Islands Remote Town During Outages
Nestled in the Canadian Rockies, the remote town of Field relies on one 25-kV distribution feeder, provided by BC Hydro, to supply its 300 residents with power.
Energy Department Launches Microgrid Competition
The Energy Department on June 26 launched the Microgrid 2014 MVP Challenge, a competition to support resiliency and adaptation in communities across the United States. The Challenge will recognize local organizations that have adopted successful grid strategies to continue providing vital public services during power disruptions caused by severe weather and other events.
Environment
Project Captures and Stores more than One Million Metric Tons of CO2
Following the one year mark since the release of the President's Climate Action Plan, the U.S. Department of Energy (DOE) — in partnership with Air Products and Chemicals Inc. — announced a major milestone, successfully capturing more than one million metric tons of carbon dioxide (CO2) at the hydrogen-production facility in Port Arthur, Texas.