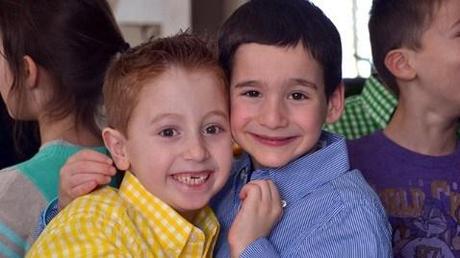 Jonah Pournazarian and Dylan Siegel
Dylan Siegel and Jonah Pournazarian are best friends.  Jonah has been diagnosed with Type 1 glycogen storage disease.  It is a rare liver disease that does not have a cure.  Last fall, Dylan decided to raise money to find a cure for his best friend.  Instead of doing the typical lemonade stand he decided to write a book called: "Chocolate Bar."
After 2 months on the market the handwritten and illustrated book garnered sales of about $30,000.  Dylan has a goal to raise $1 million.  Rabin Pournazarian, Jonah's father, told ABCNews.com that a fund was set up for his son 6 years ago and has raised $400,000.
Jonah's condition affects 1 in a 1,000,000 children.  Most days all he eats is cornstarch mixed with chicken soup with vegetables that his mother makes and feeds him through a tube.  His feeding schedule is sensitive.  At school, Jonah's parents have had to ask parents of other children to keep their child home if they get sick or to at least notify Jonah's parents so they can keep him home.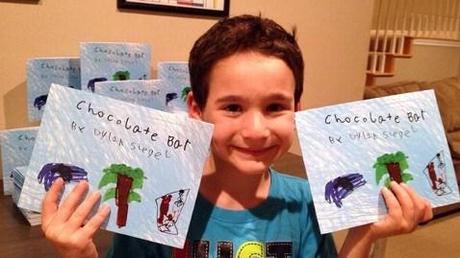 "What could be a common cold … will land Jonah in the hospital for five to six days," his father said. "It happened last month."
Rabin said the money from the fund and book has been sent to the University Of Florida School Of Medicine at Gainesville where research is taking place under Dr. David Weinstein, who is working with 200 families.  He hopes the newfound attention brings forth a cure.
I wanted to share this story to help bring awareness to this disease and to recognize this little boy who is doing everything he can to help his best friend.
*If you would like to donate you can visit the book's Facebook page or at this link.
*ABC News article
Email: [email protected]
Twitter: @adrakontaidis & @talkrealdebate