If you're a foodie, trying unusual flavors can be an exciting challenge. If you're not, trying dishes outside your norm can be a little scary. Some of these weird menu items are relatively safe to try, but for others, it takes courage to brave it. In honor of venturing outside the box, here are some of Chicago's stranger menu items that you have to try.
Edible Balloon
Alinea – 1723 North Halsted Street
One of the city's most world-renowned restaurants offers a host of one-of-a-kind menu items, but the strangest is probably the chef's signature Edible Balloon. The balloon is filled with helium and the string is made from dehydrated green apple. The chef suggests you first suck the helium out of the balloon and then enjoy the rest of the green apple flavored treat. The Michelin-starred restaurant is one more item to add to your bucket list.
Ahi Tuna and Watermelon Tostadas
A post shared by Summer House Santa Monica (@summerhousesm) on Aug 2, 2016 at 2:44pm PDT

Summer House Santa Monica – 1954 North Halsted Street
If you're looking for a little twist on a starter with the texture of chips and guac, you might want to order the ahi tuna and watermelon tostada from Summer House Santa Monica. They use the best sushi-grade tuna for this unique and refreshing appetizer. This unexpected combination is delicious with the addition of Thai chili, avocado, crema, and cilantro.
Whole Alligator
#FrontierChicago

A post shared by Frontier Chicago (@frontierchicago) on Mar 10, 2017 at 4:51pm PST
Frontier – 1072 North Milwaukee Avenue
Want to grab everyone's attention next time you are out to eat with friends? Try ordering a whole alligator at Frontier. The animal serves a big group, about 10 to 12 adults, and tastes like a spiced-up, moister version of chicken. Executive Chef Brian Jupiter draws inspiration from his New Orleans roots and has a laundry list of whole animals you can order for the table. In addition to the whole alligator stuffed with chicken and smoked over apple and cherry woods, you may also try a whole wild boar.
Fiesta Flavors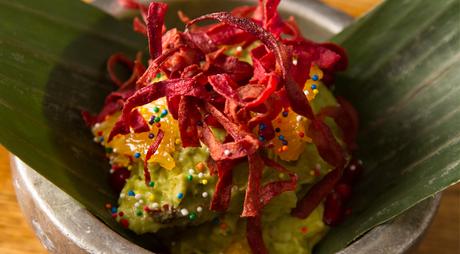 Photo Credit: Rick Bayless
Frontera Grill – 445 North Clark Street
Rick Bayless decided to shake things up with this guacamole dish served at his flagship restaurant, Frontera Grill. The chef's choice guacamole is colorful and vibrant while having an interesting array of flavors. Nowhere else will you find mashed Michoacan avocados in combination with morita chile, citrusy tangerine and orange, red chile peanuts, crispy beets, and crunchy pomegranates. Spicy, sweet, and savory all in one dish.
Berries & Brie Burger
A post shared by Grange Hall Burger Bar (@grangehallchi) on Jan 6, 2018 at 10:49am PST

Grange Hall Burger Bar – 844 West Randolph Street
Another take on a sweet and savory dish can be found at Grange Hall Burger Bar. They serve up a grass-fed beef patty topped with a berry compote and brie cheese. In addition, the burger is loaded with arugula, topped with Dijon aioli, and drizzled with a balsamic reduction. The interesting and unique dish pairs well with a Hard Apple Cider or Passion Fruit Punch.
Chapulines
Grasshoppers. Happy birthday to me!

A post shared by @ breifenberg on Dec 6, 2017 at 6:48pm PST
Kie-Gol-Lanee – 5004 North Sheridan Road
Chapulines is the Spanish word for grasshoppers of the genus Sphenarium, a popular dish in certain areas of Mexico. Kie-Gol-Lanee, located near the Argyle Red Line stop, offers crispy grasshoppers as a seasonal starter. The restaurant focuses on Oaxacan food derived from the city in Central Mexico. The crispy grasshoppers reportedly taste a little something like salt and vinegar potato chips with a different texture.
Water Cake
A post shared by 大毛家 A Place by Damao (@bydamao) on Jul 30, 2017 at 7:20pm PDT

A Place by Damao – 2621 South Halsted Street
A Place By Damao serves up food from Chendu, the capital of southwestern China's Sichuan province. They offer an entire menu of unique items, but the water cake for dessert is one of the strangest. It's also known as a raindrop cake and has been the subject of several viral DIY videos in 2017. The texture of the transparent dessert is more of a jelly than a cake and looks like a giant bubble of water. At the restaurant, it's served with brown sugar or fermented rice. If you're going to try their water cake, keep in mind you can start with a variety of other unique dishes, such as duck head, duck feet, duck tongue, gizzards and pork feet. Not for the faint of heart.
If you're an adventurous eater, try one of these strange menu items for a new burst of flavor (and bragging rights.) If you're more hesitant to explore new flavors, we'd start with the ahi tuna and watermelon tostada, Rick Bayless' signature guacamole, or the berries and brie burger. The water cake and edible balloon are also some safer dessert options. The whole alligator is for braver palettes, and the crispy grasshoppers take the cake for the strangest menu item in Chicago. Happy dining!
Featured Image Credit: Grange Hall Burger Bar