This Back Care Awareness Week we're reminded that approximately four out of every five adults will experience back pain at some stage in their life.
Whilst there are many physical and psycho-social factors that contribute to back pain – heavy physical work, frequent bending, twisting, lifting, obesity, stress, anxiety and depression – it's worth remembering that a good supportive bed has an important role to play in relieving back pain.
What Causes Back Pain When You Sleep?
Sleeping on a saggy, lumpy uncomfortable bed could not only cost you up to an hour's sleep a night but it also could be contributing to your back problem.
Ideally your mattress should mold to your body; too soft and your body will slouch which could result in back pain; too firm and your hips and shoulders pressure points could feel discomfort.
The way you sleep may also be causing you pain. By adapting your sleep position you can help relieve some of the symptoms experienced when sleeping.
If you sleep on your side with your legs and hips aligned and flexed this can cause the lower spine to be rotated slightly, which may contribute to back or hip pain.  A simple solution is to place a pillow between the knees and thighs, thus supporting the body and realigning the spine.
Back sleepers can place a pillow under the knees as will help maintain the normal curve of your lower back reducing any tensions. Or place a rolled-up towel under the small of the back for additional support.
One way of reducing the strain on your back if you sleep on your front is to place a pillow under your pelvis and lower abdomen and again under the head.
If changing your sleeping position still doesn't provide you with pain relief, maybe it's time to look at whether your bed and mattress are giving you the right support.
What is the Best Bed for Back Pain?
It's often assumed that firmer beds are the best option for people with back pain.  However, a bed that is right for your build and weight is more likely to provide the comfort and support that you need.
An orthopedic bed can go some way to providing the right support to ease back pain when sleeping.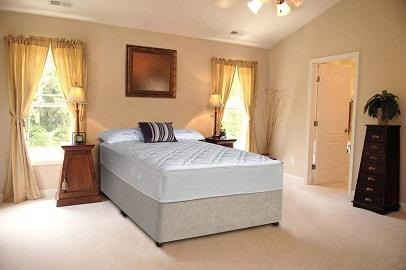 King Koil Orthopaedic Beds are renowned for their special support features which are designed to improve back and spine care during sleep and their beds are endorsed by the International Chiropractors Association.
An adjustable bed is also ideal for those that need a little bit of assistance with getting in and out of bed. Designed to be adjusted into various positions to make sleeping more comfortable, they can help relieve back pain, poor circulation and aches and pains by changing the position of the bed using a remote control.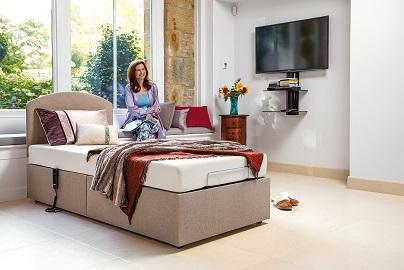 Sherborne Adjustable Beds can be adjusted to raise the upper end of the bed which in turn lowers the back and head, or the lower end of the bed can be raised to lower the legs.
Sherborne Upholstery also manufacture Head-And-Foot Adjustable Beds which allow independent adjustment for the upper and lower body to enable the optimum position to be reached for both sleeping and relaxing.  Some models can accommodate a weight of up to 28 stone.

Tips to Ease Back Pain When Sleeping
Buy a bed that's supportive and comfortable and suited to your weight and build. 
Take time and try out different beds – lie on each bed for quite a long time – at least 10 minutes.

Buy a

 bigger bed as they will give each partner more room to move during the night and lessen sleep disturbance.
Choose a bed that's the right height. Ask yourself whether you can get in and out of it easily. An

 adjustable bed

 might be an option if this is an area of particular concern.
Buy a bed with a 

Non-Turn Mattress

so you won't have to do any heavy lifting. 

Choose a 

pillow

 that provides both neck and back support, ensuring the neck is in alignment with the rest of the spine.
Try and adopt a sleeping position which creates less physical stress on the back or use pillows to support the body when sleeping.
What to do next
At Dalzell's we know only too well how back pain can impact on getting a good night's sleep. Our expertly trained staff are happy to advise on all types of beds and mattresses that will help ease any back pain or discomfort when you sleep. Browse our online store or visit our showroom in Markethill where there's plenty of on-street Free Parking. We're easily accessible too, just off the A28 between Armagh and Newry; 30 minutes from Lisburn, 45 from Belfast and an hour from Dublin. With Multi-Buy Discounts available why shop anywhere else? What's more, with Free Delivery* and Free Collection and Recycling of Your Old Bed throughout our Free Delivery Zone of Northern Ireland and Counties Dublin, Louth and Monaghan, there's one less thing to worry about. Not only that, but we'll also unpack and set-up your New Bed and Mattress in a room of your choosing and dispose of all the packaging.  Visit in-store, Email, or simply Call us on T: 028 3755 1260 where our staff are on hand to answer and questions you may have.