Layering your clothing is a  great way to ensure your comfort and style when it comes to both everyday casual outfits and formal wear. This being said, it's usually more recommended to keep layered outfit for casual occasions rather than formal ones. Today we are going to focus on offering you a few tips you can follow when you are putting an outfit together.
We think having multiple layers of clothing is something that really improves your appearance, as adding layers of different clothes creates visual interest. So, if you want to give a layered outfit a shot, here are a few guidelines you can follow:
1. Establish the main piece and color. When it comes to putting any outfit together, you have to have a main piece that will be star. All other pieces should be supporting the main actor. Usually the main piece is something in a bold color, bold pattern or print. Make sure you don't wear two main pieces, it will look unbalanced.  After you have established the main piece, look for other pieces that go with it, whether it's in terms of color, shape, pattern or any other factor.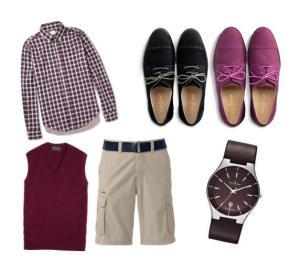 Try to follow a style and a line when putting together an outfit.
2. The first layers should be the thinnest layer. Go from thin to thick: start with a shirt, add a vest and only then the jacket. This seems obvious, but we have seen people not following this rule. Why this is important is because, not only it establishes an organic depth of field in the outfit you are creating, but it also helps you keep your body at a proper temperature. A vest and a jacket are better than just a big sweater, they keep your body at a right temperature better. Also, if you get too hot, you can take one layer off and still look well.
3. No matter how many layers you have on you, comfort is the rule. Even if you have two layers or seven (what would that look like though?), you should be comfortable. Not being able to move or feeling restrained is something that needs to be remedied immediately.
4. Each layer should go on it's own. We want you to wear fine pieces, that are strong in their own, but go great together as well. Also, each layer should have it's function.
5. Keep the patterns in a line. If you decide to wear patterns, place them gradually on your body. Don't mix them at random or have neutrals between them. Think of the outfit as of a in-depth gradient. Whether you go from the outside to the inside or the other way around, you should go gradually from one pattern to the other.
6. Do accessories count as layers too? We can debate this, but we think accessories can also be considered layers in a certain regard. Add a nice watch and a nice pair of shoes over some nice socks, and don't leave any part of your body unattended. Accessories that count as layers are also scarves or belts.
7. Don't use clothes to hide parts of your body you don't like. As we said, make sure each piece is great in it's own and emphasizes the good parts rather than camouflaging the not-so-good-ones. The difference is that if you know you are hiding something, you will be aware of it rather than being happy that you point out the good parts!
Further reading:
How to choose colors like a pro
Fraquoh and Franchomme
P.S. What are your tips to layering? Do you wear layered clothes? Share your input below!