Like many women tennis players, I love my high heels, but they can really be taxing on your feet and ankles: bunions, blisters and calluses, and plantar fasciitis... and that's not all!
Wearing high heels often can also cause the achilles (the strongest and largest tendon in the body) and the calf muscles to tighten and shorten over time. That can lead to additional problems like ankle sprains and strains and a higher risk of achilles tendonitis-as well as the aforementioned foot problems. And ALL of this can keep you off the courts!
But let's take it a step further (no pun intended). Studies have also shown that wearing high heels often can actually offset your balance, leading to chronic back and neck pain.
Well, I'm not giving up my high heels any time soon-and neither should you! Thankfully, there are some simple stretches that can help elongate and strengthen your muscles and properly align joints so you can rock your favorite stilettos AND play tennis without injury.
NOTE: On days you work out, do all seven exercises as part of your warm-up. On off days, mix and match the first five moves to stretch and relieve your aching feet.
1. Rocking Downward Facing Dog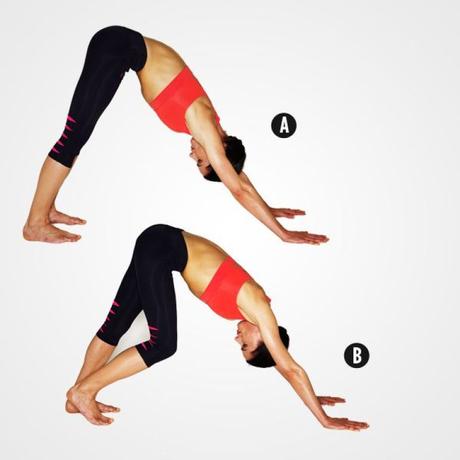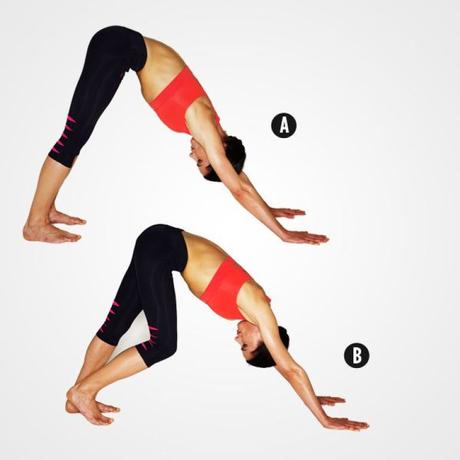 This one is for both your achilles, back and neck. Start on your hands and knees.
(A) Pull your butt up to the ceiling while you straighten your arms and legs, keeping your feet flat on the ground.
(B) Lifting at the heel, pedal your feet up and down, alternating your feet and making sure to get your heels back on the floor.
Pedal 10 times per foot.