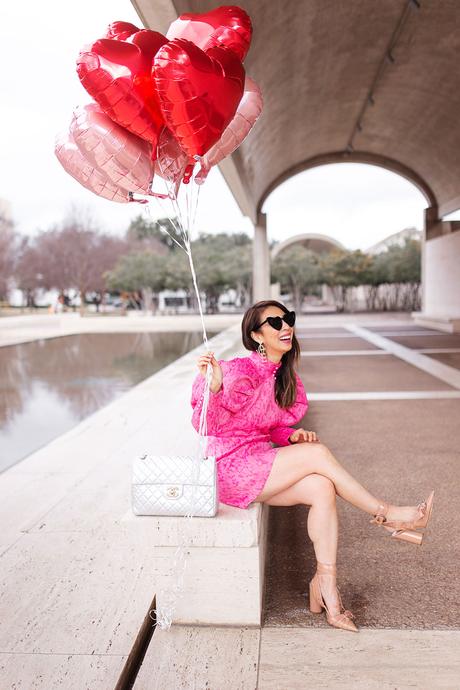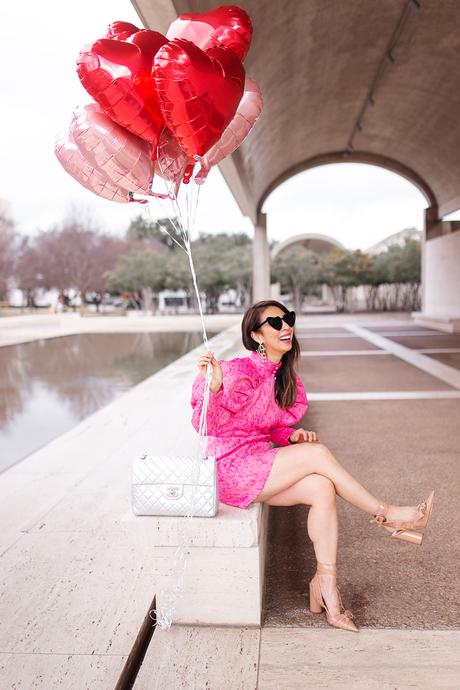 I wasn't lying yesterday when I told you that I LOVE LOVE and Valentine's Day! Yesterday, the Chic at Every Age gals gave inspiration for a subtle and chic Valentine's Day outfit. Today, I'm giving you some easy last minute Valentine's Day Outfit Ideas with all the pink and the hearts and all-that-gooshy-stuff! LOL! I'm sharing some dressy and casual outfit ideas that are perfect for anything from date night or just hanging out with the family.
You know my preference is always MORE is MORE! I would wear a tiara and princess gown every day if that was an option! Since it's NOT, I'll share the next best thing and my Mom Mode outfit because that's just life!
Be as sweet as a candy heart with these perfectly pink Valentine's Day outfits!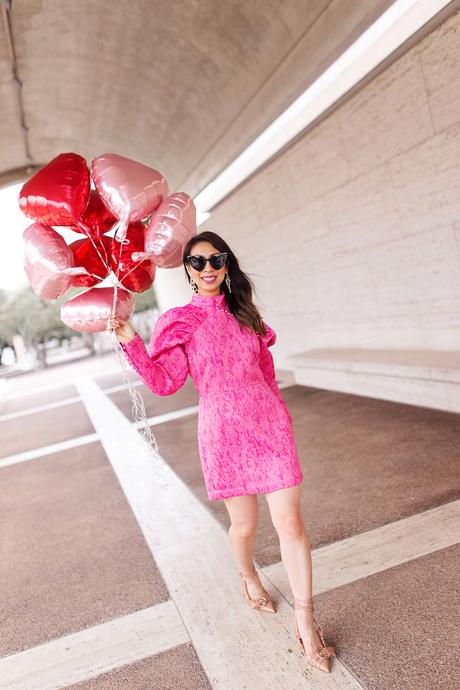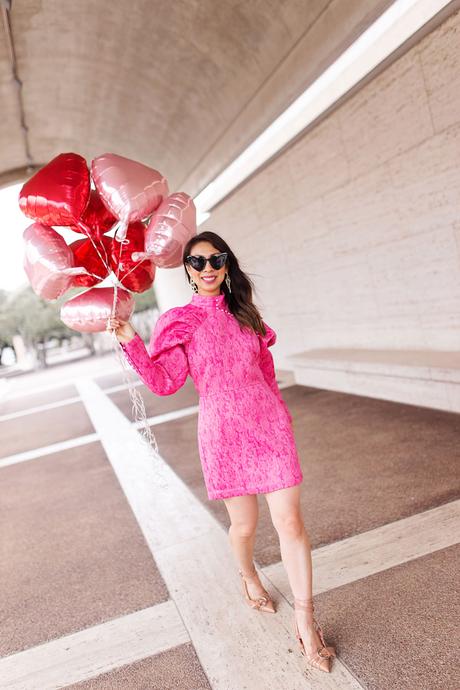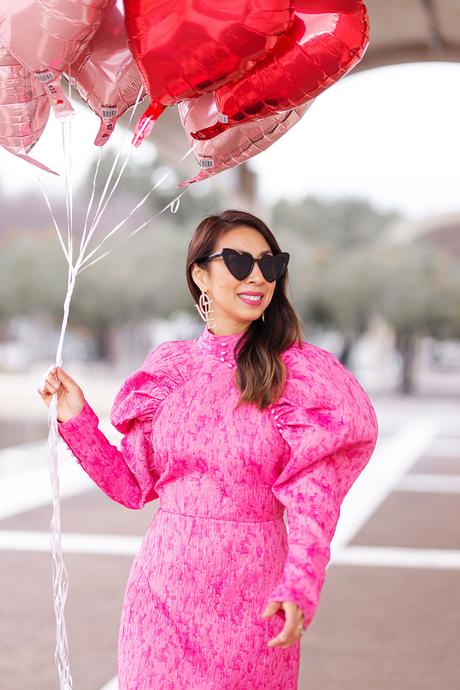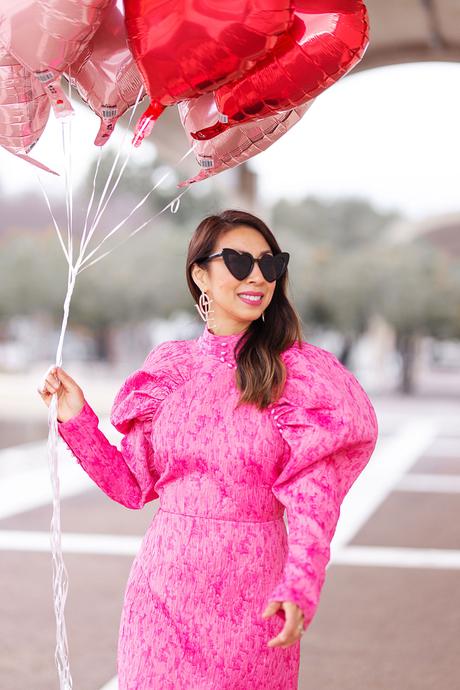 Channel your inner Queen of Hearts with a pink puff sleeve mini dress! I've worn this dress SO MANY TIMES and still love it to pieces. It is definitely my princess dress and loved so much that I got it in black too! You may think of it as just another pink dress, but it's quite versatile. I've worn it accessorized (with a belt and headband) or plain as above pictures with nude pumps and statement earrings.

If a pink dress is too much, then I always suggest pairing a piece with a neutral color which lends a sophisticated look. Here, I'm wearing a very bright pink pleated skirt with a simple black turtleneck. It's an elevated look that is also heart-day worthy and fab for a night out with your girlfriends or date night. I paired it with my Chanel statement earrings for a fun look and ode to the 90s.

Call me the Queen of Cozy because I love a good sweatshirt, especially if it is festive or can be dressed up. Throw in on with skinny jeans, sneakers, and a fur (as in my style equations from this post) and you're ready to rock the kid's Valentine's Day party, mom life, a lunch date, or the weekend! This is probably the easiest last minute Valentine's Day outfit idea. You can easily add a heart brooch/necklace to a plain sweatshirt for the same idea!
I'm always game for a good sweatshirt ESPECIALLY if it has a heart on it!! I saw this one and it was immediately in my cart and literally wore it multiple days in a row. Even though it's called a sweatshirt, the material is thinner and closer to a t-shirt material (hence me wearing it all the time). It was $35 when I purchased it last year (promise) but now showing up for $112??? I don't know why that is so I linked some look for less too!

Why not add a literal heart to your Valentine's Day outfit... Because every girl needs a heart bag! LOL! Okay maybe that's not true, but my girlfriend saw this heart bag and told me that it looked like me! This is a whimsical (and literally) way to add some love to your outfit! By the way, this heart bag is also a belt bag! So many ways to wear a heart bag, not enough time! ;)
// outfit from this post //
I HEART THESE HEART BAGS!!!

Why not take a cue from the classics and go for pink with tweed and pearls? This is a casual way to wear tweed with a graphic tee, skinny jeans, and pearl for a fabulous brunch date outfit! Stack pearls and necklaces for a glam effect!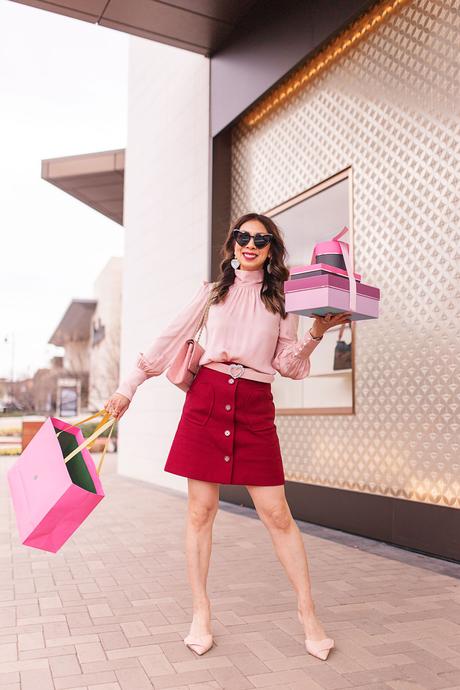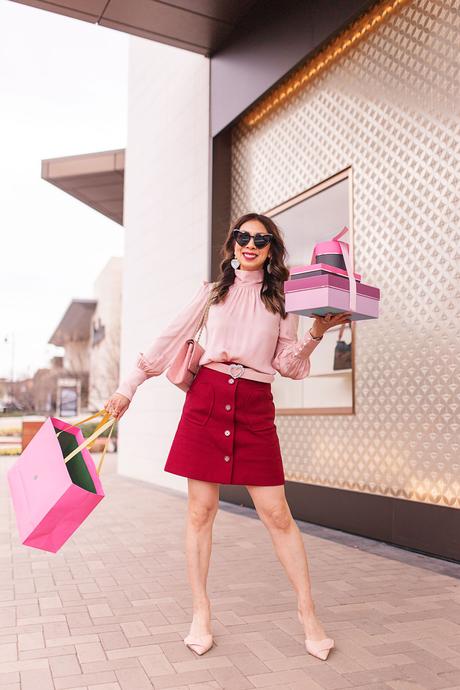 Pink and red are one of my FAVORITE color combinations! They look so beautiful together since they are sister shades. I've worn it multiple times and these are my two favorite examples of wearing pink and red! I get multiple compliments every time!
In case you couldn't tell, PINK is my favorite color! You may enjoy these other outfit ideas that include pink!
WHICH ONE OF THESE LAST MINUTE VALENTINE'S DAY OUTFIT IDEAS WOULD YOU WEAR?
Happy Thursday Y'all! Hope your week is going well! I'm shooting CABI Spring looks with Angie today and couldn't be more excited! It's been too long since I've seen her! Plus, I'm still trying to catch up on all of the house stuff! How is your Thursday going?
Thank you so much for stopping by and supporting SOS!
CHECK OUT MY INSTAGRAM SHOP HERE TO SHOP ALL OF MY INSTAGRAM LOOKS!


stay glam, do good