It's December – and you know what that means.
The Western World (with the U.S. ALWAYS in the lead) commemorates the birth (in an animal's stable, of an individual who thereafter leads the simplest of lives) in the most over-the-top, commercialistic, gaudy way possible. Along the way, many of us will go (further) in debt, accumulate more unneeded stuff, attend countless (and often anxiety-filled) family gatherings and other holiday events – and stress about all of it as it occurs.
We are here to help you with at least one facet of your extreme holiday experience – with free, cool stuff to do around Portland during December. (You're going to have to figure out the extravagant gift giving and elaborate dinner parties yourselves. Here's a hint: Talk with your extended family about all of it NOW so that by next December you might have a more meaningful and less angst-filled holiday).
All of the following are free, they are fun and you don't have to feel obligated to do any of them. :) Enjoy!
#1. TUBA CHRISTMAS (AND A SLEIGH FULL OF OTHER FREE STUFF AT PORTLAND'S LIVING ROOM)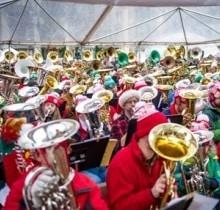 On Saturday, Dec. 10th, from 1:30 to 3 pm, approximately 250 (!) tubas will converge on Pioneer Courthouse Square (701 SW 6th Ave.) and entertain you with sounds of the season. It's quirky, it's surreal, it's just plain fun! This event is popular so get there early (grab a hot chocolate from the Starbucks on the Square – or, following the frugal theme, bring a thermos of your own concoction). Click here for details.
You can find a bunch of other free stuff (music, sugar cookie giveaway and more) happening at Pioneer Courthouse Square during December at this link.
#2. GINGERBREAD MASTERPIECE AT THE BENSON HOTEL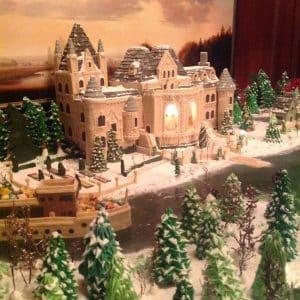 While you're downtown, checking out the Holiday Tree in Pioneer Courthouse Square, take time to stop by the lobby of the Benson Hotel (309 SW Broadway). Every year the hotel's pastry chef (David Diffendorfer) creates, in essence, an elaborate Gingerbread Palace (sometimes it's an actual village). Each year's offering is unique – but it's estimated that roughly 100 pounds of gingerbread and 50 pounds of white chocolate and marzipan are utilized in the process. Gawking is free – no touching (or tasting)!
#3. PEACOCK LANE – AND OTHER (FREE) HOLIDAY LIGHT DISPLAYS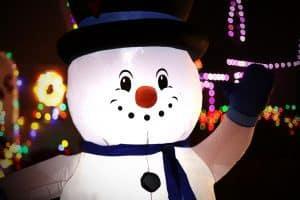 Peacock Lane (between SE Stark St. and SE Belmont St. and one block east of SE 39th) is the crown jewel of these Streets Adorned for Holiday Joy attractions. It's best enjoyed on foot (and that's the only way to experience it on Dec. 15, 16 and 17). The fun begins on Dec. 15 and ends New Year's Eve from 6 to 11 pm each night. Hot cocoa and cider are free (although a donation is welcome :).
Peacock Lane – although clearly the most well-known – is not the only "everyone on the block lights up" street in the area. The Starkwood neighborhood (north on SE 111th off SE Stark St.) also observes this tradition. And Ridgewood Drive (off Webster Road) in Gladstone struts its stuff, too, along with Kawanda Court (95th and Avery) in Tualatin.
Maddax Woods (5785 River St., West Linn) offers a twist on the "let's light up!" idea. The "Winter Lighting of the Woods" allows visitors to walk along a lighted path through the woods to a viewing platform on the Willamette River (probably pretty popular on Christmas Ship nights – see #4 below). The lights go on at 4 pm every day through Dec. 31st.
#4. CHRISTMAS SHIPS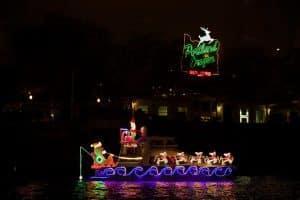 Portland's Christmas Ships celebrate their 62nd season this year! Colorfully lighted boats will parade on the Columbia and Willamette Rivers for 15 nights, beginning on Friday, Dec. 2nd. On six nights, the Columbia and Willamette fleets will be combined and on the other nights they'll be on their respective rivers. Visit christmasships.org for a detailed schedule and locations. The ships will dock for two free "meet and greets" on Dec. 17 and 18. Visit the website for details. In cases of inclement weather, check their twitter feed and/or facebook page for updates on the schedule
#5. SEE SKATERS (AND SNOW?) AT LLOYD CENTER ICE RINK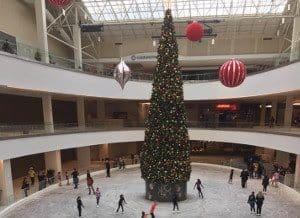 After an extensive remodel, the Lloyd Center Ice Rink is open for business, just in time for the holidays. Since I choose to experience my ice skating injury-free, I opt for watching the skaters glide, twirl and wobble around the icy oval. The viewing begins every day at 10 am.
And, if Portland meteorologists persist in predicting a green Christmas, you can catch a bit of "snow" at the rink, Monday through Friday at 1 and 8:30 pm; weekends multiple times. Check the website for the schedule and other events.
#6. CAROLLING AROUND THE 'HOOD
The days when friends gathered, practiced a few Christmas songs in the "parlor", then headed out – a cappella – to entertain neighbors are LONG, LONG gone. But I for one think it would be so cool to have a dozen folks serenade me on my front porch. (I am not, however, going to post my address here.)
It takes courage – and a few egg nogs – to give this a try in the new millennium (or, indeed, since the '50s). One way to get in the mood is to attend the Great Figgy Pudding Caroling Competition at Pioneer Courthouse Square on Friday, Dec. 9th from 5:30 to 7:30 pm. Any group of three carollers can take part in this "contest" (although it's too late to register for this year's competition. Maybe next year?)  But this event could springboard you (and your warbling friends) to JUST DO IT. I TRIPLE-dog-dare you!
#7. VOLUNTEER
If you want to experience the TRUE spirit of Christmas, Hands on Portland is a fantastic resource for ways to "give back". They have numerous "done in a day" opportunities throughout December – requiring a commitment of only a few hours at most. Find out more at this link.
And, yes, it is FREE to volunteer! :)