7 Easy Ways to Get Free DoFollow Backlinks
Wondering How to Get Dofollow Backlinks for your Website, Want to be the page 1 of Google? Give your pages and site the best start possible! To make money obviously to get onto Google page 1 would be a great start, So here are the best 7 Easy ways to get free dofollow backlinks:-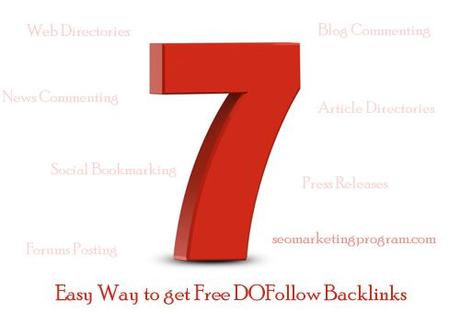 1. Web Directories
Website directories are lists of links to websites, which are sorted into categories.
Website owners can submit their site to many of these directories.
Almost every site is acceptable to search engines
Every Website Submitted to web directories is reviewed by humans & poor sites have no chance of being accepted.
web directories, you can build links of your website & remember the more web directories you are identified with, the higher ranking in the search engines you are.
Web Directories are many in (thousands)
Web Directories approve everyone
Some Web Directories have High PR
Web Directories are Free Submissions
Here are Some Free Web Directories List:-
linkbook.pcgraphicsolutions.com
urlmoz.com
pegasusdirectory.com
a1webdirectory.org
free-web-submission.co.uk
alistdirectory.com
findsites.net
linknom.com
backlinkpro.net
abigdir.com/submit.php
2. Article Directories
Writing articles is one of the best free ways to get traffic to your website or blog.
you write articles and submit to article directories or online writing sites with a link back to your website, blog or affiliate programs.
Some article directories allow links in the body of the article while others only allow in the bio box of the author.
Article directories are websites that allow users to post articles on a variety of topics for free.
Backlinks from Articles are Relevant
Backlinks from Articles are Dofollow
Backlinks from Articles are HIgh PR
It can get you a lot of Traffic Too!
10 Best High PR Article Diretories:-
ehow.com
squidoo.com
ezinearticles.com
hubpages.com
examiner.com
seekingalpha.com
technorati.com
buzzle.com
goarticles.com
3. Social Bookmarking
Social bookmarking services allow anyone to create and update a personal collection of bookmarks and to organize that collection using 'tags'.
Social Bookmarking projects users have their favorite sites and can share them, to find friends who liked the same network, comment on their own and other labels, and more.
Instant Approval of your Link!
Your Link can Spread, thanks to Tagging
Your new website or webpage will get indexed fast by search engines!
10 Most Popular Social Bookmarking Sites
1. Twitter.com
2. Digg.com
3. Stumbleupon.com
4. Reddit.com
5. Pinterest.com
6. Buzzfeed.com
7. Delicious.com
8. Tweetmeme.com
9. Fark.com
10. Slashdot.org
4. Press Releases
Press Releases websites have High Authority
Links from Press Releases are Dofollow
Google picks new Press Releases and Rank Them Well!
Press Releases give Relevant Backlinks
Here are some Press Releases Sites
PR WEB
Press Release Point
AB Newswire
5. Forums Posting
When posting in forums, what you have to do is create new threads, initiate new threads, keep conversations going, and respond to existing ones.
Teach someone something, post something that will make others think and create conversations or keep others going!
Signature links are non spamming
posting on relevant threads gives relevant backlink
Forums links are high PR & Dofollow
There are thousands of threads!
6. Blog Commenting
Blog Comments link are famous of being High PR and Dofollow
When Commenting on blog posts you get highly revelant backlink
There are many posts to comment on
7. News Commenting
News Websites have high authority
News articles get indexed quickly by search engines so your link will be seen quickly too!
News articles get syndicated and spread quickly
5

/

5

stars