Ties aren't everyone's thing, but with patterns as cool as these, it would be difficult to resist wearing a tie even if you avoided them like the plague so far. Any worry you might have - that a tie might make you seem uptight, or too conservative, or too formal - should just go down the drain. In fact, if we were you, we'd worry about wearing such a tie in a too formal environment. Seriously, if you work in a bank, don't wear these ties to the office without the explicit permission of your supervisor! But other than that, feel free to wear them anywhere and with almost anything else (yes, even a short-sleeved shirt plus jeans and trainers).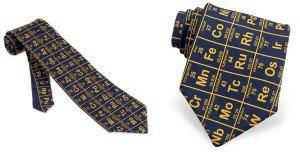 This cool neck garment features the elements as they appear on the Periodic Table, against a navy background. You can find it here for about $20.
2. Movie roll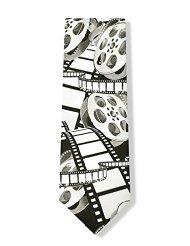 You don't have to be a cinema enthusiastic or aspiring film-maker to wear one of these cool ties. The bright side is that it can go with virtually anything else in your wardrobe, because of its basic black color, and you can get it for only $25 from here.
3. The Riddler green question mark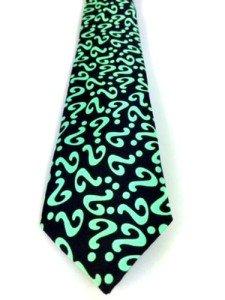 Batman fans, this one's for you: a neck tie inspired from The Riddler character. Take one step closer to the Gotham universe by finding the tie on Amazon for $16.90 (while it's in stock).
4. Piano tie (with sound)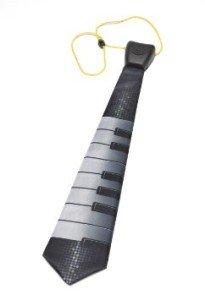 This lovely musical tie comes not only with the classic black and white pattern we can all recognize from a mile away, but with actual musical notes as well (eight of them, to be more precise, produced when the tie is touched).Yes, your tie can now play music! Find it on Amazon for $12.99.
5. Bacon tie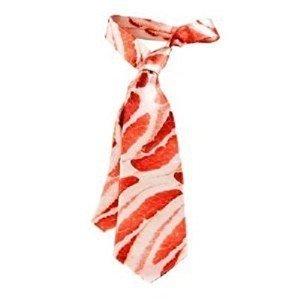 If Lady Gaga could sport a red carpet dress made out of raw meat sewn together, why shouldn't a guy not get away with wearing a tie portraying one of the things most men love most? Besides, it's not like it's made out of real bacon, anyway. Get it from Amazon for $29.99.
6. Eye chart tie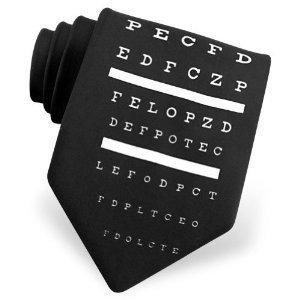 With this pretty eye char tie (which again is a good style fit for almost any outfit), all eyes at the event you're attending will clearly be on you. You can find this model on Amazon for $18.95.
7. Starry night tie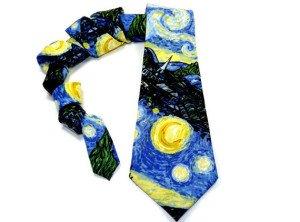 Feeling more artsy? Well, probably anyone who appreciates art is also a fan of van Gogh's famous 'Starry Night' painting. Now you can show your admiration for it (as well as bring a lovely touch of color to your outfit) with a tie depicting it. You can find it on Amazon for $16.95.
Comments
comments