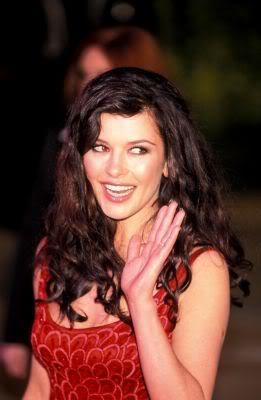 We all know that Catherine Zeta Jones won an Oscar for her role as Velma Kelly in Chicago and the big number is All That Jazz, she has appeared on Broadway and won a Tony Award so I decided to do a little 7 Things list and find 7 songs Catherine Zeta Jones has sung. Some you probably have heard, others you might not have known about. She also released some songs in the UK years and years ago now before she became a Hollywood star!
1. All That Jazz – Chicago
The best opening to a musical, a fantastic performance with brilliant lyrics. She opens the film and pretty much puts one hand on the Oscar!
2. I Can't Do It Alone – Chicago
Showing off her dancing skills as well as her brilliant voice!
3.  Send in the Clowns – A Little Night Music
Always seen as a hard-hitting song from the musical and probably the most well know, it's a heart-break song and this is probably one of the reasons CZJ won that Tony Award.
4. Hit Me with Your Best Shot – Rock of Ages
Turning her talents to a bit of rock and roll, love it!
5. One – Tribute to Michael Douglas
I think this is brilliant that they slightly changed the words to One from A Chorus Line (which Michael was in) and made it funny and a brilliant tribute.
6. For All Time
One of her music videos and songs I have liked for many words now!
7. In the Arms of Love
This one is probably my favorite of the songs she recorded!