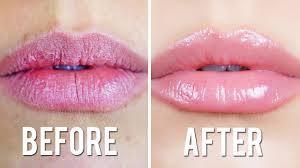 7 Best Lip Balms for the Winter Season
Winter winds butcher up lips like no other, so it's super important to keep them protected every time you brace the cold. We've selected the most moisturizing lip balms that will keep your pout.
Chapped lips can be annoying, painful, and even cause bleeding. But for a variety of reasons, many of us deal with them at various points soft and safe this season.
Drink water. Hydrating from the inside will help keep your lips from getting dry.
The oldest trick in the book-petroleum jelly. Vaseline Lip Therapy Rosy Lips Lip Balm is super moisturizing, plus it has a luxe rosy flavor we're obsessed with. Use Vaseline Lip Therapy Rosy Lips Lip Balm for healthy looking lips today and tomorrow. This balm instantly softens lips and leaves behind a sheer pink tint. Vaseline Lip Therapy Rosy Lips locks in moisture so lips feel better over time. It's made with pure petroleum jelly and has a light rose fragrance.
Many of us are familiar with the nasty chapped lips of the frosty winter, so read on to find some lip balms that'll keep your lips soft and plump. lip balm works hard to fix already dry skin and remove the issue of dryness and discomfort altogether. For the best results, use it alongside their original hand cream on your hands for the perfect winter time combination. If you want to keep your lips strong and smooth for the wintertime, a good lip balm is definitely worth the investment. Whether it's a regular waxy, stick lip balm for regular use during the day, or an overnight treatment, discover what works for you, and use it to keep your lips gorgeously soft.
at home quick remedy rub on aloe vera. It helps relieve the pain and heals small cuts that occur when your lips are chapped or burned.
lips
Argan Lip Treatment
Shea Butter Lip Balm Stick
Moisture Bound Lip Treatment
CAUDALÍE Lip Conditioner
Sugar Advanced Therapy Lip Treatment
Jack Black Intense Therapy Lip Balm SPF 25
First Aid Beauty Ultra Repair Lip Therapy
Burt's Bees 100% Natural All-Weather SPF 15 Moisturizing Lip Balm weather you're hitting the ski slopes or relaxing on the beach, keep your lips protected with Burt's Bees all-weather SPF15 moisturizing lip Balm