Seek

. Dalaguete is a municipality 85 kilometers south of Cebu City (just a two–hour, Php95 bus ride from South Bus Terminal). It is bordered by Argao on the north, Alcoy on the south, and Badian on the west.


Stay

. There are a number of lodging houses and beach resorts in Dalaguete. We stayed in St. Therese Beach House, which has three rooms for rent: Php1300 for a single room and Php1500 for a triple. It's sister, St. Therese Lodging, is located a few meters from the highway, along the road going to Mantalongon. To book rooms in either place, contact Mrs Cecil Bono 0933 470 4289 or her daughter Valerie 0932 353 5750. Getting around the town is usually by pedicab (Php15 per pedicab).


(Left photo) St Therese Beach House, rooms for rent are on the building on the left.(Right photo) Triple room, Php 1500, has AC, refrigerator, and ensuite T&B.


Summit

. Osmeña Peak, the highest mountain in Cebu at 1013 meters above sea level is in Dalaguete. Osmeña Peak can be reached by even the most unfit of persons (me): by hiring a habalhabal (motorcycle, Php100 per way) from the highway/Mantalongon junction to the closest point, which will then leave you with just a short 15– to 20–minute very easy walk to the peak. Hardcore trekkers start off at Mantalongon Market (2–hour trek to Osmeña Peak), set up camp a few meters below the peak, and then traverse to Kawasan Falls in Badian (6– to 7–hour trek) the next day.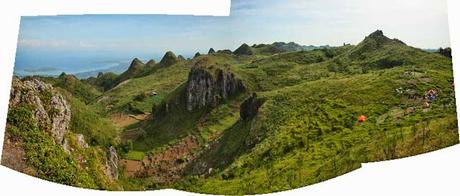 The magnificent view from Osmeña Peak
Spring. One of the local haunts especially during the scorching days is Obong Spring (a five–minute walk from the highway) near the southern end of Dalaguete. For just Php5 (entrance fee) per person, we, with a battalion others, cooled off in the spring's cold brackish water. Obong Spring is deep in some parts during high tide; non–swimmers and lazy swimmers can rent a salbabida or inflatable tube. Picnickers can rent tables and chairs (Php100) or open cottages. Oversaturated (read: fingers and toes have turned to prunes) swimmers can change into dry clothes in the changing rooms.


Obong Spring on a summer Sunday


Sea.

 Another local haunt is Dalaguete Beach Park, on the northern end of Dalaguete, along the border of Argao. Dalaguete Beach Park (about a kilometer from the highway) is a public beach (Php20 entrance fee) that is open from 7AM to 5PM only. There are no rooms for overnight stays. Daytrippers can rent tables and chairs or an open cottage. We visited a day after a big local summer beach party and the beach was, sadly, strewn with lots of garbage. We moved to the other end, beyond the wall, which, I think, used to be Argao Beach Club, and swam in the clear waters, occasionally picking up an assortment of junkfood wrappers, styrofoam containers, noodle cups, and other grocery item related stuff that have floated thataway. Dalaguete Beach Park is a nice—as in fine sand and clear waters—public beach...minus all the garbage.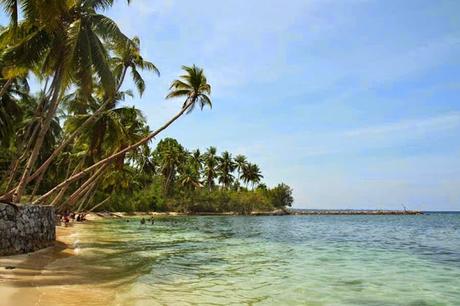 On the other side of Dalaguete Beach Park's wall


Sidekick.

 I do not fear crowds, but I would rather be away from crowds. But we visited at the peak of summer when Osmeña Peak, Obong Spring, and Dalaguete Beach Park are crowd magnets. Nevertheless, I still had a great time at all three summer haunts, thanks to my band of sidekicks aka friends.