If you missed out on the 63rd Emmy Awards this past Sunday, there were a lot of hot looks on red carpet that were right on trend with fall fashion. One color that kept popping up and I couldn't help but notice was RED. On a previous post, Kit gave us a rundown of the fall trend report and red was part of the look that was a must for the closet this fall. It's a great way to burst out of our neutral habits and see the world with rose-colored lens.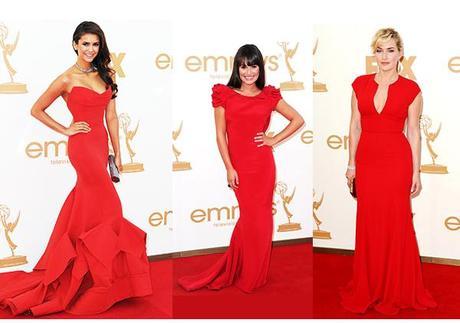 Nina Dobrev (Vampire Diaries), Lea Michele (Glee), Kate Winslet (Mildred Pierce)
Red standouts of the night included Nina Dobrev from Vampire Diaries who wore a stunning, body-hugging Donna Karan gown that was both artful and elegant, with a Neil Lane collar necklace; Lea Michele from Glee wore a floor-length Marchesa dress with a draped back and fluffed shoulders; and "lead actress winner" Kate Winslet wore a simple, but elegant Elie Saab dress decked with a sparkling bracelet. Speaking of bracelets, stacked bracelets was another trend on the red carpet and was spotted on Rashida Jones, Jane Lynch and Kristen Wiig. Instead of going for a simple strand, these stars decided to give some edge to their elegant ensemble by stacking jewels on their arms (a nice tip to follow when you want to tone down a girly look at a formal affair).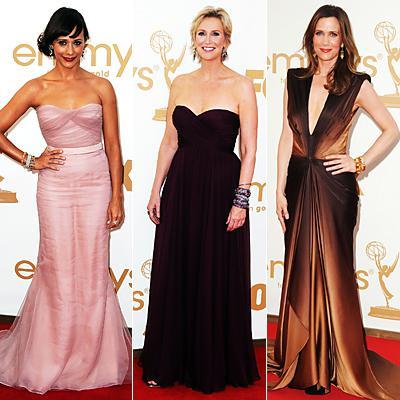 Rashinda Jones (Parks and Recreation), Jane Lynch (Glee), Kristen Wiig (Bridesmaids)
Aside from all the fashion talk, we want to congratulate the cast members of two of our favorite shows—Mad Men and Modern Family—for winning "best drama series" and "best comedy"!!