Stalybridge Celtic 1-0 Wokington
Evo-Stick Premier League
Monday 27th August 2018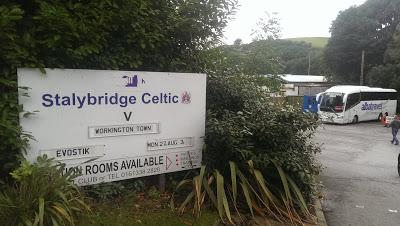 Stalybridge
is a town in Tameside, found 8 miles east of Manchester city center. (population almost 24,000)  The settlement was originally called "Stavelegh" which derives from the Old English - '
staef leah
' meaning "wood where the staves are got"
The town became one of the first centres of textile manufacturing during the Industrial Revolution, following the construction of a cotton mill in 1776. The town transformed from an area of homesteads and farmland, to a vibrant center of the cotton industry during the 19th century.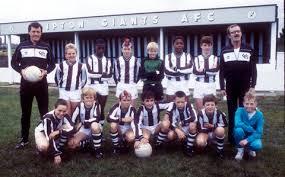 The BBC children's football comedy drama
Jossy's Giants
was shot in and around Stalybridge. The show's plot centred on Glipton Grasshoppers, a boys' football team, managed by their enthusiastic Geordie manager  'Jossy' Blair. The show was written by darts commentator and fellow Geordie Sid Waddell and the theme tune had the classic line…
"Here go Jossy's Giants, football's just a branch of science…"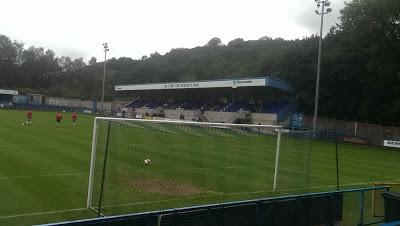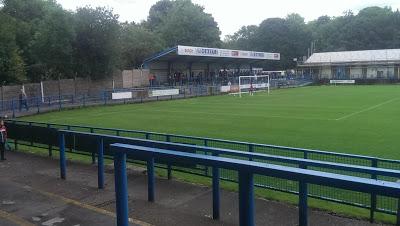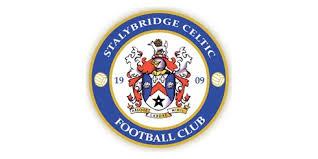 Stalybridge Celtic
formed in 1909, however, it may have been as early as 1906 when an amateur club with the same name was formed. The club started off with two seasons in the Lancashire and Cheshire Amateur League, before turning professional and joining the Lancashire Combination. The club played between the Central League and the Southern League, before becoming founder members of the Football League's Third Division North in 1921. The club resigned after two seasons, as it was felt that it could not attract enough support to justify a League side and returned to the non-league scene.
Cheshire County League 1923-1982 (Champions 1979-80)
North West Counties League 1982-1987 (Champions 1983-84 and 1986-87)
Northern Premier League 1987-1992 (Champions 1991-92) 1998-2001 (Champions 2000-01) 2002-2004
Conference 1992-98 and 2001-02 season.
Conference/National North 2004-2017 (relegated last season)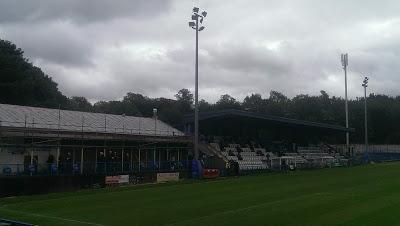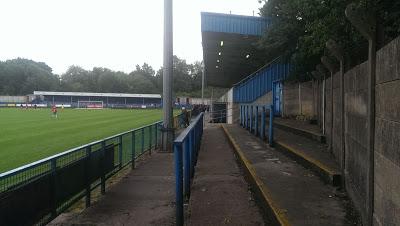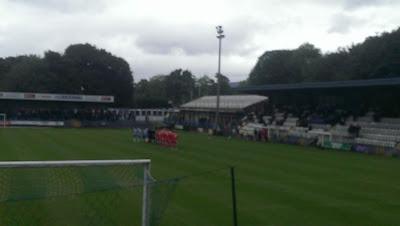 Bower Fold
Mottram Road
Stalybridge
Cheshire
SK15 2RT
Capacity 6,500 (1,200 seats)
Evo-Stick League grounds visited 32/62
Record attendance - 10,400 - Dick Kerr Ladies 10v0 Rest of Lancashire XI - Charity match - 8th February 1921
Stalybridge Celtic record - 9,753 v West Bromwich Albion, F.A. Cup First Round replay - 17th January 1923.
The club have played at the ground since their formation.  The main stand was built in 1996, having a single tier of white seats, with the team changing rooms in a separate building next to it.  Opposite is the The Lord Pendry Stand, which opened in 2004, replacing a covered terrace. This stand has a single tier of elevated seats, decked out in blue with CELTIC picked out in white. The rest of the ground has covered terracing at both ends with blue crash barriers. The terrace wraps round into the corners to meet the stands.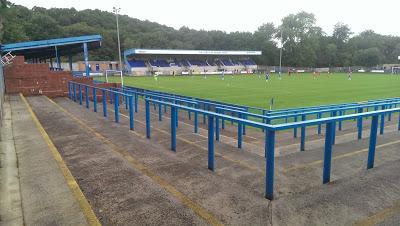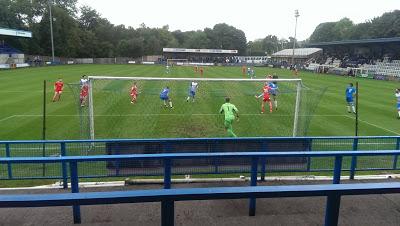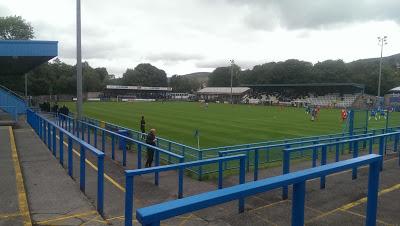 Stalybridge Celtic(7th) v Workington(11th)
Evo-Stick Premier Division Matchday
3pm ko
The match with Workington had a couple of scraps, a red card, but only the one goal. The game was settled midway in the second half when substitute Neil Kengni picked up the ball on the left wing and fired home at the near post. Celtic could have doubled their advantage when a Billy Agrigg cross was clearly handled in the box, with every home player and supporter appealing, but the referee didn't agree and flatly refused.  
Workington pushed late on for an equaliser, but their cause wasn't helped when Jason Walker received a straight red card for a late challenge. The home side comfortably held on, overall just shading the contest and deserving the three points.
Matchday Stats & Spondoolicks
SCFC 1 (Kengni 67)
WFC 0
Att.340
Entertainment 6/10
Admission £10
Programme £2
Pin badge £3.50
Coffee & Tea £1.50 each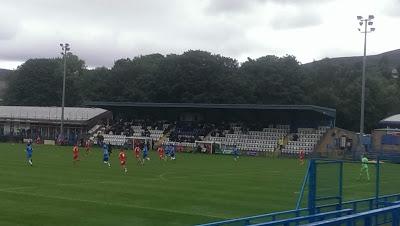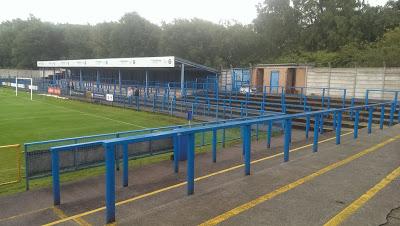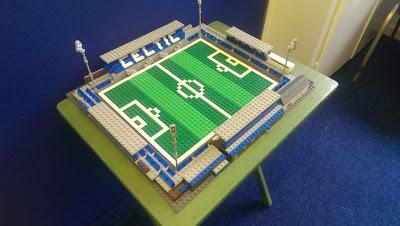 #Heedhopper
136 miles door-to-door (A1/M62)
Bower Fold is a ground I've been wanting to visit for a number of years. On the eve of this season, I added more grounds to my "T'do list" to tick off in 2018-19, which included Stalybridge Celtic. I picked up Lee & Katie at 10am, arriving in town at 12.40pm, after negotiating my way through the heavy Bank Holiday traffic. We parked up next to the ground and walked into the town centre, heading straight to the Society Rooms for our dinner. After our bellies were filled I nipped away to tick off a couple of GBG pubs before we all met up inside the ground.
The reserve journey went smoothly, so after dropping off Katie and Lee, I was back at 100FgC HQ at 7.30pm, quite content after chalking off another ground on my T'do list.