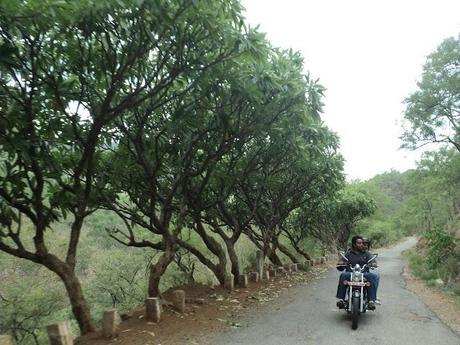 Place:
Muthati & Kanva.
Distance:
250kms.(in total)
Directions:
Bengaluru – Chenpatna – Sathnur – Muthati – Chenpatna – Kanva - Bengaluru.
Particiapants:
Deepak (Deepu) > Datta (Dattu) > Chethan (Zethu) > Karthik (Sp).
Bikes:
Avenger > Zeus.
Previous visit:
Madhugiritrek & Nandi hills.
Facebook page:
Muthati forest & Kanva album

.
IN LESS THAN 50 WORDS:
This was another formal run to the forest range of Muthati. It had been amost an year since we had visited this place. And well Kanva just had to be on the menu to complete this trip.
INTRO & PLAN:
This was the 3rd run for the month of July, 10 days after the excellent visit to Madhugiri & Nandi hills. The old school 3 (Deepu, Dattu & Zethu) were the ones on the confirmed list. After the meet up time was comfirmed at 06:00 hrs, we crashed.
TIME: 23:00 (29/7/2012)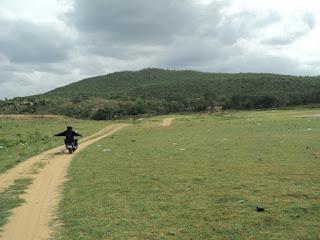 ASSEMBLE:
Yeah I was up at about 05:00hrs, had a cup of coffee, did a few push-ups & sit-ups and went outside at 05:45. Then the wait began, an hour passed there was no sign of the crew. So I went back home & finished of breakfast. Finally they arrived and we departed Bengaluru.
TIME: 07:30hrs
RIDE 1: (Bengaluru – Bidadi Tatte Idly)
This was a 30kms stretch on the butter smooth Mysoreroad (SH-17). Being a 4-lane road it offered minimum resistance. As others hadn't finished their breakfast, we pulled over at our regular tattle idly stop in Bidadi. After having an excellent breakfast we had some tea/coffee & left.
TIME: 08:30 hrs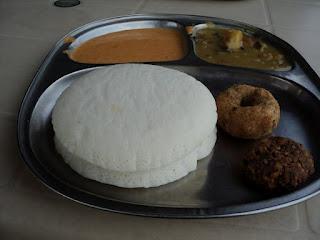 RIDE 2: (Bidadi – Kabblu – Sathnur)
This was about 60kms stretch. After an excellent breakfast, we cruised the next 30kms on SH-17 to reach Chenpatna. From here we took a left turn and continued to reach Kabblu. The ride after the deviation was simply superb as there was lot of shade & surroundings were brilliant. As we got the first glimpse of Kabblu it took me back to my trek which I had pulled off 2.5 years back. After taking a small break, we continued to reach Sathnur.
TIME: 10:00 hrs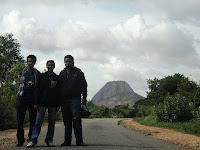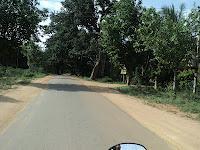 RIDE 3: (Sathnur – Muthati)
This was a 20kms stretch & something we had been waiting since the start. We started off slow due to the bad road conditions. We did spot a lot of birds & small creatures like squirrels on the road side. Dattu merely sitting on of the bikes meant we were well entertained. As we continued further the roads turned a little better, but there were lots of patches when compared to our last visit.
After about 30mins we reached our regular hangout, the actual place isn't that good. So going off-road into the forest towards the river is a better option.
TIME: 10:30 hrs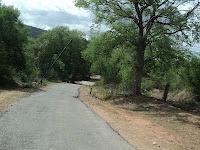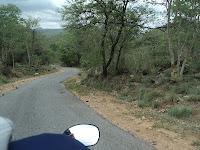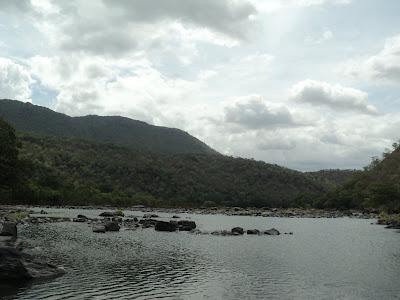 MUTHATHI:
First things first we removed our shoes & started exploring the place. Finally found a decent spot to sit down. As we did fishes swan towards us & started eating the dirt off our feet. We also spotted an eel in the flowing river water. After about an hour discussing the plans for the day, we decided to visit Kanva as well. We wore back our shoes & started playing the good 'old skipping stones'. After about 30mins of the game we left Muthati.
TIME: 12:00 hrs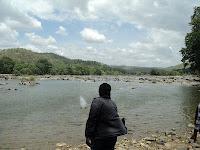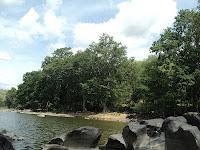 RIDE 4: (Muthati – Kanva)
This was roughly 60-70kms stretch. The ride back to Sathnur was a slow one as it was in forest premises. Once we reached Sathnur it was pure cruising for the next 25kms to reach Chenpatna to re-join SH-17. Once we hit Mysoreroad, we cruised till Ramnagar outskirts. Stopped in between grabbed something to drink & continued to reach Kanva.
TIME: 13:30 hrs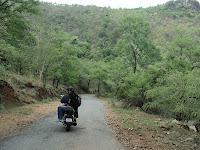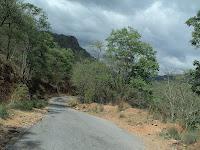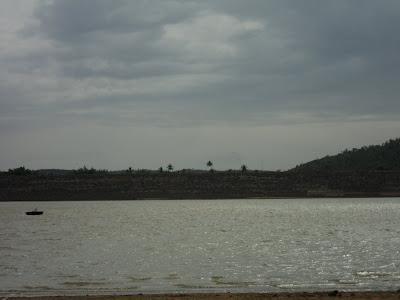 KANVA:
Well this wonderful place had to be on the menu for the day. It was peaceful & tranquil as it was a week day. We rode to the other side of the reservoir & sat down peacefully chilling on the shore.
Latter we jumped into to the water and started cooling down under the hot sun. After spending an hour in the water chatting about our high-school days etc., we got out and dried up. We decided to head to our dhaba as we were damn hungry.
TIME: 15:30 hrs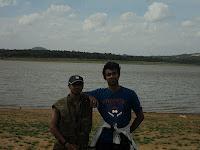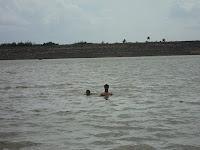 KANVA DHABA:
As we left Kanva, we rode the next 10kms at a slow pace to reach the dhaba. Next 1.5 hrs was spent at this dhaba eating ha-ha. We were really hungry, so ate proper heavy 3 rounds lunch & left. The pic below show only the first round, second & third round we were too busy belting :)
TIME: 17:15 hrs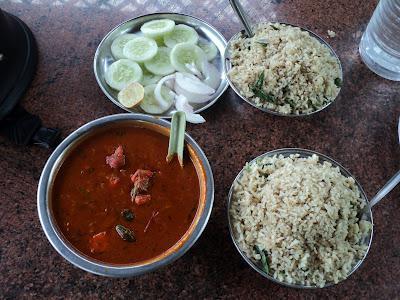 RIDE 6: (Dhaba – Bengaluru)
This was a 55-60kms stretch on the 4-lane Mysore road. We rode this stretch pretty quick actually as I wasn't riding ha-ha!! As we reached Bidadi heavy traffic started, but we rushed through it to reach back our bakery & had tea/coffee etc.,
TIME: 18:15 hrs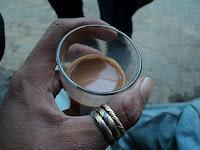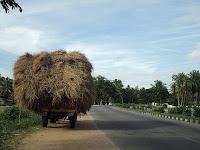 Until next time Cia\m/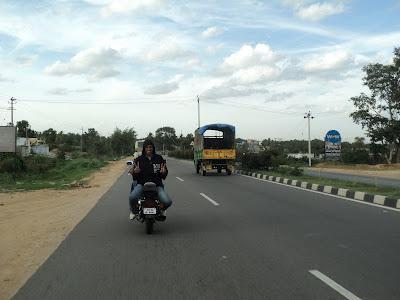 PICASA ALBUM:
MAP:
View Larger Map