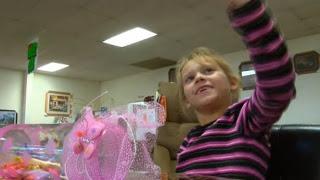 Raw Story reports
A 6-year-old South Carolina girl will be allowed back in school after being expelled early in January for bringing a toy gun for "show and tell," school officials said Thursday.

Naomi McKinney was expelled from Alice Drive Elementary in Sumter, S.C. on Jan. 7. "I chose to bring it to school because I thought I could show my friends it because they might like seeing it," she told a reporter.

Her father Hank objected to the decision as well, saying that pencils are more dangerous than the clear, plastic water gun Naomi brought to school. "I know there is a lot going on with guns and schools and that is tragic, but a six year old bringing a toy to school doesn't know better," he said.

Naomi's initial expulsion banned her from school grounds for the rest of the school year, but the county's schools superintendent said Thursday that he would overrule the decision he had previously affirmed.