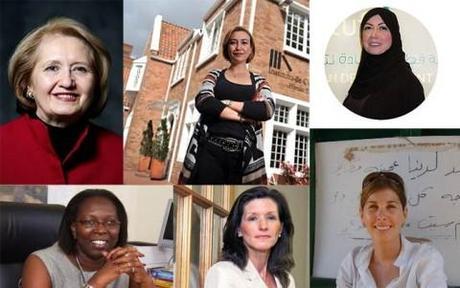 Even in difficult environments where women's economic and political participation is constrained by law or culture, the impressive women in CIPE's networks find ways to create opportunity for themselves and become leaders in their communities and industries. Wrapping up our celebrations of International Women's Day, we would like to continue the annual tradition of suggesting influential women leaders that are worth following on Twitter.

Betty Maina
@maina_betty
As the Chief Executive of Kenya's Association of Manufacturers, longtime CIPE partner Betty Maina has become one of the most powerful private sector voices in Kenya — and globally, as demonstrated by her appointment to the UN's High-Level Panel on the Post-2015 Development Agenda in 2012.
Henriette Kolb
As the CEO of the Cherie Blair Foundation, Henriette Kolb helped to grow that organization into a global force, reaching more than 27,000 women in 50 developing and emerging-market countries. Since 2013 she has served as head of the Gender Secretariat at the IFC, the private-sector arm of the World Bank.
Tuba Terekli
A successful businesswoman and founder of Saudi Arabia entrepreneurship network Qotuf, Tuba Terekli is one of CIPE's newest partners and an exciting voice for the private sector in the Middle East. (Tweets in English and Arabic.)
Karen Kerrigan
President and CEO of the Small Business & Entrepreneurship Council Karen Kerrigan also serves as Vice Chair of CIPE's board. She has been a longtime advocate for improving entrepreneurship ecosystems and developing the voice of the private sector around the world.
Marcela Prieto
As executive director of the Colombian think tank Institute for Political Science (ICP) and editor and executive director of Perspectiva magazine, Marcela Prieto is a leading advocate for dialogue, discussion, and research on the intersection between free markets and democracy in Latin America. Watch an interview with Prieto here (in English). (Tweets in Spanish.)
Melanne Verveer
@MelanneVerveer
Currently the Executive Director of the Institute for Women, Peace and Security at Georgetown University, Melanne Verveer has had a distinguished career as a leading advocate for women, including serving as an adviser to Hillary Clinton, with whom she founded Vital Voices in 2001, and as the first U.S. Ambassador-at-Large for Global Women's Issues.
If you really want to enliven your Twitter timeline, check out our previous lists, 20 Empowered Women That You Should Be Following on Twitter and 20 Entrepreneurial Women You Should Follow on Twitter.
Jon Custer is Social Media / Communications Coordinator at CIPE.