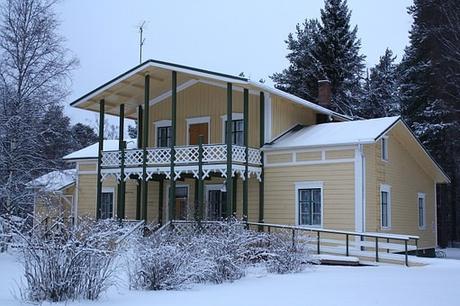 With fall in full swing, it is now time to begin preparing to get your home winter-safe and ready. Do not let the fall season get pass you without making the necessary adjustments that will enable you to have a comfortable home. So, what are some of the measures that can ensure that your home is ready for winter?
Read on, as covered in this article are a few of the checklist items to tick off your list to lower your energy bills and protect your house against damage this winter season.
Install a Carbon Monoxide Detector
The first thing to do while preparing for winter is to install a carbon monoxide detector. Why should this be the first point? Remember, the safety of your family should come first. Since you will likely use gas heaters, fuel-burning appliances, and other heating equipment that release carbon monoxide after burning, this type of monitor is a necessity in most, if not all homes.
With windows being closed and the home, in general, being more "buttoned up," there is less of a chance of any toxic gases escaping.  So, you will need one of these detectors for you to know once the gas is emitted since it is odorless.
Make Your Home Energy Efficient
Now that you have addressed the safety of your family first and foremost, we can move on to protecting your wallet.  Lowering heating costs in the winter can be done by having a yearly assessment of your heating, ventilation, and even air conditioning equipment by a trained professional. This onetime cost will likely cover all your household equipment and alert you to any leaks, inefficiencies, and measures that you can take to prevent overpaying for an efficient home.
This should include changing all the filters that allow them to clean the air and not be overworked with clogged up dirt. These individuals can also make sure that your carbon monoxide, smoke, and fire monitors are working properly.  Use this time to also change all the batteries in those devices, even if they are not beeping to indicate low remaining life.  If this type of consultation is not in your budget, at the very least do a once over of the outside of your home for any holes or gaps in the exterior that can be filled.  Check windows and doors for proper sealing and closures.
Clear the Gutters and Drains
After making your house energy efficient, now think about getting to the outside. Here, you will need to clean your gutters since they will have accumulated a lot of debris during the summer.
Get up your ladder and clean the dirt and grime in this area. Such a measure will prevent the accumulation of water on the rooftop, thereby protecting your shingles from damage.
Apart from cleaning the gutters, you will need to ensure that the water from the gutters will not flood at your door step. So, clear up the drains and ensure that water can pass through without getting blocked. This measure will prevent water from flooding near your house thereby protecting the foundation from becoming weak.
Get a Ventilated Room for Your Generator
If you happen to have a generator because of potential power outages, make sure that it is stored properly and able to run without emitting any dangerous fumes to your house.  Proper ventilation is key here.
Turn off All the Exterior Pipes
If you have uninsulated pipes at your home, turn them off and drain the pipes. You should also disconnect all the garden hoses. The reason behind this is that these pipes can burst once the external temperature becomes too cold.
So, to ensure that your pipes are safe, insulate them or simply turn them off and drain the water.
Inspect Your Garden
Another measure to get your home ready is by inspecting the lawn. Check the trees surrounding your home to confirm that you don't have any damaged or diseased branches which may do further damage in winter storms.
If you find anything that is a potential risk, you should cut them before winter arrives. Trim down any exterior plants that need pruning and cover any of those that may not survive the cold temperatures without doing so.
6 Ways to Make Sure Your Home is Winter Ready
October 23, 2017
Tips For Choosing The Right Cooling to Keep Cool this Summer
October 18, 2017
How Accurate are Soil PH Meters?
October 16, 2017